Football hosts Fremont High for Homecoming game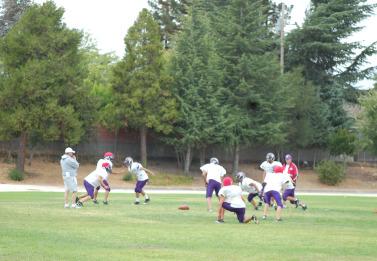 Dickson Tsai
October 1, 2010
The Matadors will play their first home game of the season against the Fremont Firebirds for Homecoming at Cupertino High School
MVHS and Fremont High School are both fresh off their first bye week following their non-league losses. On Oct. 1, in the annual Homecoming game, both teams will play to see who gets their first official league victory.
The Matadors enter the game with the record of 1-1-1 after losing their most recent game at South San Francisco High School 25-7.
"We played with them the first half," head coach Jeff Mueller said. "[But] we made some alignment mistakes on defense that ultimately cost us."
The defense stayed longer on the field and faltered since the offense only managed to produce 118 yards, with senior quarterback Freddy Kuo only completing six of his 24 passes. Fortunately, the Matadors had an extra week to regroup just in time for the Homecoming game.
"I've just been watching film, studying myself [and] seeing what I've been doing wrong," Kuo said. "Hopefully I'll learn from my mistakes."
The Fremont Firebirds similarly had to shore up their team during their bye week. On Sept. 18, the Firebirds blew an 18-7 fourth quarter lead against Prospect High School, losing 29-26. The Firebirds (0-3) have already allowed 97 points three games into the season.
"[The loss] was a combination of factors," FHS head coach Ron DeMonner said. "We didn't tackle well [and] we didn't handle the onside kick well."
The key advantage of the Firebirds this year is the sheer size of the team's offensive and defensive lines. The Firebirds have five players listed over 300 pounds. The Matadors, however, are used to being undersized and have shown their ability to contain the opponent.
"We've always been playing teams that are bigger than us, so I'm going to play the same way we always play," Kuo said.
Last year, in the Matadors' final game of the season, the Firebirds prevailed 21-20. This year, while the Matadors maintain Kuo at quarterback, the Firebirds are without starting quarterback Jordan Sever — instrumental to the Firebirds' run to the league title last year.
"We've tried several kids, and none of them could throw the ball like [Sever] did," DeMonner said. "We haven't been able to replace [Sever], quite frankly."
This game officially starts their league season and will count towards the league standings. The Firebirds, having tied for the El Camino League title the last two years, looks to repeat for its third consecutive league title. MVHS finished fourth overall with a 3-3 league record.
According to Mueller, league or non-league, this week is no different from the previous three games — the team is determined to go all out.
"We're just going to play them straight up and see what happens," Mueller said. "We'll go ahead and play our normal game."
Conditions at the 7:30 p.m. kickoff at Cupertino High School will be cool and clear at 68 degrees.