New pilot program aims to alleviate traffic woes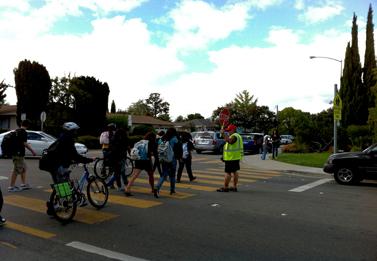 City collaborates with Cupertino schools to reduce traffic
Build an elementary school, a middle school and a high school within one mile of each other and you can expect major traffic problems. A recent initiative, however, may solve this problem, which is faced by MVHS and its neighboring schools.

The pilot program, which began on Aug. 23, aims to manage traffic more efficiently by adding two more crossing guards on McClellan Road and setting longer shifts for on-campus deputies before and after school. It also calls for a separate drop-off zone in the student parking lot. As of now, the program is in its testing stages and will only run for four months unless it proves effective enough to warrant an extension. During the four months, the estimated cost of employing crossing guards and extending the shifts of the deputies amounts to about $20,000 in total. Compared to other options, such as purchasing residential properties at full price in order to widen streets, this program is much less expensive.

Traffic flows more efficiently with multiple crossing guards and deputies because they can evaluate traffic congestion intelligently and distribute the traffic accordingly—something stop signs and traffic lights are incapable of doing.
"The additional crossing guards enhance safety for the pedestrians and also manage the crossings so that there can be periods of time when cars move along and periods of time when pedestrians move along," Cupertino Parks and Recreation Commission director Mark Linder said.
In fact, the crossing guards on McClellan Road have been instructed to prevent individual students from crossing the street until a small group of students has accumulated. Then the guards stop traffic at the same time so that traffic is always either completely stopped or moving without interruption.
Deputies on Hyannisport Drive play a similar role by manually directing traffic and constantly adapting to the ever-changing circumstances.
"Instead of just allowing traffic to stop at the stop sign or go through the light, [the deputies] will actually take control of the intersection and see if they can move [traffic] through quicker," Sheriff Captain Terry Calderone said. "And we have to evaluate that if we move them through quicker, does it bottleneck somewhere else?"
These kinds of complexities can only be handled through trial and error, and by the end of the four months, the city hopes that the deputies will be able to ensure that no single location suffers an unreasonable amount of traffic.
Converting the student parking lot into a larger version of the bus circle is the final component of the pilot program. By doing this, drivers will be able to wait inside of the student parking lot, instead of on McClellan Road.

"As soon as the student parking lot gets completely emptied of fences and construction, we are creating an additional drop-off zone against the music building," principal April Scott said. "Parents will pull into the student parking lot and make a big loop around the parking lot and pull up along the curb next to the music buildings. We're trying to alleviate some of the congestion in the bus circle."
Along with a bigger drop-off zone, cell phone waiting spots will also be added to the student parking lot. As of now, parents must stop and wait in the drop-off zone for their kids to arrive, causing traffic to accumulate behind the waiting parents. However, with the cell phone waiting spots, parents will be able to call their children and wait for them without interfering with the flow of traffic.

"The strategy is to do it exactly like airports have, so mom and dad can pull in, call you, and say, 'I am in the student lot,'" Scott said.
Though the full impact of the pilot program is still unknown, first impressions of it have been positive.
"[The pilot program] is helping by trying to get some of the traffic through," Calderone said. "But we will have to wait and see what the end result is after four months. Some days are good days, and some days are bad days."
{cc-by-nc-nd}