Key and Kennedy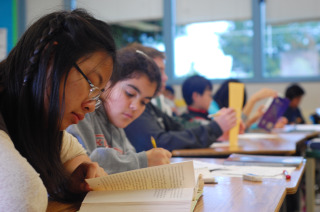 Julian Laguisma
March 2, 2010
Key Club members participate in homework tutoring for Kennedy Middle School students
Key Club has been giving keys to Kennedy Middle School students — homework help keys. Success Inc, a KMS program, gives Key Club members chance to gain hours by helping Kennedy students.

The program, which involves Key Club members going to KMS teacher Sharon Huang's classroom Mondays, Wednesdays, and Thursdays, was organized by Key Club Project Chair junior Angeline Yen. "One of the other key club officers was connected to the host teacher," Yen said. "[Ms. Huang] want[ed] people from high school to help out tutoring".
"[Key Club members] go after school for an hour or two to help [KMS students] with their homework if they have any questions," Yen said.
According to Kennedy Middle School's website, "[Kennedy] students having academic difficulty in one or more core subjects are offered to attend an [Success, Inc.]."

The program is year-round and tutoring positions are available to Key Club members as well as anyone else. Key Club members can sign up online and other students can contact Ms. Huang for available spaces.