Programming for the future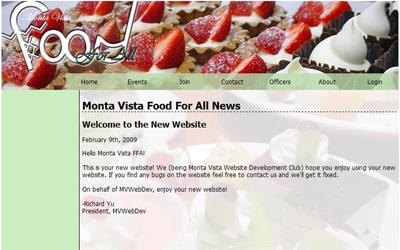 Surabhi Srivastava
November 11, 2009
<<HTML. CCS. Code. Enter the land of the unknown letters>>
CCS. HTML. Programming. Style Sheets. Code. All these words have one thing in common; you need to understand them in order to make a website.
If that series of words confuse

s

you, scare

s

you, intimidate

s

you, or all of the above, then there's somewhere you need to be.
Room D105 on Fridays at lunch.
Monta Vista WebDev, also known as MVHS Website Development Club, is here to program your fears away. This club's objective is to teach its members how to make a fully functioning website that can be shared and used by others.
"I came up with [the idea] during my sophomore year when I realized we had a lot of tech clubs on campus such as Java club but we did not really have a club dedicated to website development or any kind of online applications," president and founder junior Richard Yu said.
In today's fast paced and technologically addicted world, when anything and everything is being published on the internet, having a website is a crucial source
for
sending and receiving information.
"If you know how to code your own website you have a lot more flexibility," vice president junior Japeth Wong said. "For example, you really don't need to know how to use code to make a generic website. If you do learn the code yourself then you have an infinite amount of flexibility."
This flexibility opens countless doors and opportunities to mass exposure through the internet. This draws the difference between a casual blogger and a professional one. What starts as a simple website can turn into a large scale,
world-renowned
social networking site.
"Right now, you can basically just put whatever you want [on your website], like Facebook, that just started as a small website for the creator and his friends to communicate with each other and then it became big," sophomore project lead Wells Santos MVHS WEBDEV said. "It's really just freedom of creativity."
An additional bonus is that the process of learning the different types of code is simple
—
as simple as it gets when looked at through the eyes of an expert
.
CCS and HTML are not as complicated as other programming languages that are written in completely different languages. In HTML, if you want to bold something, it's as easy as <<b>>.
"We start off with foundational codes and then after that we are going to move into
CSS
which is a design oriented code that complements html and then we are going to go more into the data base structure and the more complex languages" Wong said
.
If none of that made sense just now, that's normal and expected. The complexity of the code lies only in the long drawn out explanation of it; learning it is actually a much less daunting task.
"I started making websites in fourth grade. I really got involved after I got into middle school where me and one of my friends that now goes to Cupertino High School basically competed with each other for visitors on our websites
,
" Yu said.
If an elementary school kid can program a website, then it shouldn't be an impossible task for a MVHS student. The process is relatively painless with endless rewards.] WEBDEV has created countless websites for clubs throughout campus such as Red Cross, Interact, FBLA, and Tri-M. Currently the club is working on making a website for
chemistry teacher Supriya Moore
to enhance her Chemistry Honors class. Yu has even created a personal website in the past just for a school project.
For someone who wants to make their own website, there is nothing stopping them. WebDev promises
an
enriching experience with rewarding skills. Members are in well
–
trained, experienced hands and will leave second semester
feeling
accomplished
after
creating a successful website.
"I think anyone who wants to put in the time to sit through code and try and understand the information should be able to do it because HTML is actually not that hard," Wong said.
MVHS WebDev provides the perfect opportunity for the scared, the inexperienced, or the future Mark Zuckerber's of the world to t

ake a leap of faith and dive into the world of programming.