Cal cuts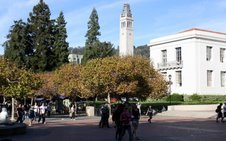 Deepa Kollipara
November 1, 2009
Budget cuts forces UC Berkeley to remove 600 in-state admission spots

111 and 600. The number of seats cut in the UC Berkeley 2010 freshman class is almost six-times the number of MVHS students accepted to the college in 2009.
Recently, almost all UCs, which are funded by the state government, had to cut acceptance numbers dr
astically to compensate for the California budget crisis. This year, the UC reagents announced that tuition would increase to ensure that the universities can maintain their best professors, facilities and programs.

However
,
UC Berkeley still found itself short of funds. Rather than simply cutting the overall acceptance number again, UC Berkeley announced last week that 600 seats normally allocated to California students will be given to out-of-state students.

Non-resident students pay $22,021 more than in-state students, a number that might sustain the university during
this
dire time. Officials at the university advise the public to direct their anger at Sacramento rather than at the universities themselves.

"California provides slightly more than 20% of our budget," UC Berkeley Chancellor Robert Birgeneau said to the Government Team who attended a state budget conference. "I used to say this sarcastically, but it's becoming reality. [UC Berkeley] is progressively evolving from a state-supported, to state-assisted, to now just state-located university."

About 14 percent of students who gain admission to UC Berkeley each year are non-residents. This number might go up to 23.2 percent and the idea is spreading—UCLA and UCSD are also considering similar strategy.

With record numbers of over 48,600 applicants last year, chances seem bleaker as competition will escalate to dizzying heights.
"You have to keep your options open. The UCs have been saying to apply broadly for years. Don't put all your eggs in one basket," career center liaison Miriam Taba said.
Yet, 111 acceptance letters hold UC Berkeley as a popular school for MVHS students and explain the disheartened exasperation at the news.
"I wish the [UC reagents] had spread the 'hurt' around to other schools because UC Berkeley is the most famous UC by far. I understand why they did it, but I'm sure there were other solutions," senior Kavita Varadarajan said.
Other than more rejection letters mailed, the budget cuts might create an unexpected side-effect. Lower UC admission rates may force more students to choose private universities and community colleges.
At first glance, last year's senior map shows lists of endless names under UCs and CSUs. However, the numbers show that 52% of the class of 2009 chose a different path of higher education. High attendance numbers at community colleges to highly-ranked private universities such as Stanford University and University of Pennsylvania shot up drastically. Simply put, MVHS students were getting into and going to schools they normally didn't consider to attend.
Nevertheless, old habits are hard to break, and UC Berkeley will most likely continue to be a popular destination for seniors as hope remains for many students.
"I'd also like to extend a special offer to the students of MVHS in Cupertino. I hope to see as many of you as possible back here one day," Birengou said.

{cc-by}