Powerhouse in the pool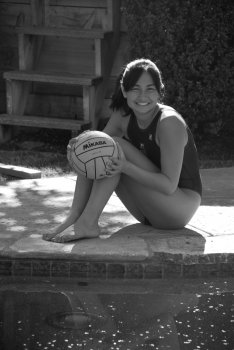 Patrick Mi
October 21, 2009
Junior Nikki Danese has progressed over the years on the water polo team to become one of the top players in the league
As a freshman,with a background consisting of six years in competitive swimming and a little push from her older cousin lead Nikki Danese to try out for the water polo team. Now a junior, Danese is one of the top players on the varsity team.


Danese started off her water polo career at the position of hole set, the central component of the offense. After her first year of playing water polo, Danese earned the title of Most Valuable Player in the El Camino League at the junior varsity level. As a sophomore, she earned a spot on the varsity team, competing with girls up to two years older than her. This year, Danese draws influence from Class of 2009 graduate Molly Karelskind, top scorer in the 2008 season. Danese set out to fill the gap left by the two seniors who graduated, Becca Wagner and Molly Karelskind, both former team captains.
Coach Don Vierra
describes
her as the team's "offensive spark plug." A top scorer in almost all of the girls' games, Danese has become essential to offensive success. Not only has the team benefited from her presence,
Danese has also benefited from the team
.
Her success came partially from her personal drive, and when she becomes too hard on herself, she counts on the team to help her out. Although she propels the offense, Danese sees defense as her weak point, which her teammates make up for.
"Not one person is the team. We're really close and I think that shows in the water," Danese said.


Undeniably, Danese has filled the boots of both graduating seniors. The girls varsity team holds an unexpectedly impressive undefeated record of 6-0. The team graduated two of its top players last year and had to make large adjustments
—
including switching senior Alyssa Walker into goal. Walker originally played the position of hole set, leaving a possible gap in the offense. Despite their immaculate record, Danese and the team said it's not just about winning.

"It's not so much about what our win-loss record is, but it's about how close we are," Danese said.


Although she shone as an individual and averages six goals per game, Danese also succeeded as part of her team.
"I think the ball just always finds me in the right spot, which is mostly because of the team," Danese said.
Her growth in maturity can be seen through the three years of playing water polo.
"[Her progress] is the exciting part, having been there when she first started as a freshman, watching till where she's at right now… It's kind of scary because she's only a junior and she's still got another year to go, [but] there are some things she needs to work on to get ot that next level," Vierra said.

Some personal areas of improvement Danese has listed are her defensive skills, and shooting ability.
54 goals away from the school record, and one more year left for improvement, Nikki Danese is still on the rise.