Varsity boys lose in second round of CCS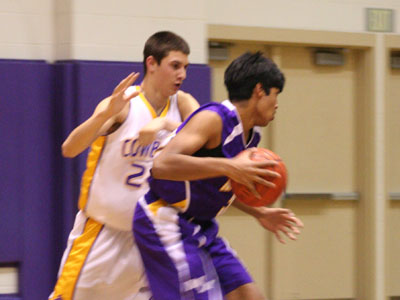 Unfortunately, lightning could not strike twice for the varsity boys basketball team. 
Unfortunately, lightning could not strike twice for the varsity boys basketball team.         
After a nail-biting 69-67 victory against Alvarez High School on Feb. 24, one in which they came back from behind 16 in the third quarter, the Matadors were unable to come from behind again in their second-round CCS match against the Salinas High School Cowboys.
Going into the game the team knew that their biggest challenge was going to be the physical power of the Salinas team.
"We need to play physical," junior David Katz said. "If we try to be finesse, they're going to whoop our ass."
The Matadors managed to start the night off strong, taking a decisive lead in the first quarter.  Led by senior Phaniteja Kannegati, who had 14 points and three 3-point shots on the night, the Matadors were leading 13-5.  However, that lead slowly disappeared as the game moved into the second quarter.  Powered by a 7-0 run late in the half, Salinas went into halftime leading 31-22.
There was no looking back for SHS after that. The team dominated the third quarter with some big shots from SHS junior Kyle Vasher, who had 26 points. The Cowboys put the game away, leading by 29 at one point.  MVHS also, as predicted, could not match the size and physical prowess of the SHS team.
"They were just a lot bigger and more aggressive than us," senior Chris Garvin said.
MVHS showed some signs of life in the fourth quarter with aggressive defense from senior Ryan Satterlee and strong offense from junior Krish Rangarajan. Though the Matadors managed to cut the lead down 29 to 19, it was too little too late as the Cowboys cruised to a 68-46 victory.
The loss brought another varsity boys basketball season to a close.  For the third consecutive year, the team made it to the CCS playoffs and surpassed the 07-08 team by making it to the second-round. Although they were not able to go all the way, coach Matthew Tait still considers this year a successful season.
"It was a really good season," Tait said. "They played hard every second of the year and that's all you can ask for."