Rejected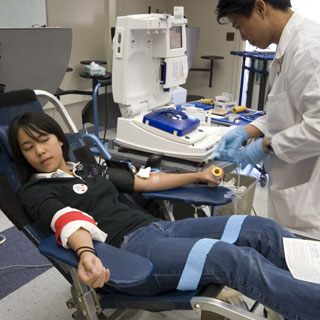 Students prevented from donating blood due to detailed criteria and restrictions
Got blood? Everyone does, but not all students were able to donate some.
Community Leadership's Health Commission hosted its annual blood drive, sponsored by the Stanford Blood Center, on Nov. 7 in the cafeteria. Students were able to come in throughout the day to donate blood. For many, donating blood was a way to give back to the community without much of a price.
"I did it last year and it doesn't cost me that much. It just helps people," senior Irene Steves said.
Ninety-four students participated in the blood drive. However, there were other prospective donors who were rejected due to set criteria. Some given requirements included age and weight. Participants must have been 16 years of age, weighed at least 110 pounds, and have had written parental consent. The last requirement ruled out a fraction of the student body, including senior Puja Gupta.
"My parents didn't let me [donate] because they thought that it would make me really tired, and I wouldn't be able to perform well on college applications over the weekend," Gupta said.
Along with the above, several lesser known limitations were included. Participants must have been free of colds in the last 48 hours, have not been to a malarial risk foreign country such as India in the past year, and have had a hemoglobin level of at least 12.5 g/dL.
These limitations took many by surprise and were responsible for several last minute rejections.
"I got rejected because my hemoglobin count was 11.7, and it needed to be 12.5 to donate," senior Connie Wu said. "Last year it was the same situation – my iron count was too low for donating."
Senior Annie Wu, Connie's identical twin, however, was accepted for blood donation.
"I was really surprised because we both eat the exact same things, including foods that increase hemoglobin levels, such as dark green veggies, potatoes, iron-fortified cereal, and iron-rich meats, on top of having very similar lifestyles and DNA," Connie said.
There were many potential donors who were ruled out by the myriad of restrictions such as age and weight requirement.
Every donor is two bags closer to its goal. "I donated blood because it feels right and it's not going to hurt me in any way." sophomore Alvin Shih said. "It's just two seconds of pain, and it can help people."

{cc-by-nc-sa}