Football team kicks off CCS Playoffs with game against Menlo-Atherton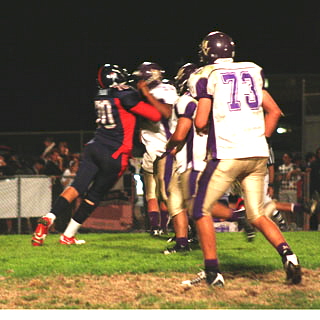 Football team kicks off CCS Playoffs with game against Menlo-Atherton
On Nov. 22, the varsity football team will play their first CCS playoff game against Menlo-Atherton High School in Atherton, Calif. Both teams go into the game with 8-2-0 records. The two schools are neck-and-neck on paper. The Matadors will continue to the quarterfinals if they win the game. Their season will end if they lose.
 
"They're definitely the favored team for this game," tackle senior Graham Paterson said in reference to Menlo-Atherton. "But they are not disciplined in the way they play, and we are hoping to take advantage of that."
 
Menlo-Atherton's team strength is clearly reflected by its statistics. Menlo-Atherton running back senior Vaughn Smith currently leads in the number of rushing yards per game—115.9 to an average of 59.4 acquired per game by MVHS lead rusher, junior Wesley Oberhelman— and brings Atherton's total number of passing yards up to 221.7, to MVHS 208.9. In addition to the number of yards rushed, Atherton also possesses a slight advantage in terms of total yardage per game—382.5 to MVHS 360.5.
 
After the loss sustained to Homestead High School, MVHS is eager to redeem itself.
 
"The whole team is very happy that we are not counted out," quarterback senior Justin Rahn said. "This means that we still have a chance to win."
 
The Matadors, however, still have the upper hand in the game when it comes to scoring points. Led by wide receiver senior Max Ratkovich, who scores an average of eight points per game, the MVHS team altogether scores an average of 29 points per game, compared to Menlo-Atherton's 26.5 average.
 
"We are just trying to take it like a regular game," senior center Dave Orvick said. "We're definitely keeping the intensity high."
 
If the team wins this game, a rematch against Homestead High School is likely, according to Orvick. But for now, the Matadors will do their best to dominate the first round of the CCS playoffs.