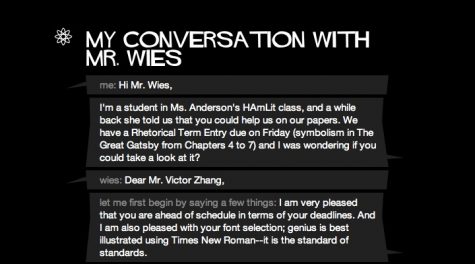 February 6, 2012

Filed under NEWS
On Jan. 25, junior Victor Zhang posted an email exchange between him and substitute teacher Adam Wies on his Tumblr. The post received a large response from fellow students. Soon, teachers and students began discussing the exchange throughout Facebook and Tumblr. An email exchange In the email, Zhang...
October 14, 2011

Filed under From the magazine, Print entertainment
Literature teacher Terry Anderson  was caught in the crossfire of paparazzi. Math teacher Colin Anderson dated Tom Hanks's niece at UC Santa Cruz. Literature teacher Jessica Kaufman rejected James Franco. Even though it might be tough to imagine teachers having a life outside of school, teachers ...