January 7, 2012

Filed under Multimedia, NEWS
"Just curious, how many of you have visited the site?" he asked. Over 700 of the people in the gym raised their hands. On Jan. 6, founder of the widely-used online educational organization Khan Academy, Salman, or "Sal," Khan spoke to a crowd of students, alumni, eight Lynbrook High School ...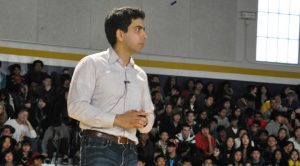 January 6, 2012

Filed under OPINION, Uncategorized
 For the flip-side opinion, click here.  Quite frankly, Khan Academy's Sal Khan is better on YouTube. His presentation had no point. Remedial students failed to catch Khan's message, students who already knew the history of the organization were bored, overachievers could n...