Review of The Weeknd's EP, "My Dear Melancholy,"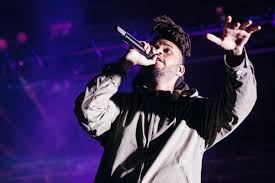 Over the last few years, Abel "The Weeknd" Tesfaye executed an artistic evolution, inching away from his infamous dark R&B aesthetic to a pure pop aesthetic. The mood that his first mixtape, "House of Balloons," established is present in other works including, "Thursday," "Echoes of Silence" and "Kiss Land." It seemed as if the dark, sexual, drugged-out and downright miserable tones he had set up in those projects caused him to hit a creative dead-end, through oversaturated sound.
What followed was a complete shift in Tesfaye's character. As someone who once exploited anonymity as a marketing tool, Tesfaye turned to flexing in a tuxedo for marketing purposes for his album, "Beauty Behind the Madness." This album put him on track for the Grammy award and had placed the lead single, "The Hills" at the top of the Billboard 100. "Starboy" pushed his newfound pop style even further, doubling as The Weeknd's longest LP to date.
In his latest project, "My Dear Melancholy," Tesfaye returns to his earlier, more morose style of music. Many have speculated that the EP's six track of downcast, dreary-eyed dark pop are directed towards his recent split with pop star Selena Gomez. But the title and contents can also be interpreted as his sign of affection for the moody music he first made his name upon — a love letter to the aesthetic that he left behind.
However, the poppy sound separates the new EP from Tesfaye's earlier R&B mixtapes. In his earlier mixtapes, there was a rawness of the recording and mixing, both in his voice and emotions, as seen in "House of Balloons." Despite his attempt to recreate this style by returning to a darker mood and increased use of reverb, Tesfaye's tendency to drift towards pop was evident in his finely tuned voice.
Tesfaye shows drastic progress on a sound he established years ago and he does not need to prove to his old fans that he still has the same spark as his early tracks.
Even though the EP is only six tracks, each song feels completely fleshed out. The lyrics are emotional, the production is phenomenal and Tesfaye's voice is stronger than ever.
"Call Out My Name" and "Wasted Times" entirely outshine the other tracks on this album. The lyrics in "Call out My Name" and the vocoder used in the chorus set it apart from the other songs, easily making it one of the best songs The Weeknd has released. In "Wasted Times," French producer Gesaffelstein adds an electronic feel while Skrillex manages to pull off melodic flourishes on the production, complimenting Tesfaye's soprano voice. The intro and outro tracks evoke the same strong emotions from his previous album, "Trilogy."
Possibly contrary to his posture on previous albums, where he presented his unfeeling lust as a kind of immature frivolity, My Dear Melancholy, interestingly connects his sexual desire and substance use to the pain of romantic sacrifice. And while there is still room for self-aggrandizing – like when he hypocritically tells a lover to notify him when she's done being prideful on the Mike-Will-Made-It-produced track "Try Me" – My Dear Melancholy, surprisingly provides the clearest, most engaging example yet of the Weeknd's angst. It's the sound of a man kneeling at love's altar still in search of an elusive healing.