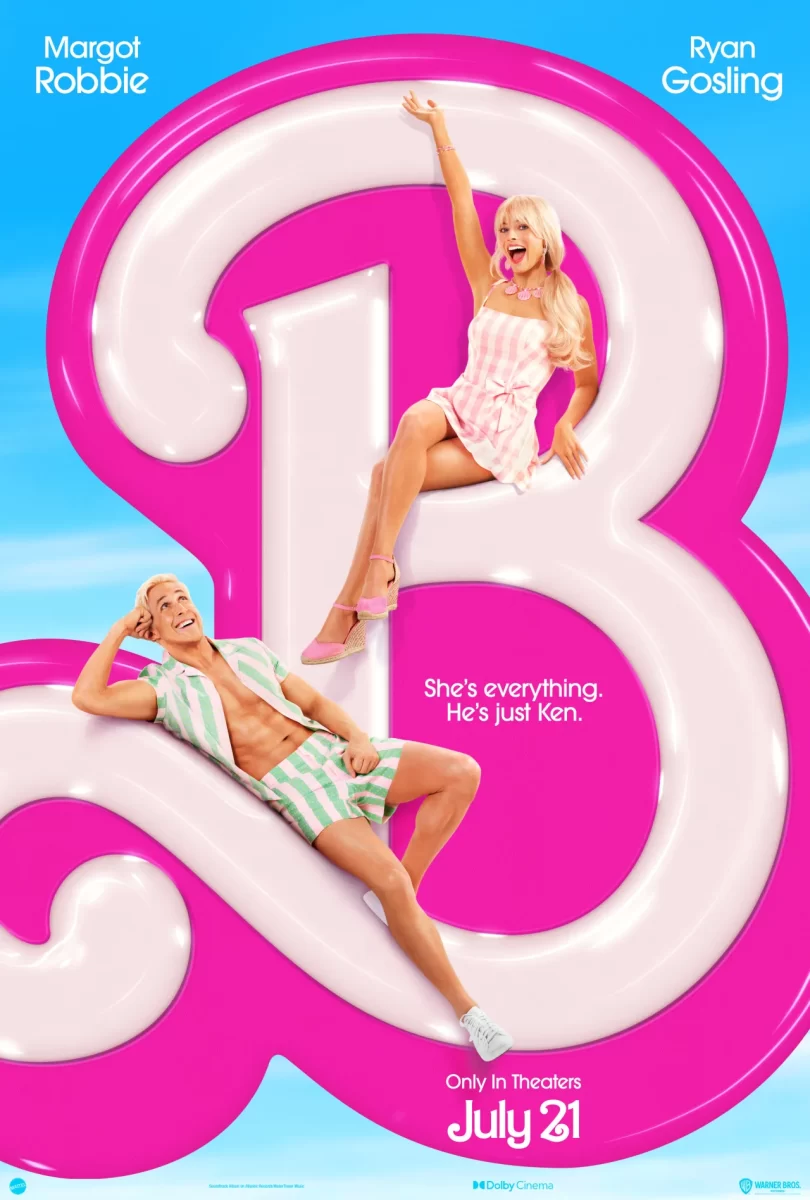 When senior Ananya Nadathur first watched the "Barbie" trailer that parodied the opening scene of "2001: A Space Odyssey" a few months ago, it piqued her interests surrounding the movie — she wondered how a niche reference like that could hint at the direction the movie would take.
For Nadathur, watching the movie was a must. As a child, Nadathur and her sister were no strangers to the original animated "Barbie" franchise. From the dolls to watching "Barbie: Life in the Dreamhouse," she says Barbie played an integral role during her childhood.
Prior to its release on July 21, 2023, Warner Bros comedy-fantasy film "Barbie" stirred up a lot of curiosity. With a star-studded cast including Margot Robbie and Ryan Gosling, note-worthy director Greta Gerwig and a trailer with an ambiguous plotline, the limited information on the movie's plot fueled speculation.
"Barbie" content flooded social media with exaggerated movie reviews and all-pink costume trends, emphasizing the themes of girlhood and femininity within the movie. Nadathur participated by dressing up in an ensemble of pink clothing and makeup — wearing a pink skirt paired with pink lip gloss and eyeshadow — and style her hair in a high ponytail with curled bangs to imitate the classic "Barbie" style when she went to see the movie. "Barbie" earned $1 billion faster than any Warner Bros film and crowned Gerwig the first female director of a billion-dollar film.
Dubbed a "feminist film" by Gerwig herself, "Barbie" focuses on female empowerment, highlighting the Mattel doll's slogan of "You Can Be Anything." Describing himself as a feminist, senior Arnav Jadhav says the "Barbie" movie conveys the message that "the world is about patriarchy … but the world also runs on women."
Sophomore Lauren Moore went into the movie expecting feminist messages as she was already familiar with Barbies and their girl empowerment messages from playing with them with her sister when she was younger.
"One of the first scenes that I shed a tear was the scene where [Barbie] calls the old lady beautiful — I stopped for a second [to] just think about it," Moore said. "It was sad seeing her realize she hadn't fixed the real world. I don't tend to cry during movies, but something about 'Barbie' was really heavy hitting. The movie highlights how women are disadvantaged in our society and to see these girls happy in their youth and then [to see them] having [to] grow up and [realizing] that the world wasn't going to be kind to them felt very sad."
While nostalgia influenced the perceptions of some viewers regarding the movie's themes, San Francisco Chronicle Staff Writer G. Allen Johnson says in an interview over Zoom that he tried to "shut out the noise" from the media about "Barbie" to avoid forming preconceived notions about the movie. Nadathur agrees social media reviews of the film have significantly distorted moviegoers' expectations of the film.
"Now, since a lot of people have seen the movie, everyone [on social media] is praising the girlhood scenes, [and] I feel like the sentimental part of the movie is overhyped more than the funny part," Nadathur said. "I feel like if I went to watch the movie now and I hadn't seen it before, I would be expecting something that was much more in depth about feminism. It is a super funny movie with a little bit of satire and a little bit of feminism and a little bit of sadness about growing up, but social media has really taken like the smaller parts and overhyped them a lot so people are getting disappointed when they go to watch it now."
Moore also saw memes regarding the movie's heavy feminism themes being spread on social media, such as guys going to see "Barbie" together. Moore didn't expect to see many men at the theaters, largely due to the various memes posted being satirical in nature. Despite this, both Moore and Nadathur thought the message of the movie should have been easily understood by all.
"I saw reviews that were like, '[Barbie] is bashing men,' but it didn't bash them at all," Nadathur said. "[The movie] bashes the patriarchy, [but] never once [did it] individually blame [the Kens]. They're just blamed as a collective because they all chose to follow the patriarchy. Men feel like it's calling them out for something they have no control over when they really do have control over how much they choose to participate in the patriarchy."
Johnson believes the success of the movie shows that consumers crave original, well-made movies just like "Barbie." He is proud of Gerwig's achievements and has hopes for her legacy to inspire more female directors to be able to accomplish such feats.
"Fifty percent of the population is women," Johnson said. "It seems like 50% of the movies should be directed by women [yet] that's not the case. But there's never been a better time to be a female directing films than right now."