The National Scholastic Press Association (NSPA) announced its finalists on Aug. 24, naming El Estoque in 11 categories. Individual award winners will be announced at the Journalism Education Association (JEA) and NSPA Fall National High School Journalism Convention on Nov. 4, but MVHS journalism adviser and FUHSD English Curriculum Lead Julia Satterthwaite says that having 11 different items earn national recognition is already an incredible achievement.
"I think it speaks to the breadth and depth of our publication in terms of our talents and our coverage," Satterthwaite said. "We have people up for photo and drawing, or writing and marketing. It sort of runs the gamut. And that's what shows that what we do on El Estoque is very well rounded. It's a service to our community that we do excellent work in a variety of categories."
Anna Jerolimov, a freshman at the University of Michigan and one of El Estoque's editor-in-chiefs during the 2022-23 school year, finaled in NSPA's environmental portrait category. She says that while the stakes for the awards were lower for her now that she's graduated, being recognized still felt validating.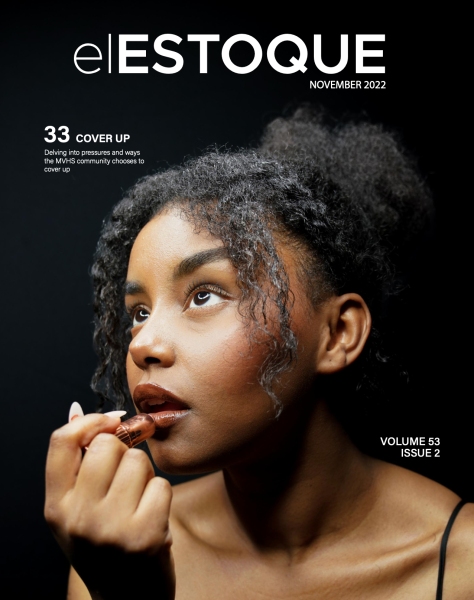 "That photo shoot was one of my most favorite ones I've ever done because in my junior year, I was mostly into sports photography — environmental portraits are different because you're looking for a specific shot when you go into it," Jerolimov said. "But I'm really proud of the way it turned out. Finaling in that category was a really nice way to bring me back to El Estoque, because now I'm thinking about it less than I did last year. It was just a really nice reminder."
Satterthwaite explains that submitting for awards is a complicated process that takes a lot of time and effort from El Estoque's managing editors, but one which she believes is worthwhile because of the positive reinforcement for her students.
"None of what we do on El Estoque is for awards. Ever. But it's nice to be rewarded for hard work," Satterthwaite said. "Seeing people get recognized when they've done something exceptional is very rewarding and worthwhile for that individual or team."
The Prospector from Cupertino High School and The Epitaph from Homestead High School were also named as finalists in one and two categories, respectively, as well as Pegasus, HHS' yearbook, in one category. Satterthwaite says she's proud to be part of the FUHSD journalism teacher professional learning community and work with and learn from FUHSD's other journalism advisers. She's also grateful to be part of a journalism program and school district which are well-funded and which support its students' press rights, creating opportunities that not all high school students have.
"I appreciate what we're able to do here," Satterthwaite said. "We're able to do some excellent journalism that is on par with what many professional organizations are putting out. I do think that presents a lot of real world applications, and I'm just super proud of our team [and] our community for being able to maintain that excellence year after year, because that's not easy to do."
Jerolimov adds that not only did writing for El Estoque make her a better journalist, but it also made her more outspoken, more comfortable communicating with people from all positions of authority and gave her opportunities to talk to members of the MVHS community she otherwise wouldn't have interacted with. Ultimately, it shaped her high school experience to a degree she never could have predicted.
"When I was on El Estoque, I didn't realize just how much I learned from it — but now looking back, it's like, 'Wow, that really shaped me as a person,'" Jerolimov said. "[Finaling in multiple categories] isn't necessarily any different from how El Estoque has done in previous years. It's just a testament to how even though people might not necessarily realize it, we do produce incredible, amazing work. And it's just something that's sort of unmatched in any other high school across the country."