Let the games begin
Seniors compete in student-run games
May 31, 2023
Senior Assassins
Senior Assassins was an unofficial event held exclusively for seniors outside of school that ran from April 11 to May 16. Inspired by the Senior Assassins trend from other schools, senior and co-organizer Student A, who remains anonymous because this was not a school sanctioned activity, was motivated to host an event to bring the senior class together. After announcing signups over the Senior Assassins Instagram, Student A recalls receiving phone calls from numbers they have never seen before from people interested in participating.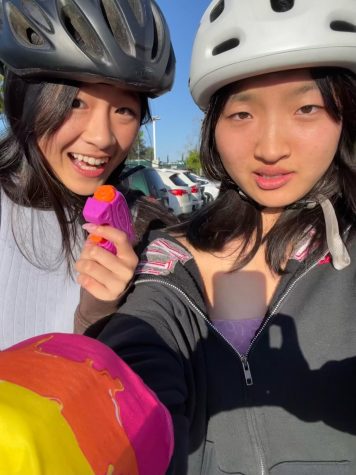 "My phone number was like a currency distributed around the school," Student A said. "People were really, really, really excited about the game. Even though the prize pool is not as big as other schools, people took this game more seriously. That's what made it a lot more fun because we don't have that many opportunities to have fun, [but when] we have the opportunity, we go hard."
 The game was structured as a round-based tournament, beginning with 41 duos who contributed $5 per person which culminated to a final prize pool of $300. Students tracked their assigned targets on Life360 with the goal of submitting recordings of them eliminating their targets with toy water guns to the Senior Assassins Instagram reels.
During the game, players would be safe from elimination if they wore protective immunity items — a bicycle helmet, pool floaties and swim goggles. The school campus and places of work were safe zones where players could not be eliminated.
Senior Assassins champions Mulyn Kim and Joyce Lui devised various game plans such as keeping immunity items on them as if they were phones, keeping track of their targets' houses and strategizing for hours outside Lui's house. Despite their tedious planning, they often made eliminations spontaneously after seeing their target's vulnerability. This was the case when they saw their target off-campus on Life360, which led to Kim running to his location so quickly that she scraped her knee, elbow and hand.
"I feel like a lot of our kills were a spur-of-the-moment thing," Lui said. "If it happens it happens. It's kind of like fate sometimes because it's just under the right conditions."
Although Kim and Lui enjoyed Senior Assassins, they saw issues with the moderators participating in the games themselves because they believed they were not transparent with the prize money and could easily twist the rules in their favor. On a social level, Kim and Lui recognize that participating in Senior Assassins took away their free time, causing them to spend less time with other friends not participating in Senior Assassins. Similarly, senior Harsha Suribhatla felt that participating in Senior Assassins forced him to always be on edge to look out for other players.
"You couldn't do what you usually do — you couldn't go outside in peace," Suribhatla said. "You basically always had to check Life360 to see if anyone was coming for you. It's kind of annoying when I had to always check my location at work or when I was hanging out with my friends just to make sure no one is showing up and trying to shoot me."
During the finale, the nine finalists participated in a free-for-all week-long purge, where the team who eliminated the most players would win. After getting three kills, the most out of all the teams, Kim and Lui won the game.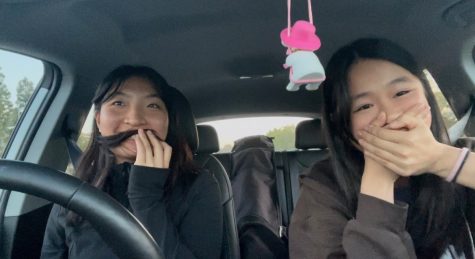 Despite initially believing they had "zero chance" of winning, Kim and Lui say they joined Senior Assassins to show their school spirit. Throughout the games, they bonded with unexpected people over shared Senior Assassins stress, allowing them to connect with their class one last time before graduation. Kim reflects that Senior Assassins was ultimately a fun and rewarding experience, and was glad to have the opportunity to participate in it. 
"My advice is [to] participate in the game," Kim said. "It was something that Joyce and I never would have done so it was a very spur-of-the-moment thing and out of our comfort zone. If we didn't [participate in] Senior Assassins, we would just be doing our everyday life stuff. Even if you're scared to do it, you should still do it."
Senior Games
From April 6 to 26, 110 seniors competed in MVHS's first ever Senior Games, a series of challenges that culminated in a free prom ticket for the winner. Senior and Leadership students Itai Lavi and Darpan Singh were inspired to host the games in order to bring the senior class together for the last time.
"We did this to incentivize some camaraderie between our class because we thought that was a bit lacking," Lavi said. "We were trying to have something exciting for the senior class that hasn't been done before."
Lavi and Singh took inspiration from Lynbrook High School's version of Senior Games but changed some of the challenges to make MVHS's version unique. Descriptions of each challenge were posted on the Senior Games Instagram account the day before.
The first series of challenges were dress-up tasks, where participants had to wear hats, mismatched shoes, sunglasses and gloves to school. If another player took a picture of someone not wearing all their items outside of class time, that person would be eliminated. Senior Aditya Mishra, a finalist in the games, enjoyed this challenge.
View this post on Instagram
"[My favorite part] were these challenges that you do every single day, especially in the first week where you were just wearing those items," Mishra said. "One of the days you had to wear four of the items, [which] became a really cool challenge. Seeing everybody walk around and trying to get people out was also really fun."
In the next series of challenges, players were assigned to a group and tasked with taking a selfie together at various locations. Lavi and Singh assigned these groups randomly, allowing players to interact with people they might not have known. Groups that did not submit their selfie in time were eliminated.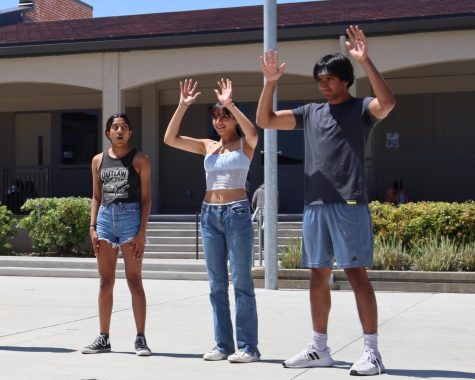 "That was actually my favorite part, seeing all the different groups together smiling," Lavi said. "These are people that for the most part we didn't think were friends with each other. [This challenge] really brought people together."
Finally, the last 14 contenders competed in the finale game of Simon Says on April 26. Mishra was one of the first people to be eliminated after raising his hands by accident.
"I was trying pretty hard and I really wanted to win," Mishra said. "I was competing with all my friends and I was telling them I'd win a lot. I was pretty disappointed. I think Simon Says is an interesting way to go, [but] I thought [the finale game] should have been more creative because the rest of the challenges were a lot cooler."
Senior Stephanie Zhao, the final winner of the Senior Games, agreed that the finale game was underwhelming. Nevertheless, Zhao felt proud after ultimately winning the grand prize.
"I honestly expected the finale to be a lot more difficult, so I didn't think I was gonna win. But after there were five people [left], I thought that I had a chance," Zhao said. "I felt very ecstatic and happy. It's kind of weird to see our class unified in something because they're usually not."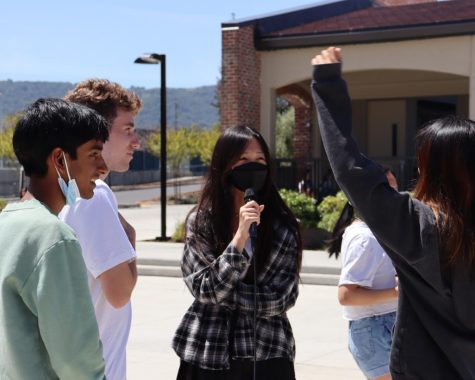 Overall, Lavi says MVHS's first Senior Games was a success due to the positive reactions he saw from fellow seniors participating in the game. However, he says that they could have planned the challenges more in advance, as some of the challenge updates on Instagram were not posted in time.
"We were very grateful that people actually ended up enjoying the games," Lavi said. "Obviously, there were some bumps in the road, like managing when to post and coming up with different games, but we think for most of us this first ever attempt was actually really successful."