Style on stage
Exploring how MVHS sports teams utilize clothing in their performances
Senior Aneesha Sinha, along with the MV Dance Team, gathered around the coach anxiously. They could barely contain their excitement, waiting for the moment the coach would announce the costumes the team would be able to show off on stage for their different routines. Now an officer for the team, Sinha reflects on the announcements of costumes as one of her memorable moments on the team. Even as she now has a say in the costumes, being an officer, she still expresses her enjoyment of the process as a whole.
Senior and Varsity Color Guard captain Katherine Chui believes that costuming has been a part of the performing arts sports even in its simplest form, but it has since evolved into a more crucial aspect of the sport. Chui expressed how during the 2022-23 season, costumes played a big role in setting the scene for Color Guard's routine "The Moment They Never Met."
"[The performance] basically talked about how there are many moments in your life where you might have met someone, or you walked into a cafe and you became best friends with someone, but what if you never walked into that cafe?" Chui said. "So we're all pedestrians, we had a color scheme of brown pants and a white top, and everyone chose their pants and tops."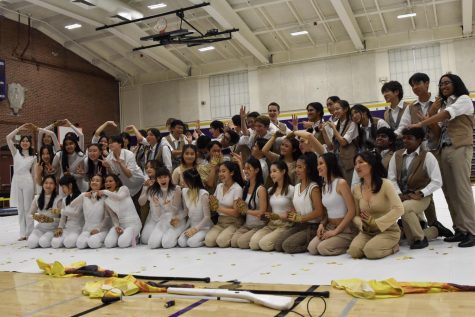 Chui says that costumes played a major role in the overall aesthetics of the show and are a great way for people on the team to express their fashion style, as the members had creative liberty when choosing with the only constraint being the color scheme.
Sinha also believes that costumes are vital to the team's performances and provide comfort in certain styles of dance.
"For example, for hip hop, it's easier to dance in cargo pants and that kind of stuff," Sinha said. "As a team, we all have different body types, so we want to make sure that it looks good on everybody and everyone is comfortable in what we choose." 
Additionally, teams such as Monta Vista Bhangra also incorporate aspects of Punjabi culture into their costumes. Junior and captain Aarushi Jain describes the costumes as traditional Punjabi Bhangra dance costumes with many parts, including pants and a Kurta with embroidered designs. 
"Embroidery is a big part of our costumes, and then with the colors, we always have three different colors," Jain said. "We have jewelry, and then guys have paggs, which is like a turban, and then girls wear chunnis, [which is like a traditional scarf worn over the head]." 
Sinha also feels that though the overall look of the costumes is important, price is another key factor.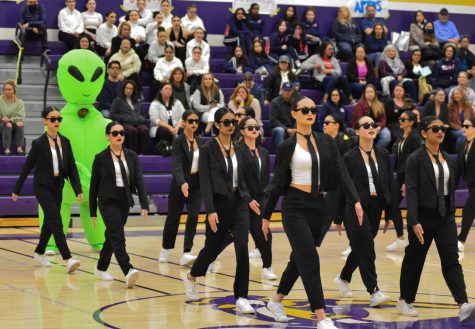 "After we do some research, we look at the price because we have a big team," Sinha said. "We just [choose] whatever is price efficient and also would look good, because costumes are a category for competitions."
While Chui worked with a similar structure in terms of budget, she felt that the team did not face a lot of financial struggles. The team's budget this year came from contributions from team members, donations, company matching and leftover money from last year.
As opposed to Color Guard and Dance Team, since Bhangra is a club, Jain explains the team's budget usually consists of around 1,000 dollars, and all of that comes from contributions from team members. 
However, even with the constraints on the budget, Chui, Jain and Sinha all believe that the costumes of their respective teams have improved over the years. Chui and Sinha say that the costumes they have chosen have are more comfy and trendy. Sinha describes that especially for hip-hop, the costumes fit more of the street style and could be something that she would wear on a day-to-day basis as they were less extravagant compared to costumes from previous years.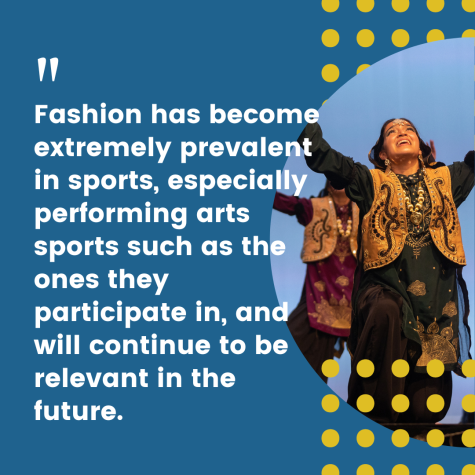 "My freshman year was during quarantine, so we didn't get new costumes," Jain said. "We would usually just perform in a black top and black pants, and last year we used a similar design to what we had been using for previous years. But this year is completely different — we changed it up with the material and the design, so I think it's improved a lot."
Through these experiences, Sinha has realized that fashion has become extremely prevalent in sports, especially performing arts sports such as the ones they participate in, and will continue to be relevant in the future. Sinha, being in multiple styles of dance routines on the team, believes that costumes always enhance their performances and greatly influence the different styles of dance. For hip-hop, it would help with how cool they looked, enhancing the 'swag' factor of hip-hop. For other styles like jazz, it would complement the more stylish side.
Jain agrees with this sentiment, expressing that Bhangra's costumes add to their performances, especially with their vibrant colors. Jain believes that, in the end, it complements the team's dancing ability and adds to what the audience is seeing, whether on the field or the stage. 
"I feel like [costumes] are just a way for you to express your fashion sense," Chui said. "Usually Joyce, [my co-captain] and I picked the costumes for the more feminine side, so we just ended up getting to know each other's styles more. Because we have to come to a mutual agreement, but we would find our own inspirations on Pinterest and I'd be like, 'This is what Joyce likes,' and she would be like, 'This is what I like.' So I feel that it's definitely a great way for you to express your true self."