Maya Pullara
March 24, 2023
Starting from a side part, long, straight locks of black hair fall down to sophomore Maya Pullara's hips, the undersides sporting brown shades as a result of bleach. During icebreakers, one of her favorite fun facts about herself that she likes to tell others is that her wingspan is shorter than her hair length.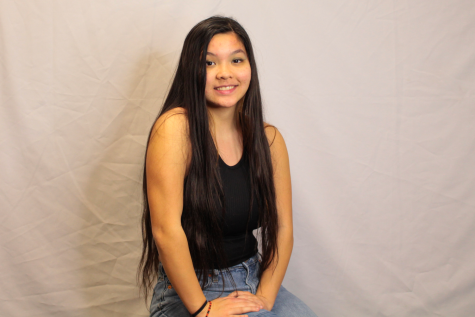 When Pullara moves, her hair swishes behind her, sometimes even accidentally hitting unsuspecting people. In seventh grade, she remembers often hitting the student behind her with her long braid when she turned, yet to Pullara, despite her hair "always flying everywhere," it is something that she thinks suits her. 
In second grade, Pullara went to get her hair trimmed. However, the stylist was dissatisfied with Pullara's tangled hair and instead of trying to detangle it, the stylist cut her hair very short. Shocked by the sudden change that she had not agreed to, she made a decision to grow out her hair.
"Since then, my hair has just been growing," Pullara said. "Also, in first grade, I was really obsessed with Rapunzel, and I thought if I grew my hair long enough, then I would get magic powers. That's how it started, and then I just kept not cutting it from there." 
While keeping her hair long makes it interesting to some extent, Pullara sometimes struggles with perceiving it as a tedious extension of herself, having to wash it often since her scalp becomes oily if she does not wash it for a couple of days. 
"Every once in a while, when you have black hair and it's all really long, it feels the same," Pullara said. "Over time, you get bored of it. You look at yourself in the mirror and you're like, 'I feel like it's just a mop on my head, it's got to be different.'"
Pullara remedied this boredom with extensive research on how to bleach her hair without damaging it, eventually bleaching it and then coloring it. To her, coloring her hair didn't mean that her original hair looked bad — it's because she wanted something new and to have fun with her looks. 
"[My hair] makes me feel more confident," Pullara said. "It kind of goes with me, it's always flying everywhere and sometimes accidentally hits people in the face. It suits me."