Amrita Arun
March 24, 2023
As senior Amrita Arun entered her pre-teen years, she started noticing curls in her hair, which surprised her — she had had straight hair since she was born. She learned that her mother's and grandmother's hair had gone through the same change, which made her feel a connection to the both of them.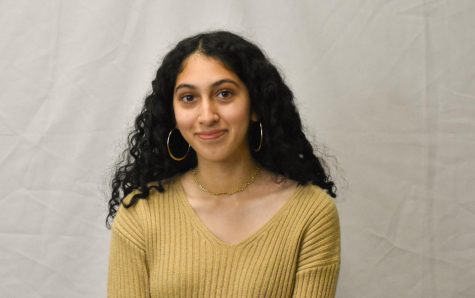 As her hair became increasingly frizzy, Arun grew concerned as she struggled to tame it and tie it into a ponytail. She avoided having her photo taken because seeing her pictures reinforced her insecurities surrounding her hair. Hoping to enjoy her hair more, Arun started to experiment with it more as she entered high school.
"I experimented with [my hair] a little bit more [partly] because I feel like people judge you pretty severely [based] on your looks," Arun said. "Also being a young woman, you're judged very harshly on your looks and it has a very direct correlation to your self esteem."
When Arun saw peers and famous people with straight hair, it made her envious because it seemed that taking care of their hair was so much easier and effortless. As she finally came to terms that her hair would not be like that, she started looking at celebrities and influencers with curly hair on social media to find out how they dealt with it — if she could not have straight hair, she wanted to have nice curls like them. Still, while their hair sat in perfect, shiny curls, Arun's hair stood up, her curls tousled and poofy, and their perfection seemed impossible for her to achieve.
Arun started watching YouTube videos on taking care of curls and scrolled through Pinterest, which are two major platforms in which she has "consum[ed] so much curly hair content." Arun tried everything, from trying out different hairstyles during the day to braiding her hair at night to maintain the curl patterns and reduce frizziness. When quarantine hit during her sophomore year, Arun was able to spend more time experimenting with her hair, trying different lengths, experimenting with various protection methods, styling techniques, and sampling different products. She also watched YouTube videos by Black women on how they took care of their curly and coily hair, and Arun was able to apply some of their tips on her own hair, which had a thick and coarse texture.
Aruns says she has embarked on a journey that she believes will last a long time: her hair journey. Arun recognizes that this journey is still ongoing, and she still has bad hair days where she doesn't feel like taking pictures. And while her curly hair is important to her identity, she views straight hair as easier to maintain, especially in today's society, where people with straight hair seem to have it easier.
"Hairstyles, models, hair accessories, products — I think it's very catered towards straight hair and straight hair is perceived as the beauty standard," Arun said. "Every day, I see people with straight hair and I want to be like them. Throughout the years, I've noticed that my wanting [for] my hair to be like someone else's has definitely reduced. But it's an ongoing thing. People think it's an on and off switch, but it's not. It's a constant struggle, but it definitely gets better and I'm so much happier. I see pictures of myself back then and I'm so proud of my hair now versus back then."
Arun believes that others who are insecure about their hair can achieve a confidence and satisfaction similar to hers if they explore and learn more about their hair.
"It's taken me four years to understand the depth of what curly hair is and how to take care of it," Arun said. "I've had a really long battle with my hair [and] it means a lot to me. It's a big part of my identity as a person."
Arun says the curl community has also empowered her to wear her hair down regularly, something that she wouldn't have done a few years ago. She encourages others to follow influencers with curly hair, as they are always willing to share all their hair tips, tricks, styles and products. Seeing how other people were loving their hair led Arun to love her hair.
"Hair journey on the x-axis, self confidence on the y-axis — it's a straight line up," Arun said.