Right On Track
Track and Field athletes share their experience with their main track events
Tanay Parikh: Long Distance Events
Sophomore Tanay Parikh first joined track and field in sixth grade, starting with the long jump as his first event. He was also a part of the cross country team in sixth and seventh grade at Kennedy Middle School until the COVID-19 pandemic halted his participation in both sports. However, he was able to resume his athletic pursuit in both cross country and track and field during his freshman year. This year, he decided to compete in more distance events, such as the 3200-meter and 1600-meter races. After switching from long jump to these events, Parikh set a new personal record in his 3200-meter race.
"Last year, when I got a 10:30, I was really happy," Parikh said. "I think that was one of my biggest accomplishments."
This season, Parikh hopes to complete the 3200-meter race in under ten minutes.
Parikh finds that the track team supports him, even though most events are individual, and feels that the team is very supportive, energetic and full of passion. He hopes that he will be able to travel with the team to Los Angeles again this year just as they did in his freshman year. He mentions that he enjoyed hanging out with his teammates and watching the night races because of the different atmosphere that the trip brought. 
Parikh states that while his event is perceived as not interesting, he believes that running the last two laps of the 3200 is exciting. Parikh mentions his experiences in the 3200-meter race specifically, recalling how funny events have occurred in his long-distance races.
"In Mountain View, this was one of the first times I was running the [3200-meter race], [there was] this guy from Mountain View who was really fast, who was almost CCS champion," Parikh said. "In the first lap, he was going really slow, so I thought I would just drop them. And then, I was 200 meters ahead of him, but he was a CCS champion, so he kind of caught up and then did another 200 [meters] on me after that."
Parikh also provides insight to those who are interested in doing his event and encourages others to join track and field.

"Just keep trying," Parikh said. "Don't give up because the first few races are hard, it gets easier."
Hayden Selvakumar: Short Distance & Relay Races
Senior Hayden Selvakumar initially joined the track and field team during his freshman year to prepare for the football season. However, soon after joining, he found that he enjoyed track and field, and committed to doing it throughout his entire high school career.
Selvakumar feels that since joining the team, the culture of the team has proven to be very supportive.
"I feel like we're a family," Selvakumar said. "We love each other."
The CCS Last Chance meet provides athletes with an opportunity to improve their marks before the championship season. Last year, Selvakumar split 52 seconds for his 4×4 relay at the CCS Last Chance meet, which he describes as one of his biggest accomplishments during his four years as part of track and field.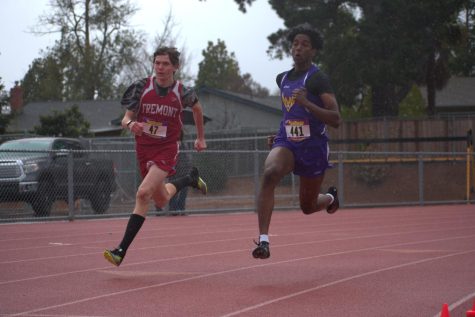 Selvakumar usually runs the 100, 200 and 400-meter sprints, and the 4×100 and 4×4 relay events, with the 400-meter race as his main event. Selvakumar notes that some people may have misconceptions about the 400-meter race.
"[There are some] misconceptions that it's a distance event, the 400 [meter race makes] people think [that] it's too long," Selvakumar said. "In reality, [it] is just a sprint. You sprint the whole thing. The season just started and we've had some pretty good times already, so I'm excited. I hope that our relay team goes to CCS."
Nikhita Saldi: Long Distance & Relay
Senior Nikhita Saldi recalls one of her favorite memories with the track and field team, an unofficial meet during her freshman year on the team, right before the start of the COVID quarantine period.
"It was my freshman year. And it was right when COVID started [and school was canceled] so the last day was a Friday and that Thursday we were supposed to have a meet, but then they canceled all inter-school event[s]," Saldi said. "So we had this fake meet with just Monta Vista people but it was really fun."
Saldi has been a part of the track and field team since her freshman year, joining track mainly because of her background in cross country. Saldi participates mainly in long-distance events, such as the 1600 and 3200-meter races, but occasionally participates in the 4×4 relay. During Saldi's sophomore year, she qualified for CCS finals, which she says is her current biggest accomplishment during her time on the team.
"Sophomore year, I went to CCS finals for the 3200 and I placed in the top 10," Saldi said. "It was really hot that day, but it was good. I was really proud of myself."
However, during Saldi's junior year, she was unable to compete in most of the events due to injuries. Saldi has recovered since then and has high hopes for this season.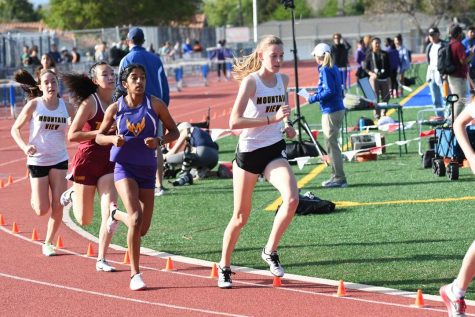 "Hopefully, it'll go better than last year because I didn't get to race at most of the events," Saldi said. "Race at every single meet because I didn't get to do that last year. But just having a fun senior season."
On a lighter note, Saldi mentions her funniest memories during her races. During one of her long-distance races, the 3200-meter race, she mentions seeing her teammate miscounting the number of laps.
"In the 32, it's eight laps, which sometimes you lose count," Saldi said, "It was one of the races, a league meet. Boys and girls run together and I was running with one of my teammates. He started sprinting in the seventh lap and I was like, 'Did I count wrong?' He sprints and he's about to go to the finish and everyone's like 'Nice job, one more lap' and he turns and he goes, 'What?'"
Saldi's advice to those interested in racing long-distance events is that once you get past the difficulty in the beginning, it becomes easier.
"Stay committed to it if you want to do [the long-distance events]," Saldi said. "Try to run every day [because] you have to build up that endurance to be able to run four or eight laps on a track, so [stick] with it. It'll be hard in the beginning for sure, but it gets easier throughout time, so make sure you do it consistently."
Gillie Ross: Discus & Shot Put
Following in her sister's footsteps, freshman Gillie Ross first stepped onto the MVHS track early this year. Gillie's older sibling, junior Alice Ross, motivated Gillie to join the track and field team.
"My sister is in track and field and I figured it'd be fun because I wanted to do a third sport," Gillie said.
Gillie is currently part of an ice hockey team outside of school and previously participated in the MVHS water polo and wrestling team. Gillie competes in the discus and shot-put events, and she mentions her success at the first two meets of the season.
"On Saturday, [during the RustBuster Invitational,] I outthrew my sister so I'm proud of that," Gillie says.
Gillie notes that many people have misconceptions about discus and shotput, mainly regarding the requirements to do these events.
"[People believe] that people have to be really strong or buff to do [discus and shot-put]," Gillie said. "Especially with discus, it's a lot more focused on technique than it is actually being able to just muscle it."
Gillie attributes her success in track and field to her teammates, who have supported her throughout her journey.
"They give me a safe space to be myself," Gillie says. "It's different when you're around your team than when you are around your friends. They're here to work, but they're also here to have fun and it's like a family."
Ethan Lu: Hurdles & Short Distance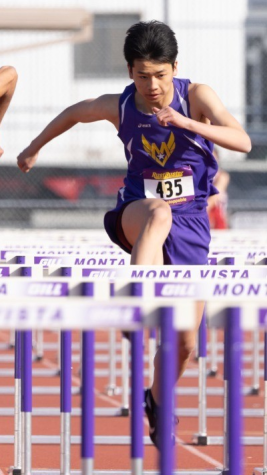 Junior Ethan Lu began participating in track and field events in his freshman year due to the pandemic, which made him unable to play team sports like soccer. He mainly participates in short-distance races as well as the 110-meter and 300-meter hurdle events. Compared to the last season, Lu believes that the 2023 season is going well.
Lu recalls a sad but motivational event from his previous season of track and field: during his League Final meet in the previous year, he was two places away from qualifying for CCS and was disappointed by the loss. Lu also provides insight to those who are interested in hurdles, recommending that they conquer their fears.
"At the beginning, hurdles can be pretty scary, but it's not actually that scary," Lu said. "And it's not that dangerous."
Sunny Yao: Long Jump & Triple Jump
Sophomore Sunny Yao began his track career early on, testing out the triple jump event in sixth grade. Though the COVID pandemic hit as Yao was preparing for his second season of track and field in seventh grade, he sustained his interest and rejoined the team this season.
"Seventh grade was when COVID hit," Yao said. "I was about to join track again. But then COVID hit in March and the season [started] in March, so I was excited to join the team again, but then when school ended and I couldn't join, I just felt disappointed. I started doing track [again] because track was really fun in sixth grade, so I wanted to continue doing that because I had no other sports."
Yao currently competes in both the long jump and triple jump events. He also recalls his experience with choosing triple jump, remembering that it was less popular than the other events.
"When I did [track and field] in sixth grade, [my] biggest accomplishment would probably be winning counties for triple jump," Yao said, "My event is probably [the] least popular event, nobody does it. So even though it was counties, it was pretty funny [because] only five people showed up to the actual event."
Yao is aiming high this season: his goal is to get above 40 feet in the triple jump and to place in the top five at CCS. Yao emphasizes the importance of showing up to practice.
"Just show up to practice and then the coach will get you oriented," Yao says. "She's really knowledgeable and supportive and she teaches everyone the proper technique."
Yao also believes that his team contributes to his success in track and field, as they all motivate each other to do better. He says that the time they spend together is a critical part of the sport.
"All my memories are just hanging out with my friends," Yao says. "That's a big part of track, just building that team chemistry."