Though well-made, 'Endless Summer Vacation' is disappointingly generic
Miley Cyrus' eleventh album meets expectations
"She's a won't-stop woman / Hours on her hands / All the pain is polished / All the tears are planned" – "Wonder Woman" (Track 12 of "Endless Summer Vacation")
Pop singer Miley Cyrus experiments with a variety of stylistic choices in her eleventh studio album "Endless Summer Vacation." The tracks range from pop-angst in "Violet Chemistry" to country in "Thousand Miles (feat. Brandi Carlile)," and there is an emotional juxtaposition between raw heartbreak and love. Released March 10 with a total of 13 tracks, the album has a runtime of 43 minutes and 20 seconds.
The album begins with its lead single, "Flowers," which samples Bruno Mars' 2012 release "When I Was Your Man." With its viral chorus, "I can buy myself flowers / Write my name in the sand / Talk to myself for hours, yeah / Say things you don't understand," the song instantly made waves on social media platforms such as TikTok, increasing the anticipation for the album's release. Past its lyricism, "Flowers" is also perfect for radio — the background synths are groovy and its bass adds rhythm to an otherwise messy track.
TikTok user @happykelli posted a video using Miley Cyrus' "Flowers," garnering roughly 1.5 million likes.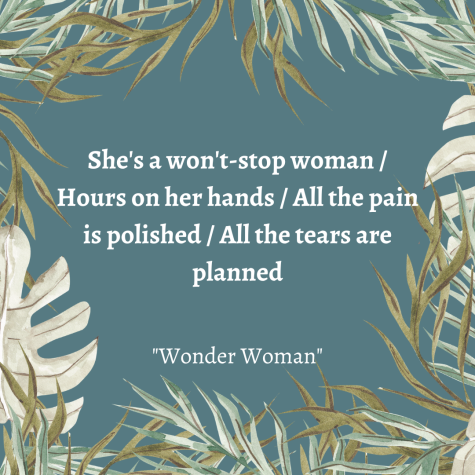 Tracks such as "Jaded" build on the feelings of rage established in "Flowers," whereas tracks such as "Violet Chemistry" and "Rose Colored Lenses" use the same pop-angst tone to instead convey how the narrator is deeply in love. All three tracks are catchy in the way "Flowers" is, incorporating electric synths and engaging background instrumentals to lure in listeners. Cyrus' raspy vocals shine in this pop-angst genre of music as well, complementing the backing tracks rather than being drowned out by them. 
Alternatively, the mellower twelfth track, "Wonder Woman," and the country-sounding fourth track, "Thousand Miles (feat. Brandi Carlile)," are a stark juxtaposition to the light-hearted themes of love. The lyricism in "Wonder Woman" is rawer compared to the lyricism in the rest of the album. It also flows slower due to the piano background instrumentals which emphasize Cyrus' vocals, synths flowing as crescendos rather than hardcore basses or sunshiny grooves, and the slight echo allowing the lyrics to sink in prior to Cyrus singing the next line.
Additionally, "Thousand Miles (feat. Brandi Carlile)" features guitar acoustics alongside Cyrus' and Carlile's voices rather than hardcore bass, making the track sound more relaxed than the album's other tracks. Cyrus' and Carlile's voices blend nicely, with Carlile's clear vocals complementing Cyrus' raspier ones. Together, the two styles are able to shine in the track, invoking feelings of hope and nostalgia.
Yet the album's other collaboration, "Muddy Feet (feat. Sia)," is the opposite, feeling forced instead of effortless. With Sia and Cyrus sounding extremely similar in the track, it feels unnecessary to have Sia on it — the track would have been perfectly fine with Cyrus alone. 
However, the album's most disappointing aspect is its generic nature. Although multiple listens of the album allows certain tracks to shine through, and analyzing the album makes the subtle production and lyrical nuances overt, the album at its face feels like any other pop album — for the average listener, the face-value of an album is all it has, as most listeners will not analyze every track upon listening. Furthermore, the synths are overused in today's realm of music and in Cyrus' discography, and many tracks on the album itself feel identical due to their production having little to no difference. 
Overall, "Endless Summer Vacation" is everything a pop album is expected to be — the lyrics are catchy, background synths make the album radio-worthy, it's diverse in terms of the topics it discusses and it features the right amount of rage for listeners to scream to. However, the album is nothing special — many tracks refuse to stand out from one another, other than the stark genre switches made in certain songs — ultimately being disappointingly predictable. 
3/5