MVHS Choir holds its annual Valentine's concert
Choir members share their preparations for the annual Valentines Choir Concert
Each year, MVHS Choir — composed of Low Key, Esperanza, Bella Voce and Variations — hosts a Valentine's concert. They begin preparing for this concert in December during finals week. Since the Valentine's concert is more community-based, students come together with their friends during their period in groups and decide on the songs they want to sing for the concert.
Choir teacher Amy Young gives her students the freedom to choose songs they want to perform and approves them ahead of time. Starting in late December, they divided class time into 45 minutes of concert repertoire preparation and 45 minutes of preparation for the Valentine's Concert and Singing Valentines. Each Friday, students in the various choir ensembles have a showcase where they present what progress they have made.
"Everybody performs where they are in the process so that they're able to get feedback from their peers and see how things read," Young said. "[There are also more] pop acapella arrangements versus more traditional choral arrangements. The rest of our concerts are more focused on the whole group repertoire and more traditional choral repertoire."
This year, groups decided on arrangements of Grace Phipps's "Falling for Ya," Sean Kingston's "Beautiful Girls" and Taylor Swift's "Gorgeous." The Valentine's Concert is the only concert of the year where choir students wear costumes as opposed to the usual uniforms. According to Young, this establishes the relaxed nature of the repertoire.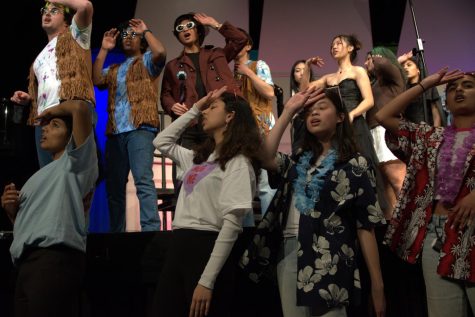 Senior and Bella Voce member Kailey Daugherty agrees with Young and describes the concert as more community-based.
"Instead of just singing to an audience, [the concert is] for each other and we're all expressing what we've been working on for the past month and enjoying it," Daugherty said.
She also notes how this is Young's second year teaching in-person choir, and believes this concert went more smoothly than previous years. Young also adds how new changes to the auditorium have allowed sound to be projected better for this year's concert.
"[The] sound shell makes a big difference because the stage is so big, and the human voice can only be so loud," Young said. "By providing a shell, it helps the sound get out into the audience a little bit better. This is our first year having that. It's made a really big impact on all of our concerts, in addition to our LED lights. It really creates a lot more ambiance and definitely provides a more visually impressive setting for us to be able to perform [in]."
Junior and Bella Voce member Peter Bayer also believes this year's concert was a success due to the early preparation.
"It was fun getting to hear all the music come together because Bella Voce doesn't have tenors and basses, so hearing that [was cool, it made us] come together," Bayer said.
However, Bayer believes they could have worked on the "Somebody to Love" arrangement more. Young mentions the aspects of the Valentine's Concert that she enjoys, mainly that the students are able to bond more when performing in smaller groups.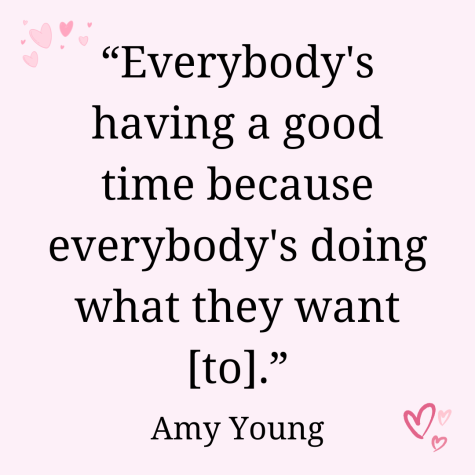 "I'm able to see them more as individuals, hear their voices a little more than I do when they're in the large group and see their personalities come out a little bit more," Young said. "Everybody's having a good time because everybody's doing what they want [to]."
Daugherty notes the ties that the concert has with the MVHS community. She believes the concert affects the student body more than some other concerts because of the segway it leads into buying Singing Valentines. She notes that the concert's purpose is to showcase the choir's abilities so more students are inclined to buy Singing Valentines or join choir.
Young agrees with Daugherty, also mentioning how it has a close relation to the student body.
"Since this concert is so tied into our Singing Valentines project, that does affect the student body because we sold 195 [Singing] Valentine's this year for people to deliver throughout the school," Young said. "[This concert is more] widely publicized and actually gets involved in the school day a little more."
Singing Valentines are sent throughout one day during the week of Valentine's Day, and choir members in the different ensembles deliver them to each class where someone has been sent a Singing Valentine.
Overall, Young believes that the concert went successfully, with each group performing their repertoire.
"This [concert means] bonding and community building, and a lot of the things that we find joy in making music together," Young said. "It was fun. It was a good time."