Scramble to amble
Examining the effects of the new Pedestrian Scramble
Cupertino's first Pedestrian Scramble went into effect at the Bubb McClellan intersection on Jan. 23. During the walk phase of the Pedestrian Scramble, pedestrians are now able to cross up to two legs of the street while all the traffic lights are red for drivers. The Pedestrian Scramble operates from 7:30 to 10 a.m. and 1:30 to 4:30 p.m. on school days. 
Cupertino Safe Routes to School coordinator Cherie Walkowiak helped organize the Pedestrian Scramble and distributed promotional materials on how the Scramble works. During school commute hours, the Bubb and McClellan intersection is highly congested by car and foot traffic given its proximity to Lincoln Elementary School, Kennedy Middle School and MVHS.
"We knew it was going to get worse with the influx of new students going into Lincoln who were previously going to Regnart, so we came up with a whole suite of things that we felt would help with the situation and [the Pedestrian Scramble] was one of many," Walkowiak said.
For sophomore Sehej Singh, who walks to school three to four times every week, the safety problems that she has observed are mainly rooted in the heavy traffic of the Bubb and McClellan intersection.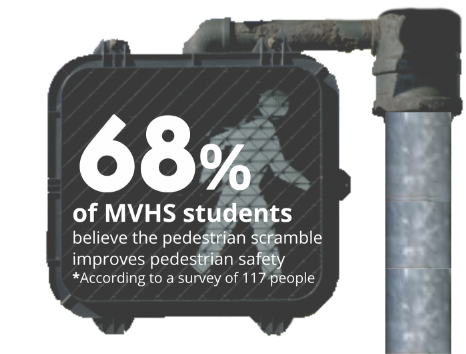 "There's kids that walk from Lincoln when they're walking home, and they're usually with their parents," Singh said. "I get scared sometimes because there's cars coming in so many different directions [and] kids [who] are running around, and it looks really dangerous." 
The Pedestrian Scramble improves pedestrian safety by preventing cars from moving while pedestrians are crossing. To prioritize the safety of elementary age children in particular, pedestrians are not allowed to cross diagonally. Cupertino Transportation Manager David Stillman explained through an email that "[in] the interest of safety we do not want these children to believe that it is typical behavior to be able to cross an intersection diagonally." 
In addition to improving pedestrian safety, Walkowiak believes that the separation of vehicular and pedestrian movement reduces traffic congestion by allowing cars to freely turn right on green lights.
"Currently, cars can only turn right when there's a green light," Walkowiak said. "But there are so many students crossing the street there that the cars can't even turn right [during the green light] and hardly anyone can get through the intersection. We're hoping [the Pedestrian Scramble] will allow a lot more cars to get through."
Ever since the Pedestrian Scramble went into effect on Jan. 23, Singh noticed that she has to wait a few minutes longer than before to cross. Despite the increased wait time, crossing guard Steven, who did not want to provide his last name, believes the benefits of the Pedestrian Scramble outweigh the costs.
"Because [of] the Scramble there'll be fewer [and] less frequent [pedestrian] crossings," Steven said. "That could be an issue for some of the kids who are waiting but that's the way it is right now — it's safest for them to cross when all four traffic lights are red. It benefits everybody."