Boys Basketball loses to Milpitas High School 58-51
Matadors fall short in securing a win in a close game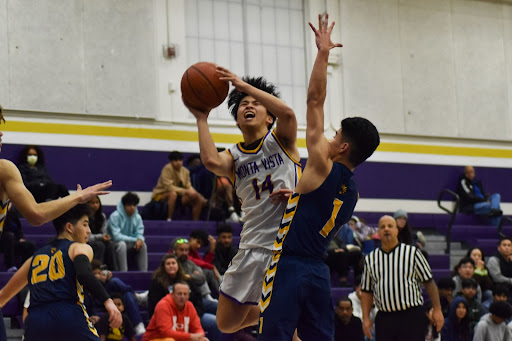 Varsity Boys Basketball narrowly lost to Milpitas High School 58-51 on Friday, Jan. 20. Although MVHS and MHS were neck and neck in the first quarter, MVHS made small turnovers that ultimately allowed MHS to gain the lead at halftime with a score of 26-19.  
In the third quarter, MVHS' defense collapsed, allowing MHS to gain a double-digit lead. Despite senior and captain Austin Hwang's aggressive drives, the game ultimately slowed down for the team, with MVHS ending the quarter 28-43. Hwang attributes this to the team's shorter roster making it easier for players to burn out.
"We came out pretty hard, but eventually we ran out of gas," Hwang said. "During the third quarter, we gave up a little bit, and that's when they started to build momentum." 
In the fourth quarter, sophomores Stanley Du and Ninad Suresh scored three-pointers, cutting MHS's lead down to 51-55. While the comeback was short-lived, Hwang is still proud of the team for its performance at the end of the game.
"I'm really proud of my guys for playing through it all and making an effort," Hwang said. "I feel like our energy can be contagious sometimes, which is good for our team. And that's how we built the momentum back up."
Overall, the team remains hopeful for the rest of the season, taking this game as an opportunity to recognize weaknesses. Junior Jake Nakamura believes better connections within the team will help in the rest of the season and says he hopes the team's on-court chemistry will improve with off-court bonding. 
"It was a great attempt [for] a comeback, but I felt like it could have been better [and] right now, we're working on communication [and teamwork] a lot as a team," Nakamura said. "We're going to be doing team bonding exercises and hanging out after practice. I think working as a team and coming together more will help us in the end."