Recognizing the importance of JV teams
MVHS community explains the necessity of JV teams
While the thrill of joining a new sport was there for junior Darya Pereverzeva, a sense of embarrassment clung to her too — she joined the water polo team this fall season and was going to be an upperclassman on the Junior Varsity team. But Pereverzeva had promised herself that she would try and join as many things as possible, and she wasn't going to let anything stop her from stepping out of her comfort zone. Although it was her first time participating in a team sport, Pereverzeva enjoyed bonding with her teammates as the season progressed. 
"It got a lot better because I got to know people, and I realized that being on a JV team is nothing to be emba
rrassed about," Pereverzeva said. "In fact, you actually learn a lot more because you're not afraid to fail."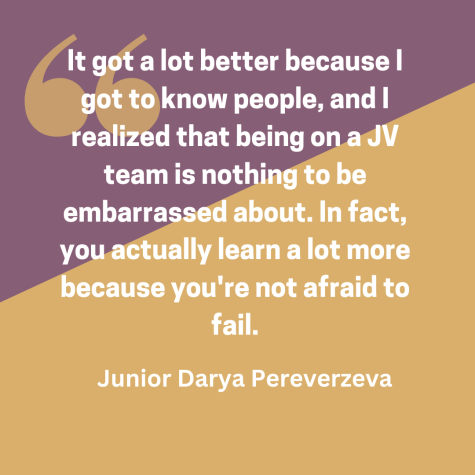 Perevereza gained the opportunity to play and learn on the JV team and became one of the captains. She was also able to move up to Varsity during Leagues. This type of experience where players with less experience get more playing time on JV so that they can improve to be on Varsity is one of the reasons that Athletic Director Nick Bonacorsi encourages the importance of having JV teams, so that players can learn and develop their skills before moving up to the Varsity team of their sport. 
"I think the benefit [of working with JV teams] is you get to work with young
er athletes who are trying to get better and play at the next level," Bonacorsi said. "There's more skill development that happens on a JV program, whereas the hope would be by the time you got to your Varsity program, you [have] had that foundation built, and so that coach could work more on strategy and those sorts of things." 
Life Science teacher and JV Girls Soccer coach Jaime Jonathan
Vazquez agrees with Bonacorsi, and says players who are on JV teams have a lot less pressure put on them to be perfect during practices and games, as opposed to Varsity teams.  
"In JV, it is OK to make mistakes because you are in the process of learning and growing," Vazquez said. "The trial [and] error for Varsity, in my opinion, is smaller, and as a result, you tend to see more toxicity in more competitive teams. This is also from what I've heard on my own, not necessarily in soccer, but in other sports as well. It's just so competitive on their Varsity team that they just wish that they were back on JV."
This difference is also part of why Vazquez has a preference for coaching JV teams. 
"For me, the fact that I can just straight up tell my girls, 'Hey, you know what, I honestly don't give a damn if we lose every single game,' because that's not the point," Vazquez said. "The point is to become better, which will naturally lead to more success. So because the objective is different, you're able to do different things — that's one thing that I really like about JV, hence why I'm here."
Currently, Vasquez hopes for more players who are "ready and willing to play" to join the JV girls soccer team regardless of what type of experience they may or may not have. Pereverzeva echoes this mindset, acknowledging that while she didn't know what to expect when she initially joined water polo, she ended up really enjoying the sport and the time she spent with her team. 
"[No one] should be scared to join a team, no matter whether you're on JV or Varsity, because I know that when I joined, I did not know what to expect at all," Pereverzeva said. "I think being on a JV team as a junior is [something] I'm really happy [I did] because even though I'm not Varsity, I did something, and I think a lot of people miss that in their lives — they don't do something because they're scared."