After school
Exploring what clubs students devote their time to outside of class
Senior Divya Venkataraman's journey in speech started in sixth grade, when she joined Kennedy's Speech team in hopes of becoming more outgoing. After joining, she was sure that she would continue doing speech in high school. Venkataraman's journey with Monta Vista Speech has culminated in her being president in both her junior and senior years.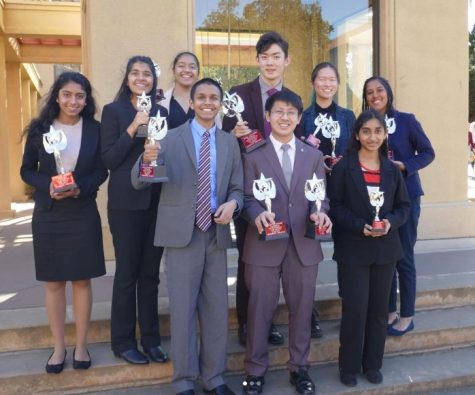 Other than speech, however, Venkataraman is an avid member of MV Res Novae, Future Practicing Physicians Network, Science National Honor Society, California Scholarship Federation and Science Olympiad. For Venkataraman, clubs are enjoyable.
"I feel like clubs are a big part of what I do [inside and outside of] my school life." Venkataraman said. "I think the reason why I'm able to give so much time is because it doesn't seem like too much of a job. Obviously there is a lot so it can get stressful, but it's almost like a break from academic work working on speech, and I think that helps with time management."
Venkataraman spends almost six hours a week on speech, whether it be for meetings, coaching at Kennedy Middle School or public relations meetings with administrators and advisors. Outside of these meetings, Venkataraman also spends time working on her own speeches, mentoring other members and organizing the logistics behind MV Speech. Similarly, senior Lara Vaidya, who is Vice President of Engineering for Monta Vista Robotics, says she puts in 10 to 20 hours of work every week for Robotics. 
Every year, MV Robotics attends two regional competitions during the main season from January to March, and one or two competitions in the offseason. This season, MV Robotics plans on attending two tournaments, one in San Francisco and another in Idaho.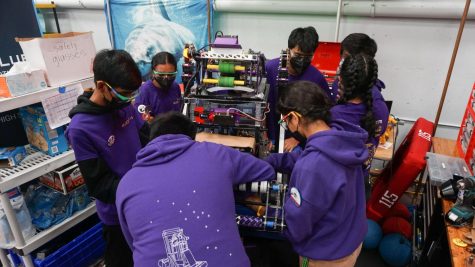 Vaidya explains that the team is working to qualify for the FRC championships that are held in Houston, which she attended last year. Vaidya explains that at this competition, MV Robotics will compete against some of the best teams in the world, and the excitement and exhilaration she experienced in the competition last year were some of her most vivid memories with Robotics.
"We had a match and it was getting really close by the number — this was the match where we'd be qualifying to go play in the finals," Vaidya said. "Just seeing [our robot] make its final shot pushed us over the edge to get the final point — our whole team got up and cheered all together. It was just very daunting, it was so exciting. And we were all scared of what [would happen if] we didn't qualify but excited about what our robots could achieve."
Venkataraman also fondly recalls previous speech tournaments where she not only competed, but spent time hanging out with her friends, and she is looking forward to competing in the tournaments that MV Speech plans to attend this year. 
"One of my favorite memories [from speech] comes from ninth grade," Venkataraman said. "It's from the UC Berkeley speech tournament, and that's an overnight tournament where we [stay in] a hotel in the Berkeley region for three days. The friends that I made in my hotel room I'm still friends with and we still talk about some of those memories. [I'm] definitely looking forward to [this tournament] in person this year as well."
Sophomore Jaden Bae is the current Monta Vista DECA Secretary/Treasurer, and he discovered his interest in management last year in his business class. His initial interest in joining DECA was prompted by the idea of expanding his knowledge in business and public speaking. Like both Venkataraman and Vaidya, Bae discovered that participating in competitions pays off in the form of memories and connections with his fellow peers.
"One thing that stuck out to me was the overall bonding that we have," Bae said. "I spent way too much time playing [Super] Smash [Bros] and I slept at three a.m. once just because [of] how fun it was to be with my roommates."
Bae's experience in DECA had been greatly influenced by upperclassmen, and now that he is in a leadership role this year, he intends to spread his knowledge of networking and communication to others.
"I'm looking forward to sharing my experience with younger, incoming freshmen and practicing how well I can teach and effectively communicate these methods to the next generation," Bae said "Overall, I think Monta Vista has a long lasting legacy of competitive success when it comes down to the state and international levels. I want to keep this legacy going forward and teach as much as I can."