Fighting for higher wages
Examining the effects of the UC protests on MVHS alumni
Over 48,000 University of California graduate student academic workers took to the streets on Nov. 14, protesting mainly for higher wages to offset the cost of living. The strike, which reverberated across all 10 UC campuses, is considered the largest at any institution in the nation's history and has resulted in canceled classes weeks before finals since graduate students teach many classes.
Strikers have called for an increase in their yearly salary to at least $54,000 from their current salary of roughly $24,000. Protesting and marching around their campuses, the strikers have also formed picket lines to prevent classes from being held. They have continued to express their dissatisfaction at the sit-in at the UC president's office in Sacramento on Dec. 5, where police arrested 17 academic workers, a simultaneous sit-in at the UC president's office in Oakland and the march outside the California State Capitol that consisted of over 2,000 striking workers on the same day.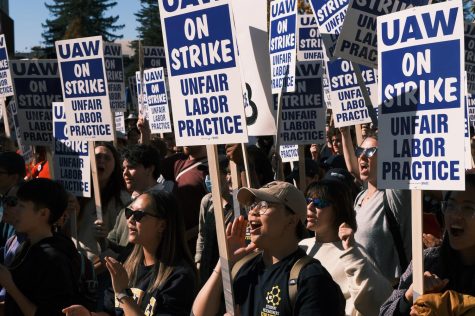 Connor Jackson, a UC Berkeley graduate student academic researcher and the elected head steward for UAW 2865 — the union representing over 19,000 academic student workers — has been striking every day since the protests began. Jackson says the undergraduate students he talked to support the strike despite their classes being canceled.
"[The undergraduates] know that our working conditions are their learning conditions," Jackson said. "When their instructors are worried about being able to pay rent or feed their families, they're not able to give their students the focus that they need and deserve. Making sure that we are well supported in our working environments is going to lead to better educational outcomes for them as well."
MVHS alum '22 Dominic Wang, who attends UC Santa Barbara, protests alongside the graduate student workers to show solidarity. Wang aspires to become a UC graduate student one day and does not want to undergo the same financial struggles that the current graduate student workers face, echoing Jackson's sentiment that "their teaching conditions are our learning conditions."
"[The UC exploits] their grad students," Wang said. "[The grad students] are struggling to get essential things that are vital for human survival, and the UC does nothing about it."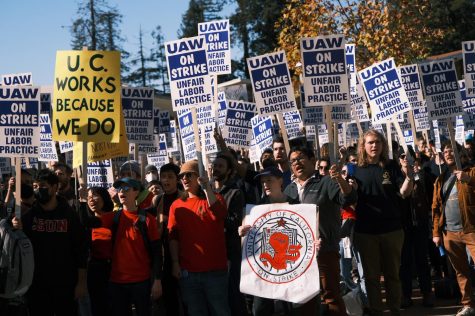 Addressing UC's treatment of its graduate student workers, Jackson says the workers do most of the teaching, research and bring in grant money that amounts to billions of dollars for research projects. Graduate student workers, however, get paid only 3% of UC's $46 billion budget. 
"Every indication from the university is that they see us as a cheap source of labor and that graduate school is a period of time that we're supposed to be impoverished," Jackson said. "[The UC] ignores the impact on who can actually afford to go to graduate school. [The UC needs] to be investing in the workers that do the majority of the teaching and the research."
Jackson, who has two roommates and works three jobs but pays 45% of his income on rent, acknowledges the struggle for individuals who have families to both attend graduate school and work at UCs. Jackson and Wang both say a substantial number of graduate student workers have been homeless or are experiencing food insecurity. 
UAW 2865 has filed over 30 unfair labor charges, most of which involve direct dealing, which is when the UC modifies working conditions without previously negotiating with the union. Recently, UAW 2865 filed charges over UC's "intimidation and retaliation" in the form of threats against workers for striking, even though it is a legally protected activity. Under state law, UAW 2865 has the right to obtain information and documents pertaining to working conditions from UCs, which have failed to provide these documents to the union. 
"In one case, we asked the university simply to tell us how much each of our members is paid across all their different types of compensation," Jackson said. "The university said it would cost them $1.4 million to provide us with that information, and thus [was] not willing to give us that information, which to us seems pretty laughable."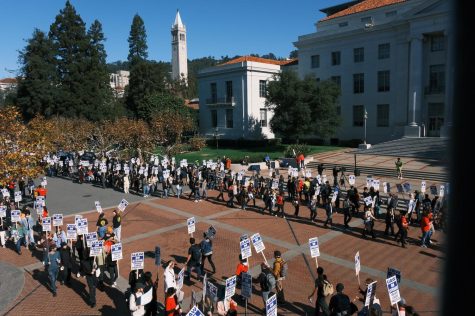 Attending UC Berkeley, MVHS alum '22 Arnav Dalal says the strike has taken away most of his classes and office hours. Dalal notices picket lines on campus that block entrances to school and students marching in protest. A substantial number of tests and midterms will remain ungraded without the graduate student workers.
"I don't really know where the semester is going," Dalal said. "We don't know if that class is going to happen again [and] what's to come for the classes. Everything's really up in the air."
Since many of his classes provided recorded lectures, Dalal compares his current experience at UCB to quarantine. He acknowledges he cannot ask for assistance from his TAs or graduate student instructors since they are all striking.
Still, Dalal supports the protests and believes the graduate student workers are not paid enough for the work and time they put into teaching. He says the time and work the graduate student workers do for him and his peers are not acknowledged enough.
"With the workload that the [graduate student workers] are given, it's unbearable," Dalal said. "They should be rewarded for that amount they're doing."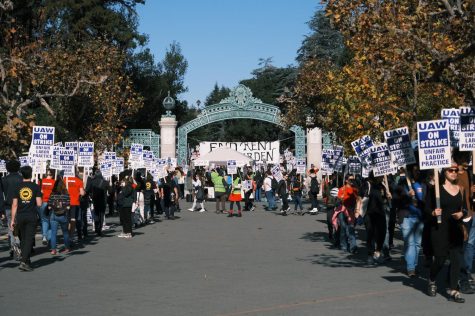 Despite feeling worried about whether their work will be graded, Wang says students and parents are too concerned about grades and do not "have empathy" for the graduate students who are "struggling to survive."
"Ultimately, I think [the strike is] for a good cause because I believe that the TAs are going to be compensated fairly for their labor," Wang said. "It's going to show the regents that we're not people to be exploited and to be oppressed and taken advantage of. We're people who are going to fight back, and we're people who are going to win."
Dalal echoes Wang's sentiment, saying that the UC needs to take action to compensate the graduate student workers. However, he would like the union and the UC to reach a compromise before finals and continue the struggle next semester. 
"Let's get through the rest of the semester, and then we can continue this next semester," Dalal said. "Many students at the end of the semester are stressing out, [and] all of a sudden [with the] strikes happening, we don't know what's happening to our grade [and] what's going to happen with our final. All this uncertainty is brewing, and that's just causing more chaos."
Acknowledging the subsequently canceled classes, Jackson says the consequences are for the UC to solve. He argues the unfair labor practices have prevented the union from reaching agreements.
"We certainly are not excited about being out on strike," Jackson said. "I would much rather be back in the office doing my research, but until the university comes back to the table to bargain in good faith and settle fair contracts, the operations of the university are not going to be proceeding. I want to go back to work, but I need to be able to afford to do it."