Reflecting on the Iran protests
Iranian community members share their perspectives on the uprising
One of the student sources in this story is anonymous due to safety concerns and will be referred to as Student A.
Following the death of Mahsa Amini after she was taken into custody by Iran's morality police, citizens of Iran took to the streets to protest Iran's strict dress code and other oppressive policies under the current government. Amini died on Sept. 16, three days after being arrested for allegedly failing to fully cover her hair in public. 
Iran's current dress code, part of the law adopted after the Islamic Revolution in 1979, requires women to wear headscarves, loose-fitting tunics, coats and trousers, regardless of their faith. Since then, Ali Khomenei, supreme leader of Iran, has expressed his support for even stricter enforcement of the dress code. 
The government's policies are heavily based on the Islamic code of ethical conduct – Sharia Law, which the morality police are duty-bound to enforce. Introduced in 2005, Iran's morality police, more officially known as the Gasht-E-Ershad or "Guidance Patrol," exist to ensure that citizens follow the Islamic dress code. If an individual fails to wear "appropriate" clothing in public, they could be subject to arrest or corporal punishment. 
Student A is an MVHS student who emigrated from Iran 10 years ago. Having grown up in Iran and since they fly back to visit every year, they have experienced firsthand the lack of rights experienced by Iranian women. 
"I think [the Iranian government's law requiring all women to wear a headscarf] is extremely oppressive, and it's a way for them to abuse Islam as a way to control their people," Student A said. "It's not representative of what Islam actually stands for, but rather a way for them to use a religion to oppress."
Student A also says Iran's constitution is designed to deprive women of equal rights. For instance, according to Articles 1130 and 1133 of Iran's Civil Code, while a man may initiate a divorce "whenever he wishes," a woman must appeal to an Islamic judge only when a marriage is creating "difficult and undesirable conditions." Articles 907 and 913 also state that a parent's son inherits twice as much property as their daughter when they die. Likewise, a widower inherits one quarter of his deceased wife's property — one half if they do not have children, while a widow only inherits one eighth of her deceased husband's property, and one quarter if there are no children. 
"All the laws are written according to this idea that [a woman is] worth one half [of a man]," Student A said.
Stanford Persian Language and Literature Lecturer Shervin Emami, who lived in Iran until she was 20, similarly recalls how oppressive living there felt.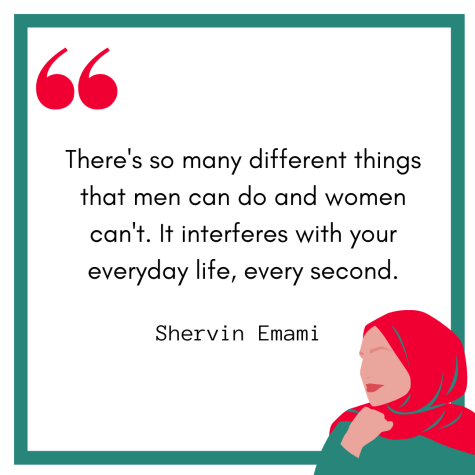 "There's so many different things that men can do and women can't, [such as] basic sports — watching a sport, going [out] for a soccer game, or playing in the streets or biking," Emami said. "It interferes with your everyday life, every second."
The restriction of women's rights in Iran were suddenly brought to global attention and protested after Amini's death. Amini was 22 years old and visiting family in Tehran when she was arrested by the morality police. Shortly afterward, she was transferred to Kasra Hospital, where she remained comatose until her death on Sept. 16. While authorities have denied mistreatment, claiming Amini died of a heart attack, eyewitness accounts and leaked medical reports indicate that blunt force trauma inflicted upon Amini's skull caused her death.
"[Her death was] basically inhumane," Emami said. "It's against human rights to kill someone — murder someone — for not having a full hijab, and it makes me very sad [and] angry."
During Amini's funeral, the first protests occurred when women ripped off their headscarves in defiance. Following that, protests have taken place across Iran and across the world with people calling for increased women's rights and even to overthrow the state. Emami believes that Amini's youth played a role in the global response to her death, an assessment that Student A shares.
"The reason the protests blew up this much was not just because she was murdered…but because she was one of the most innocent," Student A said. "She was young, she wasn't protesting. It could have been me — it could have been anybody on the streets."
According to Emami, dissent has gradually been building within the public against the Iranian government's treatment of women. She also notes that Iran's current female population is "very young, very intelligent [and] very educated," which contributed to the large reaction Amini's death received.
"That's why this whole explosion is happening," Emami said. "They see the media connection, they have access to the world, and they compare themselves to the rest [of women in] the world, and they know that they don't have even 10 percent of the rights that any other country gives today."
According to the international non-profit organization Iran Human Rights, at least 215 people have been killed by security forces in the protests as of Oct. 20. Emami explains that while the resistance is much more intense and widespread than in previous protests, the fight for women's rights in Iran is a struggle that reaches back decades.
After hearing about the protests Amini's death had sparked, Student A also felt compelled to take action. They frequently post about the situation on social media, and their family has attended protests in the Bay Area in support of the protestors in Iran. 
MVHS 2019 alum and current University of Southern California senior Rana Aghababazadeh organized a protest for women's rights in Iran at USC with about 70 participants. Starting at 1 p.m on Oct. 7, Aghababazadeh and students from other Persian organizations held a vigil in USC's Middle Eastern and North African Student Association lounge and marched around campus starting at the Tommy Trojan statue.
"The reason I planned the protest was because USC did not do enough to acknowledge what's going on," Aghababazadeh said. "So I felt the need to amplify our presence on campus, to give Iranian Americans and our friends an opportunity to join me in having a presence and telling people [about the] civil unrest."
Aghababazadeh says that the protests that have occurred internationally after Mahsa Amini's death opened up an avenue to "get people to care" about issues happening in the Middle East. For Aghababazadeh, seeing people from the Iranian diaspora rallying together against Iran's oppressive laws gave her a "great sense of hope" and the confidence to organize her protest. She believes that with international support, the Iranian people will make meaningful changes to Iran's current society and government.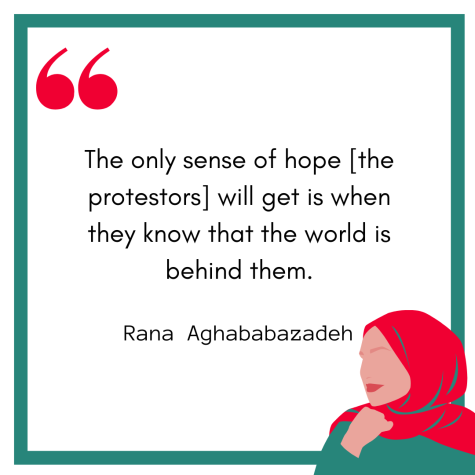 "There are no public leaders in Iran. There is no one being like, 'Hey, guys, let's get together' because the moment someone announces themselves as a leader, they will get killed,"  Aghababazadeh said. "[It's] individuals leading this movement. So the reason it's important to advocate for [them] is because there's no one speaking up for them in Iran. So the only sense of hope they will get is when they know that the world is behind them."