Girls Volleyball defeats Los Gatos High School 3-0 on senior night
Matadors sweep after a close third set
Varsity Girls Volleyball swept Los Gatos High School 3-0, on Tuesday, Oct. 18. Prior to the game, Coach Nicki Ezatagha welcomed the team's seniors onto the court, where they were given a basket filled with presents and a speech by a teammate. The team proceeded to give a rose to each senior on the opposing team, after which the senior night ceremony ended and the game began.
Though the score was close in the beginning, MVHS soon took the lead and kept it throughout the first set. Strong communication within the team kept them ahead of LGHS, with sophomore and middle blocker Samantha Tong making a kill to secure the first set 25-16. However, while MVHS started off strong again during the second set, LGHS caught up after a series of intense rallies and failed serves on MVHS' part, and pulled ahead 14-10. The Matadors were ultimately able to bounce back — with junior and outside hitter Evelyn Yang tying the score 20-20 and senior and setter Krupa Shanware getting a kill to break the tie, MVHS went on to win the set 25-22.
The team continued their momentum into the third set, quickly surpassing the opposition by eight points. At this point, LGHS began to catch up, taking the score from 23-15 to 23-22. However, MVHS won the set — and the game, with a score of 25-23. Yang notes her pride in the team, stating how she believes this win went out to the seniors.
"[The game] went really well, and we really carried ourselves through three sets," Yang said. "We were winning for our seniors — since it's senior night, it would be better to win, since we would be doing it for our seniors."
Although senior and captain Miranda Shakouri was excited that senior night made the game "really hype," it also contributed to her initial nerves for the game.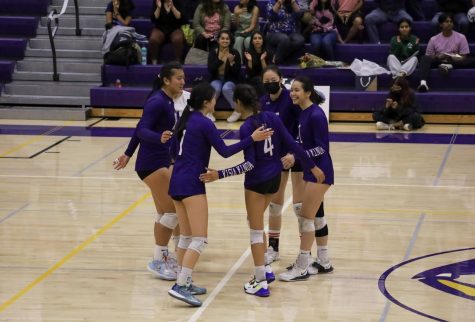 "There's a lot of people watching, especially my family," Shakouri said. "And then [there's] the fact that we're playing Los Gatos, because we've played those guys before. We know they're a good team. And so it's definitely nerve-wracking, just to know that we're playing a good team on senior night."
However, Shakouri also recalls feeling excited. Notable moments were the senior speeches before the game, where she reminisced with underclassmen about her and other seniors' years on the team, as well as during the close third set.
"[This game] was definitely up-and-down," Shakouri said. "It was a roller coaster of emotions because we were winning, and then all of a sudden [Los Gatos was] catching up. But I had faith. I was like, 'I know we can do it.'"
Shakouri says that she hopes to play within her school or with a club in college. As of now, while MVHS' season isn't over yet — their last league game will be against Palo Alto High School on Monday, and California's Central Coast Section's playoffs are coming up — Yang is happy with where the team is currently at.
"I feel like [the season] went really smooth[ly]," Yang said. "The games that we won were good, and the times that we lost, we would reflect on it and try to improve for next time. I think the whole team grew a lot."