Jack Carter
October 3, 2022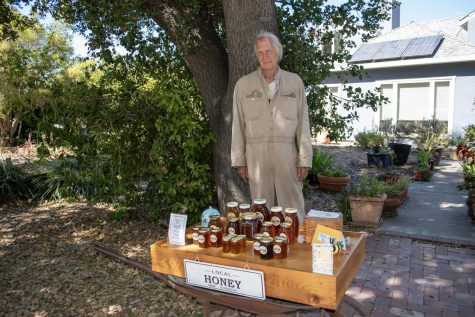 Longtime Cupertino resident Jack Carter participated in the Annual Citywide Garage Sale, running a stand selling locally sourced honey. Carter has been beekeeping for over three decades and sells honey from his bees he keeps in his yard and around the neighborhood. Carter's stand, which is out everyday, saw increased traffic during the garage sale.
"I've been putting honey in my coffee since I was a teenager [in] the 1960s," Carter said. "I used to buy 40-pound containers of honey. And then one day, my wife saw an ad for a beekeeping class at Happy Hollow, and the teacher [was] so manipulative. [They talked me] into having one hive, then two hives, and now, [in] a strong year, I get up to 30 hives."
With the number of hives that he keeps, Carter has to buy many pieces of equipment such as nucleus boxes that house bees. He acknowledges the amount of work and resources that goes into beekeeping, which he says isn't "raking in the dough" as people around him might think.
"I don't charge [for labor]," Carter said. "It took me 13 years to break even, so [for] people that are trying to make money with honey, it has to be something that you want to work on. But it's cheaper than a yacht and it's cheaper than a mistress, so as a hobby, it's pretty good."
Despite challenges imposed by drought and increased costs for equipment, Carter has kept his prices the same for the past 13 years. He describes beekeeping as being "just for fun," as he leaves the stand out and trusts that people will pay for the honey they take. Carter views this practice as being good for the community, even as the community around him has changed from the agricultural Cupertino he grew up in. He feels a sense of nostalgia for this past environment that may have led him to consider beekeeping.
"I grew up here when it was all orchards," Carter said. "Maybe I wouldn't be interested in [beekeeping without this experience]. At Stelling, at [a] dead end, you had a goat farm and a flower farm. I'm here, but I'm not home."