Fred Dentinger and Shawn Ells
October 3, 2022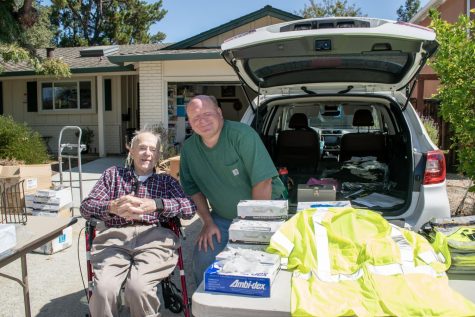 Unlike most local sellers, Fred Dentinger and Shawn Ells see the Cupertino garage sale as a way to clear out items from their family business, which sells safety equipment. Saturday, Sept. 17 marked around 15 years since Dentinger's first garage sale in Cupertino, but the items he sells haven't changed. Although he occasionally sells home items, Dentinger has almost always sold vinyl gloves, safety vests and other products from his family's warehouse. Although his primary goal is to clear out excess product, he also hopes those items can help the community. 
"Every biker who rides a bike at night, and anybody who walks at night, should wear a safety vest with reflective gear," Dentinger said. "It would save some lives in our area." 
Dentinger's family moved to Cupertino in September of 1969, 53 years ago, and were "very happy to locate here." Dentinger only started running garage sales for the community a few decades later, but he's just as appreciative of garage sales being a citywide event.
Dentinger noticed that his garage sale had been unusually busy this Saturday. Ells agreed, saying that while he has helped Dentinger with the garage sale over the years, this time was the busiest out of all of them. 
"We've had quite a few Los Altos folks come by," Ells said. "Sunnyvale [too]. People that have family members from out of town come by — Michigan, Ohio — they just come by and see. So I think just people are kind of looking for a deal. Times are tough, finances are tough, so people are looking around."