Car Craze
MVHS students share their car stories
Vivica Martinez
---
Senior Vivica Martinez was first introduced to Posey, her 2009 Dodge Charger, as her own when she got her license in April of 2021. From day one, Martinez confidently declares that they "love[ed] each other."  
Martinez was particularly drawn to her car due to its bright orange color, which was actually the determining factor for why the car was named Posey — in honor of the former Giants baseball player, Buster Posey.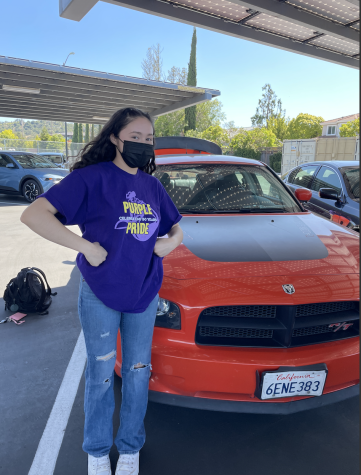 "Oh my god, I love the color," Martinez said. "When I was growing up, we used to live in an orange house and we had this matching orange car and it was so much fun."
Martinez notes that she had always loved Posey, given that the car was bought just a few years after she was born. However, despite their close age, Martinez shares that she feels that she and her car have very different personalities. 
"My car is very loud," Martinez said. "Both the color and the engine sounds make it a target on the road and I feel like I'm not really that kind of person."
Nonetheless, Martinez cherishes the car she got from her parents and plans on taking it to college, where she claims that she will drive it until it no longer runs. 
Eric Nguyen
---
"Fast."
"Muscle." 
"Rice."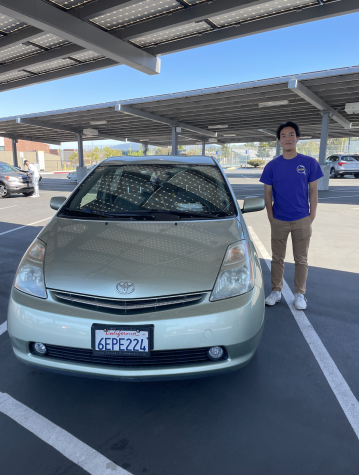 Those are the three words senior Eric Nguyen uses to describe his green 2007 Toyota Prius. While it may look like your average hybrid Prius with a gray interior right now, Nguyen manifests that in a couple of years, "it's gonna have a spoiler with some racing stripes."
Nguyen shares that everyone "hates on [his] Prius" but that its slow acceleration and "interesting smell inside" only add to its personality. Additionally, Nguyen warns that his car is a "little mean" and that he won't let anyone "hurt his baby."
Nguyen was first introduced to his car, Priya, when he got his license in November of 2020. He plans on taking it to college with him and using it for a few more years before buying himself a new Prius — one that actually has a working hybrid feature.  
He appreciates him and his car's compatible personalities and even admits to having a slightly paternal connection with it. 
Kaushal Marimuthu
---
Senior Kaushal Marimuthu went into his car shopping trip expecting to walk away with a Honda Civic or Toyota Corolla, but after his eyes caught a 2016 black Acura TLX with a beige interior, Marimuthu was sold.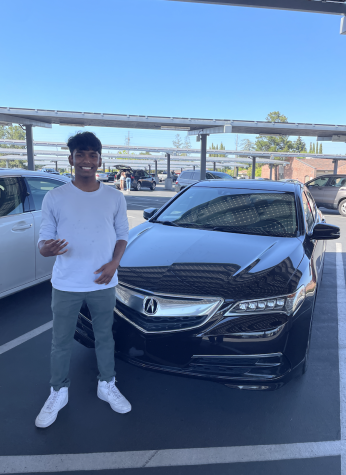 "I wanted a car that had a strong horsepower and could go quick," Marimuthu said. "The TLX felt very strong and it has 200 plus horsepower. Plus, it has [a] sports mode."
Marimuthu went car shopping with his parents after getting his license in April of 2022 and shares his excitement about getting an upgrade from the 15-year-old MDX that he used to drive just a month ago. 
Marimuthu has yet to name his car as he doesn't want to force the process, but is open to naming it if it naturally comes to him. Nonetheless, Marimuthu feels that his car "responds to him." He makes an effort to take care of his car; he has already washed it twice since buying it a month ago. 
Most of all, Marimuthi appreciates his car as it has allowed him to be more spontaneous and liberated, enabling him to go to places by himself. 
Despite getting his car recently, Marimuthu shares that they will be separated for a year when Marimuthu goes to college, but he will take it along with him for the remainder of his college life afterwards and keep it until he can afford a better car with his own money. 
About the Contributor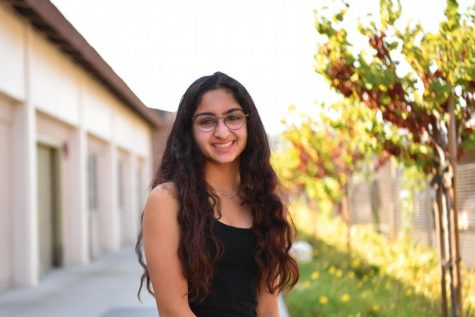 Nika Zamani, Sports Editor
Nika is a senior and sports editor for El Estoque. Along with being a staff writer for La Pluma and Res Novae, she is the founder and president of the Monta Vista Persian Club. In her free time, she likes to go on walks and spend time with her friends.