Unlearning screen addiction
MVHS students share how they've combatted their obsession with their phones
Using grayscale, a phone setting to remove all color from the screen, would invoke panic in most phone users. Every app icon, widget and notification would lose all of its vibrant colors. Websites would become bland and the hundreds of posts on Instagram would no longer be eye catching. But for sophomore Olivia Ho, turning her phone to grayscale is a reminder for her to put down her phone and get back to work.
"I think it definitely helps me reduce my screen time on my phone," Ho said. "If you open up your phone and it's grayscale, you're like, 'Oh I should not be on my phone right now,' so then you put it back down."
Ho saw immediate benefits to changing her phone to grayscale — one of the first steps in unlearning her screen addiction. According to Google design ethicist Tristan Harris, switching to grayscale and reducing the number of colors on the screen lowers the impulse to continue using one's phone by removing "positive reinforcements."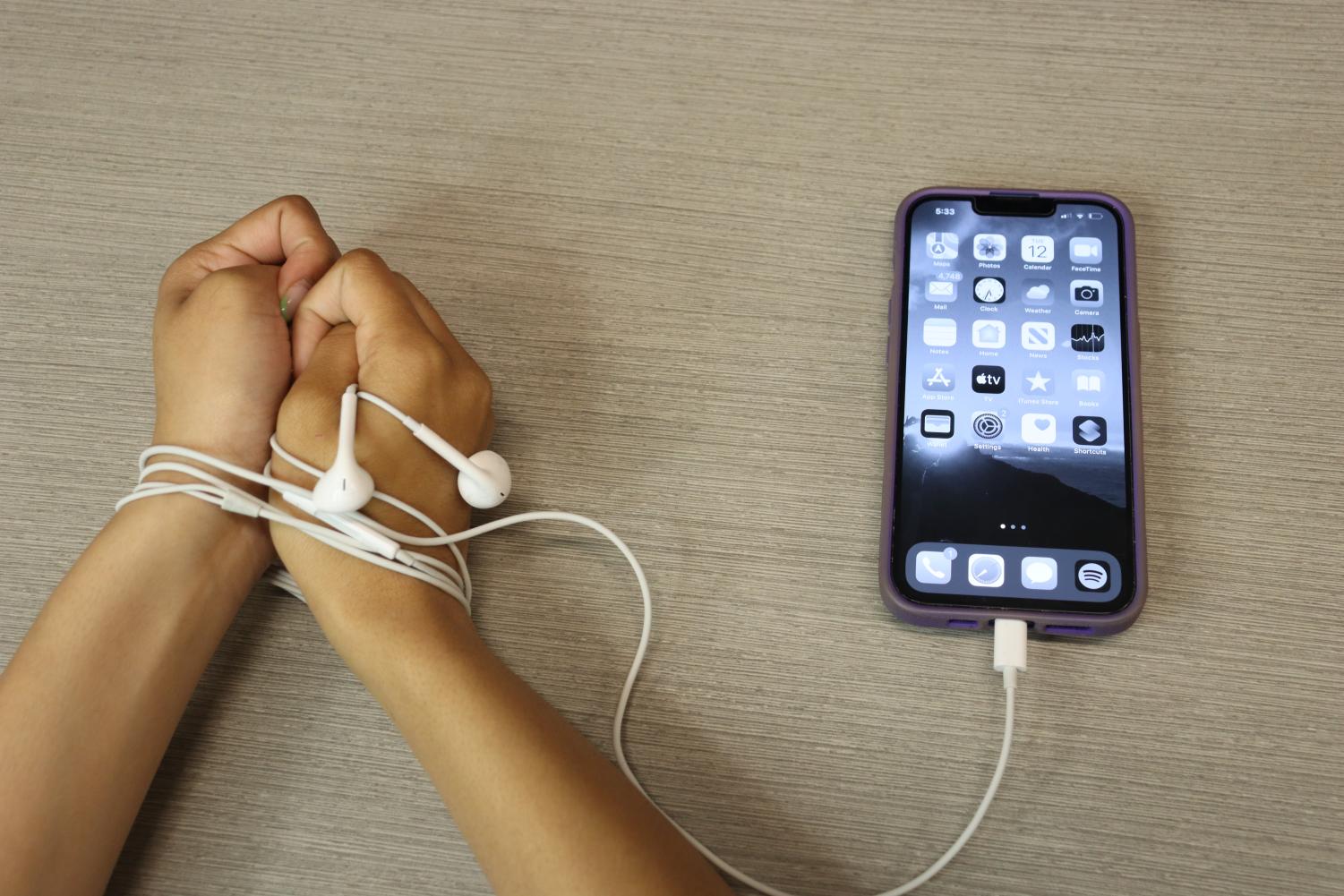 "At first, when I deleted Instagram, it was to reduce going on the [app's] Explore page," Ho said. "I needed that app because I was still texting people on it, but grayscale helped me still retain that while being able to spend less time on parts of Instagram that I shouldn't be looking at as much."
With the addition of grayscale to remind her to focus on life off the screen, she hopes to use her limited screen time on apps she thinks are "better to redirect [her] screen time towards," like News and Books. Grayscale can be implemented in the settings of most phones — on iPhone, the mode can be enabled through the 'Display & Text Size' section in the Settings app, then navigating to 'Color Filters' and turning the toggle on the page to on.
For junior Avani Kulshreshtha, her desire to unlearn her screen addiction began with a realization after examining her screen time — she found that she was spending around five hours on Instagram and TikTok each day, and thought it "didn't make sense [to be] spending half of [her] time on someone else's life."
"I think I realized that every single morning, the first thing I did was open Instagram or TikTok, and I realized that wasn't something I wanted to do in my life," Kulshreshtha said. "I didn't want the first waking moments to be absorbed looking through some stranger's feed. I feel like [the morning] should be devoted to myself."
For Kulshreshtha, a main factor in this decision was being able to focus on her academics without distractions — she's implemented apps like "Plantie," which grows a virtual fruit bush for the duration of a work session and stops growing once you exit the app. She also sees mental benefits of spending less time on her phone, saying that she has more "original thoughts" without "TikTok sounds going through [her] head" during class.
"
I didn't want the first waking moments to be absorbed looking through some stranger's feed. I feel like [the morning] should be devoted to myself.
— Avani Kulshreshtha
However, a worry for her was not being able to "keep up with trends" that originated on TikTok and Instagram — however, she's found she has had more "intellectual conversations" without having these trends being the basis of conversation.
Kulshreshtha says because these conversations can happen in-person rather than in remote learning, there's less "filler space" in her day to be on her phone. On the other hand, she says during distance learning, there "was nothing else to do" and not many people to talk to every day.
Similarly, junior Jerry Hu says that he doesn't text very many people — over time, he has created a natural habit of controlling his screen time, particularly from a young age. He says he glances up at the time whenever he is on his phone watching YouTube, going on Discord or texting his friends to avoid losing track of time. After a set amount of time, he'll resume working.
"I guess a good way to stop your addiction is just by hiding your phone somewhere," Hu said. "And keeping it away from your desk so that if you want to look for your phone, you can't find it and so you just return back to work."
As Kulshreshtha says, she's still in a "gradual process," but she advocates for a change in mindset for others trying to unlearn their screen addiction.
"I think it's one thing to say, 'I don't want to be using these apps because it's toxic for me,'" Kulshreshtha said. "And it's another thing to be like, 'I don't want to be on these apps, because I don't want to devote so much of my day to someone else,' because I think everyone is a little bit narcissistic. And so when you adopt that kind of mindset, it's a lot more effective."