Recapping the mask mandate throughout the pandemic
The evolution of face coverings as Governor Gavin Newsom announces masks will not be required indoors at schools starting March 12
March 13, 2020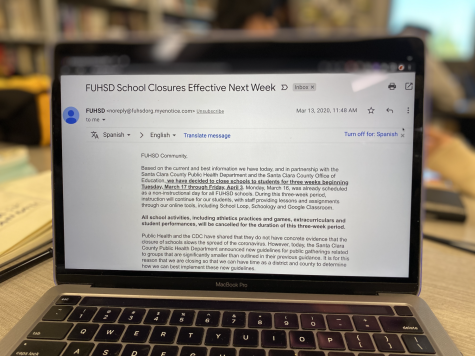 MVHS Principal Ben Clautznitzer sent an email to students, staff and MVHS community members informing them that FUHSD
would be transitioning school to distance learning beginning March 17, 2020 through April 3, 2020.
Although there wasn't an advisory for face coverings yet, some students wore masks around campus due to personal concerns about COVID-19. At this time, masks were mostly used only by medical professionals. 
April 3, 2020 
The CDC announced a national advisory for face coverings. Individuals were advised to wear non-medical grade masks in places where the six feet social distancing guideline could not be followed such as in grocery stores and pharmacies. The CDC also posted tutorials on how to make masks.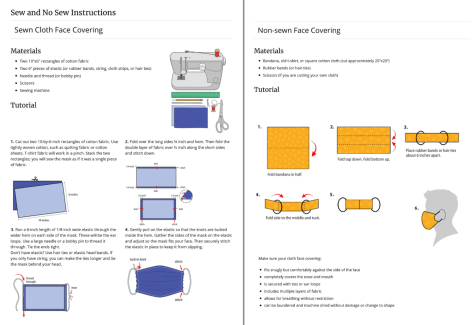 June 18, 2020 
Governor Gavin Newsom makes wearing masks outside mandatory, releasing guidance on face coverings on the California Department of Public Health (CDPH) website. Along with this, the website shared general information on the basic maintenance for cloth face coverings.
July 22, 2020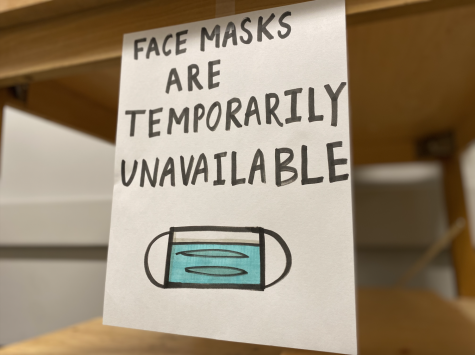 As the state experienced mask shortages due to high demand, medical professionals and frontline workers struggled with maintaining hygienic conditions to serve people and ensure that hospitals were safe. 
With the help of private companies, Gov. Gavin Newsom was able to sign contracts with private companies to provide more masks. Another way that the CDC tried to overcome this challenge was by sterilizing masks to reuse them. Although they are not supposed to be reused, they had to be due to the shortage. 
Newsom responded by announcing that the state would stockpile 100 million N-95 and 200 million surgical masks in preparation for future surges in COVID-19 cases. The state also stockpiled 120 million N-95 and 300 million surgical masks for frontline workers. 
July 2, 2020
In an effort to reduce the amount of cases, Gov. Gavin Newsom introduced the "Wear a Mask" campaign to urge more people to wear masks and decrease misinformation. The campaign also shared information on social media about the reasons and efficacy behind wearing masks. 
Sept. 15, 2020 
Color-coded guidelines are released by the CDC to identify the risk of community transmission in order to aid the opening of schools and the implementation of other guidelines. Individuals in all zones were required to wear masks in order to prevent any potential transmission.
Jan. 26, 2021
The Santa Clara Valley Athletic League Board of Managers worked on a three-season model for athletics which the Santa Clara County Public Health Department approved. The California Interscholastic Federation (CIF) had proposed a two-season model for the Central Coast Section (CCS), which SCVAL rejected. This was because the CIF model started earlier and since Santa Clara County had a high number of COVID-19 cases, SCVAL decided to adopt a model that would start later than the CIF start deadline to give cases time to decrease. SCVAL wanted to give students more opportunities to be involved in athletics because of any potential COVID-19 outbreaks in sports that would put a halt to all sports seasons. 
Due to increased physical contact during sports and masks being a hindrance during high levels of physical activity, COVID cases had to decrease before the SCVAL model could be approved. The suggested date for the start of sports was Feb. 1 and masks had to be worn at all times. Athletic director Nick Bonacorsi posted a video on the MVHS athletics Instagram page providing updates about the current season and voicing his hope for a season for all sports. 
View this post on Instagram
The counties were sorted into four tiers: purple, red, orange and yellow; and the decision on which sports were allowed to take place depended on which tier it was in. In addition, the CIF released guidelines and modifications that each sport had to follow due to COVID-19, which included a bullet point that said, "Masks shall be worn at all times by all individuals in attendance other than when engaged in competition." 
April 7, 2021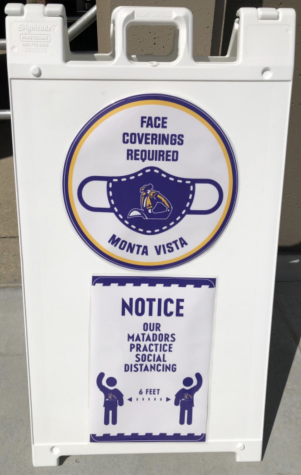 With a decrease in COVID-19 cases and funding from the state, FUHSD was able to provide a hybrid option for students who wished to return to in-person classes. Face coverings were required at all times. Visual reminders were also placed around the campus to remind students and staff about mask guidelines and protocols. 
Face coverings were advised to have at least two layers of material and had to "fit snugly over your nose, mouth and chin, hooking around your ears or tying behind your head," according to the MVHS handbook for reopening. This handbook was offered to students to acclimate to in-person learning and get educated about COVID-19 restrictions.
Students were allowed to lower their masks if they had to drink water and remove them when they were eating, which students could only do outdoors. Per SCCPHD guidelines, the following individuals did not need to wear masks: "People who a healthcare professional has advised should not wear a face covering because they have a medical condition that would make wearing a face covering dangerous, people who cannot put on or take off a face covering without assistance, and people who are hearing impaired or people who are communicating with someone else who is hearing impaired, where the ability to see the mouth is essential for communication."
Students who attended school without masks would be given a disposable mask to wear. However, those who refused to wear face coverings were given one warning, and continued resistance would lead to parental contact by the MVHS administration after being sent home with an unexcused absence.
May 17, 2021 
Due to a decrease in COVID-19 cases, the CDC announced that for fully vaccinated individuals, masks could be removed in both indoor and outdoor settings, including movie theaters, shopping centers and restaurants, although individual businesses could still require masks. Despite the relaxed restrictions, the CDC also stated that masks and social distancing were recommended for in-person and hybrid learning for K-12 schools through the end of the school year. FUHSD sent out an email clarifying that students were required to wear masks for the rest of the 2020-2021 school year. 
June 15, 2021
With 18,507,541 fully vaccinated people, 46.8% of its population, California decided to lift the indoor mask mandate for fully vaccinated people, but also gave businesses and individual counties the choice to continue requiring masks. Santa Clara County public health officials decided to still require face coverings.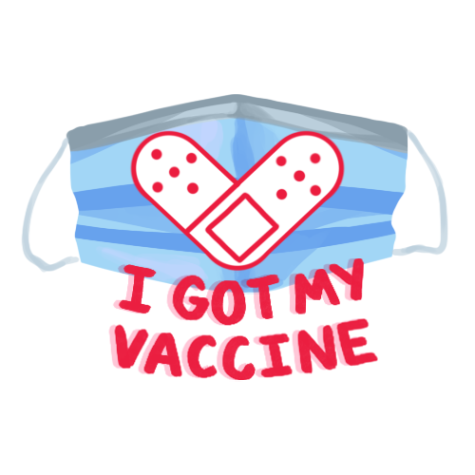 July 27, 2021
Due to the widespread Delta variant, research showed that even individuals who were fully vaccinated could spread the virus. The CDC recommended that everyone wear masks indoors again, especially those who were in communities with a high number of cases. 
Aug. 2, 2021
Preparing for the 2021-2022 school year, Clausnitzer sent an email to inform students about the COVID-19 guidelines. Masks were required indoors, even for those who were fully vaccinated and optional outdoors, although it was subject to change according to the surge in cases. In his email, Claustnitzer also addressed how those who were vaccinated could still contract COVID-19 and pass it onto others in order to explain why the school took certain measures. 
Aug. 25, 2021
FUHSD stated that it was now mandatory for all students and staff to wear masks both indoors and outdoors besides when eating or drinking due to an increase in COVID-19 cases. This restriction also applied to physical education classes, with the exception of swimming and other strenuous physical activities. 
Jan. 15, 2022
Following the weeks after Winter Break, there was a tremendous increase in the number of COVID-19 cases both in FUHSD and in California as a whole due to the highly contagious Omicron variant. California saw a seven-day average of 119,536 cases while 622 students and 74 staff tested positive in FUHSD within less than two weeks. Since Omicron is more contagious than previous variants, California decided to extend its mask mandate for a month. 
Jan. 19, 2022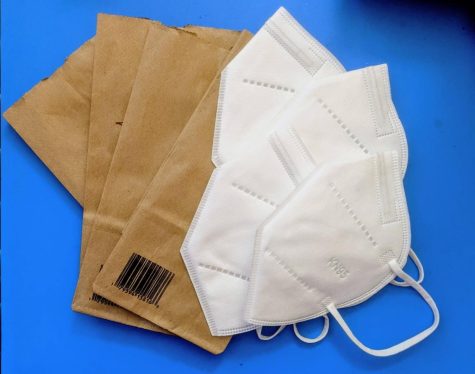 FUHSD distributed five KN95 masks to students and staff members along with five CDC-recommended brown paper bags to store each mask in for decontamination during 6th period. 
In addition to the materials, FUHSD also provided a video with instructions on how to wear the masks and use the brown paper bags to store the masks. Due to the highly contagious nature of the Omicron variant, FUHSD recommended students wear a KN95 mask or double mask with a surgical mask covered with a cloth mask. 
Feb. 15, 2022
As cases decreased, Gov. Gavin Newsom announced that California lifted its indoor mask mandate, though Santa Clara County still maintained its mandate. Masks were still required in certain indoor settings, such as public transit, daycares, homeless shelters, hospitals and schools.
March 1, 2022
FUHSD sent out an email to students and staff informing them about Gov. Gavin Newsom's announcement on the state's upcoming removal of the indoor mask mandate beginning Friday, March 11 at 11:59 p.m. On Feb. 24, 2022, the seven day rolling average of 501 COVID-19 cases was consistently below the less than 550 COVID-19 cases requirements, allowing masking to be optional outdoors.
"California continues to adjust our policies based on the latest data and science, applying what we've learned over the past two years to guide our response to the pandemic," Newsom said. "Masks are an effective tool to minimize spread of the virus and future variants, especially when transmission rates are high. We cannot predict the future of the virus, but we are better prepared for it and will continue to take measures rooted in science to keep California moving forward."
In addition to this email, Clausnitzer sent out an email addressing concerns that may be raised in the community due to mixed opinions about masking. He says, "indoor masking is strongly recommended to all as it still remains an effective tool to protect oneself against COVID-19 transmission … It is also going to be important that personal choices around masking are respected and no one should make assumptions regarding someone's belief or health status based upon their choice to wear or not wear a mask."
FUHSD also wrote that this is one of the steps that we have to take to move forward towards "normalcy." However, since COVID-19 is still a concern, students can get tested at FUHSD schools on different days, including Wednesdays at MVHS. Testing is no longer required for students who play wind instruments and athletes who play indoor sports.
About the Contributors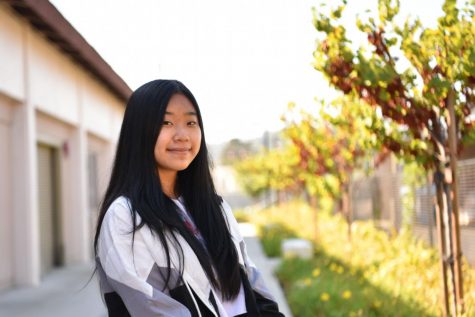 Sophia Ma, Graphics Editor
Sophia is currently a junior and a graphics editor for El Estoque. She is a member of the MVHS Color Guard and enjoys drawing, playing video games, listening to music and spending time with friends.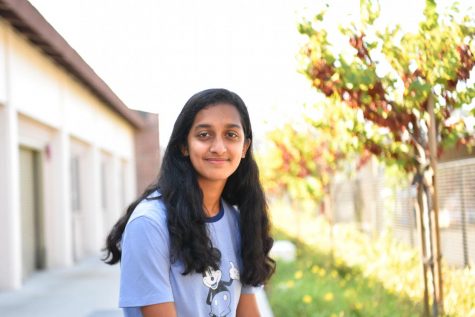 Kalyani Puthenpurayil, Staff Writer
Kalyani Puthenpurayil is currently a sophomore and a staff writer for El Estoque. She is a midfielder on the Varsity field hockey team at MVHS. She enjoys reading, listening to music, going on long walks and eating ice cream, regardless of the weather.