Analyzing the impact of CRT on curriculum
Exploring feedback and reception from the MVHS community on the integration of CRT in Honors American Literature curriculum
Honors American Literature teacher Mark Carpenter first learned about the book "Citizen: An American Lyric" by Claudia Rankine when a student recommended that the book be integrated into the school's curriculum. Carpenter remembers reading it and being instantly "floored," deciding immediately to work on "teaching it and working to get it into our curriculum." Carpenter felt that this need for newer texts largely stemmed from a lack of literature that accurately reflected today's diverse world. 
"We taught 'A Raisin in the Sun' by Lorraine Hansberry, which is a phenomenal text by a Black author, but it [was] published in 1960," Carpenter said. "And when we discussed this text, students would talk about racism in the past tense, as though it were a problem of the past."
Beyond outdated texts, Carpenter also expressed concerns that many of the older books might convey misleading or incorrect messages on racism. As a result, they state that the integration of modern literature was in part to help rectify and correct these existent inequalities. 
"We taught Mark Twain's 'Huckleberry Finn,' which is a text that has a great deal to analyze, a text that I think has an anti-racist intent behind it, but [it] is a text written by a white author that contains more than 200 instances of the N-word," Carpenter said. "And so through experiences with students and conversations with colleagues, it was clear that the course would benefit from a more contemporary approach to the construction of race and racism in the U.S."
After the implementation of Critical Race Theory, Carpenter describes the overall feedback and reception as being overwhelmingly positive. Although the topic of CRT has been a polarizing issue in other schools across the country, Carpenter feels that MVHS' community seems to welcome this change. 
"The anti-critical race theory hysteria that has saturated right-wing media in the last year or two [has been] preying upon people's legitimate fears, and I don't see our community falling prey to that," Carpenter said. "There are going to be valid critiques of 'Citizen,' but it's not a text I've had pushback on. It's a text that often students report back is their favorite text [and] the most enlightening text in this class."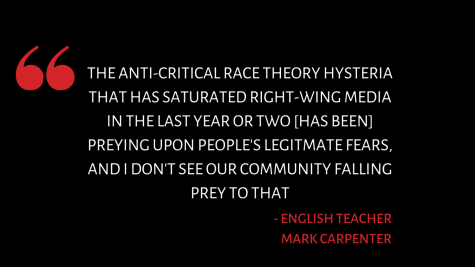 Despite the issue being incredibly controversial across the country, Junior and Honors American Literature student Lance Fuchia feels that the issue in the local MVHS community is relatively nonpartisan. Fuchsia describes that among his own friends they recognize the necessity of CRT. 
Fuchsia noted that "I don't think CRT should be controversial because it is obvious that racial inequality exists in our society, it is an illusion to think that is not true. I think it is really important that we learn about CRT to help rectify this situation." 
Junior and Honors American Literature student Lance Fuchia also feels the student response to modern texts that the class investigates with a CRT lense has been positive. He says that students especially appreciate being able to step outside of the Bay Area's more sheltered community, emphasizing that CRT is a real world concept and extends beyond the classroom, "applying to politics and everything that goes on in life." 
Senior Ashley Twu, who took Honors American Literature with Hannah Gould similarly values this relevance and highlights teaching CRT helped create a more inclusive environment at MVHS.
"CRT helped students come to terms with their own bias living in an Asian-prevalent community," Twu said. "I really hope that CRT expands to both the Bay Area and across the country as a whole because I definitely feel like this is something people can learn from." 
Fuchia further emphasized that on a more personal basis, CRT helped him look at his own life from a different perspective. 
"I think that it is really awesome and important because it enables us to learn about real world issues and mentally allows us to escape from the bubble of MVHS," Fuchia said. "I think all the other students understand why we are teaching CRT, some may find it annoying, but for the most part everyone agrees that we should be learning CRT and they thoroughly understand and enjoy the content."