'The Book of Boba Fett' fails to carve out an unique identity
The Star Wars series struggles to define the titular character amid an incoherent plot
A
s part of Lucasfilm's wave of streamable content for Disney+, "The Book of Boba Fett," released on Dec. 28, stars Temeura Morrison as the titular character Boba Fett and Ming-Na Wen as right hand mercenary Fennec Shand. The series follows Fett and Shand on the desert setting of Tatooine as they attempt to take over the criminal empire left vulnerable in the wake of Jabba the Hutt's death in 1983's "Star Wars: Return of the Jedi."
A universal theme of the Star Wars franchise is solidarity — when shared interests and sympathies bring people together — and "The Book of Boba Fett" embodies this ideal, with Fett and Shand aiming to bring Tatooine's crime syndicates under a benevolent rule.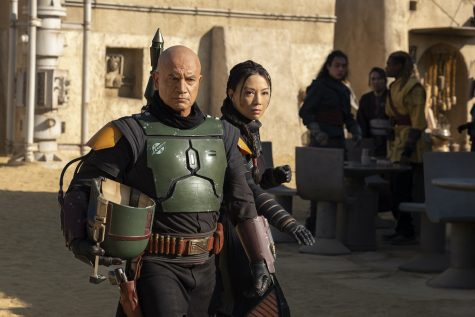 Flashbacks explain motivations behind Fett's kindness, showing that Tatooine's minority race, the Sand People, rescued Fett from death. In a subversion of the white savior trope, Fett is rescued by an indigenous group and gains respect and inspiration for their tribal customs, which emphasizes a message about acknowledging native peoples.
In addition to its progressive storyline, "The Book of Boba Fett" also boasts a stellar cast of supporting characters. The series flaunts its connection to the wider Star Wars universe, building on Fett's history to connect previously comic or animated series-exclusive characters such as barbaric Wookiee Black Krrsantan (Carey Jones) or Boba's old mentor Cad Bane (Corey Burton) to the larger story.
Though Shand is largely relegated to the background, Wen's performance shines throughout all her scenes. Her careful portrayal of an intelligent and composed killer in expression and action paints Shand as an unpredictable variable, whose guarded neutrality makes her a lethal enigma.
With directors like Kevin Tancharoen, Dave Filoni and Bryce Dallas Howard at the helm of each episode, "The Book of Boba Fett" does not disappoint in action. Exhilarating stunts and suspenseful showdowns are at the forefront of the show, with fitting callbacks to the series' inspiration of Western films in shots.
Composer Ludwig Göransson also emphasizes the diversity of Tatooine's culture in the series' accompanying score. Fett's territory is underscored by strong chants and deep drum beats, while a cyber-esque area of the desert planet is highlighted by synth chords and rapid beats.
However, despite its alluring cast, scenes and soundtrack, "The Book of Boba Fett" fails to convey a strong, linear storyline. Too much of the series's runtime is spent on fleshing out Fett's past rather than focusing on his present, resulting in an extremely delayed introduction of the main antagonist in the penultimate episode, and scarce time spent deepening Fett's motivations for power.
Two of the series' seven episode run are also spent on unfinished storylines from "The Mandalorian" involving Pedro Pascal's titular character The Mandalorian and Grogu. Those two episodes go so far as to feature Fett for less than a minute in total, breaking the immersion of and taking away from any stakes in the overarching plot.
It's blatantly clear that "The Book of Boba Fett" is at its best in these two episodes because of its focus away from Fett — in recent media, Pascal's Mandalorian has taken over the character trope that Fett previously held. What popularized Fett in the original movie trilogy and connecting comics was his mystique, captivating audiences as an unmistakable, faceless hunter armed with a merciless, no-nonsense attitude, which the Mandalorian currently characterizes to perfection.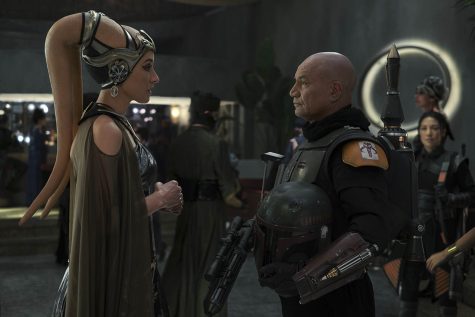 Morrison's portrayal of the redeemed Fett as a laid-back crime lord a step away from lethargy, though fascinating, thus reads as an inexplicable jump from the character arc that other Star Wars media has built for Fett, and a half-hearted and unjustifiable attempt by writers to differentiate the Mandalorian and Fett. The series fails to provide a transition from unrelenting bounty hunter to compassionate monk on screen, and instead introduces a disappointingly static character who is vaguely implied to be changing through repetitive flashbacks.
"The Book of Boba Fett" should ultimately be recognized for its eye-catching action, memorable supporting cast and expansive world-building. However, fans looking forward to a captivating plot involving a compelling, armored warrior will be better off waiting for the third season of "The Mandalorian."
Rating: 3/5