Sugar cookies
December 10, 2021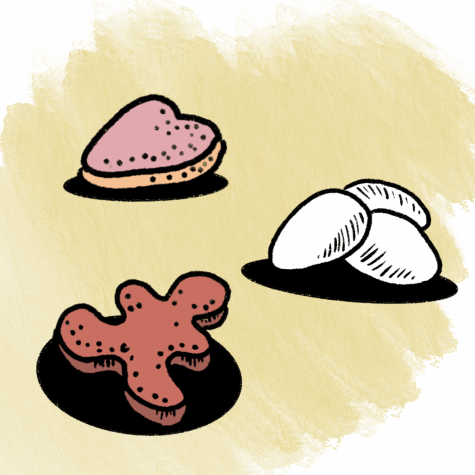 T
hough sugar cookies are a common dessert, freshman Madeleine Ischo enjoys them during the holidays largely because of the elation of interacting with close family while decorating the cookies.
"[Sugar cookies] taste nostalgic to me and a lot of [what makes them sugar cookies] is making them with your family," Ischo said. "It's very hands-on and fun, and it's a time [where] we finally get to hang out with [loved ones]."
Ischo's appreciation for sugar cookies during the winter season comes from the specific recipe that her grandmother, who visits every year from Ohio during the holidays. She describes feeling joy and happiness when eating her sugar cookies, believing that these feelings are earned after spending the time and effort to bake and decorate them.
"Some memories I have of eating sugar cookies are specifically making them with my brother," Ischo said. "We're very competitive so we try to make the best one, and [these] competitions [with family are] very special to me because you get to hang out with people you love."
Our take:
The blended fragrances of soft butter, cookie dough and vanilla within the freshly baked smell of sugar cookies is enough to recommend this sugary treat to anyone in the mood for making some sweet goodies for the winter holidays with friends. Sugar cookies are the perfect desserts for a typical winter day — although a confident grasp of culinary and baking skills is needed to ensure a tasty batch that is properly baked and decorated.
Rating: 3/5