Seasonal consumables to try
Students share their favorite holiday dishes
December 10, 2021
A
mong other festivities, the winter season is full of opportunities to try the perfect seasonal dishes and drinks, perhaps while reuniting in a family feast, or during a relaxing evening by the fireplace. To dig deeper into the MVHS community's varied perspectives on the topic, El Estoque asked several students to share their favorite consumables to eat during the holidays. Read on to understand their memorable picks, and our take on their recommendations.
Chicken noodle soup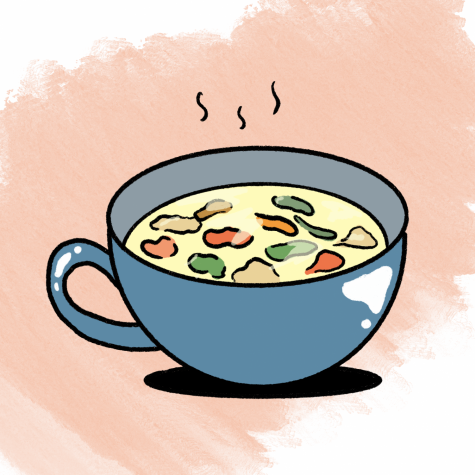 F
rom his time living in Colorado and Pittsburgh to now in California, senior Joseph Jeong's go-to winter food has always been his mother's Korean-style chicken noodle soup. His earliest memories with this dish stretch back to his elementary school days, when he played with his older sister in the snow and enjoyed the warm feeling of broth once back in their house.
"My mom started making this the year before I started going to kindergarten, because my mom had been [thinking of] dishes like chicken noodle soup and such [after seeing the food] my sister was getting from her school," Jeong said. "Because of that, my mom wanted to make something more Korean and more specific to her, so she made [chicken noodle soup] and I started eating it during the winter."
Jeong's iteration of chicken noodle soup is unique, namely for its compatibility with Korean side dishes. His personal recommendation is laver or Gim, a common dried and salted seaweed complement. Despite utilizing other Korean-style customizations, such as white rice instead of noodles, Jeong ultimately finds the feelings and taste that accompany eating chicken noodle soup to be his most meaningful connotations with the soup, rather than the recipe.
"It's fairly simple [to make], but it's the nostalgia and the fact that the simple taste [of the soup] is just [great]," Jeong said. "[I associate it with] nostalgia in a sense, because nostalgia is about good feelings in the past, [and the soup] brings a feeling of togetherness in the past and good times with family."
Our take:
This variation of chicken noodle soup is a welcome variation on the traditional American style. Combining the classic taste of chicken broth with the salty tang of Gim and soft texture of rice makes for a unique dish that takes the best of two cultures while maintaining a good balance between potentially overwhelming aspects like the poultry taste of the broth and the mild nature of Korean white rice.
Rating: 4/5
Sugar cookies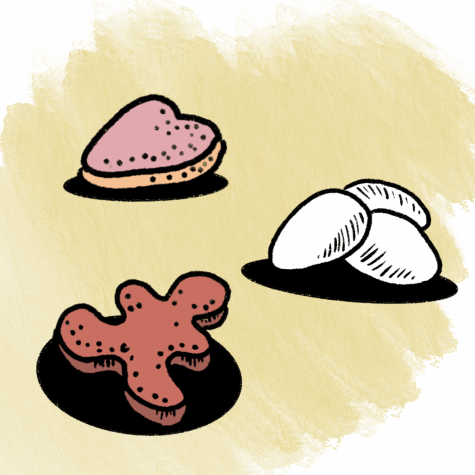 T
hough sugar cookies are a common dessert, freshman Madeleine Ischo enjoys them during the holidays largely because of the elation of interacting with close family while decorating the cookies.
"[Sugar cookies] taste nostalgic to me and a lot of [what makes them sugar cookies] is making them with your family," Ischo said. "It's very hands-on and fun, and it's a time [where] we finally get to hang out with [loved ones]."
Ischo's appreciation for sugar cookies during the winter season comes from the specific recipe that her grandmother, who visits every year from Ohio during the holidays. She describes feeling joy and happiness when eating her sugar cookies, believing that these feelings are earned after spending the time and effort to bake and decorate them.
"Some memories I have of eating sugar cookies are specifically making them with my brother," Ischo said. "We're very competitive so we try to make the best one, and [these] competitions [with family are] very special to me because you get to hang out with people you love."
Our take:
The blended fragrances of soft butter, cookie dough and vanilla within the freshly baked smell of sugar cookies is enough to recommend this sugary treat to anyone in the mood for making some sweet goodies for the winter holidays with friends. Sugar cookies are the perfect desserts for a typical winter day — although a confident grasp of culinary and baking skills is needed to ensure a tasty batch that is properly baked and decorated.
Rating: 3/5
Hot pot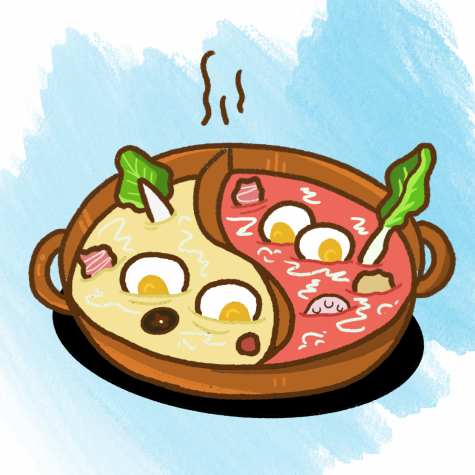 L
amb. Pork. Beef. Fishcakes. Tofu. Meatballs. Sausages. Vermicelli. These components are all options in senior Edgar Tsai's favorite winter food, hot pot, and he has relished the variety of taste avenues that this Asian-originating dish allows for since his first time eating the meal when he was 3 years old.
"It's [really] the warmth and [how] you can make the broth spicy so it heats you up," Tsai said. "I like the fact that you can mix broth so you can have spicy with non-spicy broth. We can have just all spice broth or [a mix], [so all in all] it's a very flexible dish."
Hot pot is traditionally served in a large metal pot, where broth is brought to a boil and left to simmer, while various other vegetables and meats are dropped and subsequently cooked in the pot. Tsai does the same, adding unique ingredients such as hot oil, peppercorn or spices in the broth to add his favorite hot and peppery tang to the dish.
Tsai attributes the warmth that the dish brings on cold days to be the reason why he associates hot pot as his favorite winter food. This defining quality has made eating hot pot a tradition for winter holidays that Tsai celebrates such as Chinese New Year, as well as a representation of the bonds that the holidays bring.
"It doesn't just warm me up," Tsai said. "Hot pot is a dish that is [often] eaten in Chinese culture. It's seen in a sense of a family gathering so when you eat it with your family and eat it with your friends you feel connected with each other."
Our take:
Hot pot lives up to its name, offering a comforting warmth through its polarizing soup base and its tasty boiled ingredients — perfect for a cold winter night. From a mild meat bone or spicy pepper broth to numerous dipping sauces made by mixing components like soy sauce and chili oil, hot pot solidifies itself as the perfect comfort food for warmth-seekers with its adaptability and inherent heat.
Rating: 4/5
Roti and paneer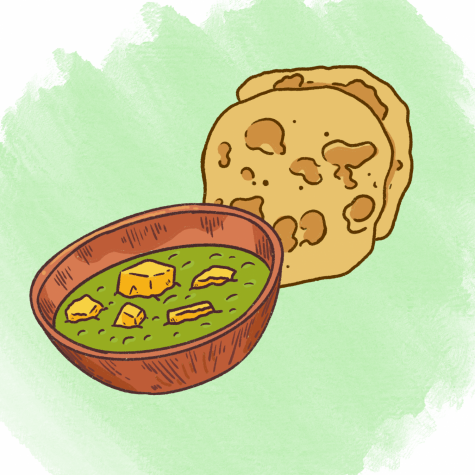 T
he classic Indian platter of plain or buttered roti with a touch of ghee and saag paneer is what senior Shalini Krish finds to be her two favorite winter consumables. Despite their non-Christian background, her family and friends celebrate popular holidays such as New Years and Christmas, adding their own twist to the celebrations with traditional Indian dishes like Krish's roti and paneer.
"[I love the] taste because you can do so much with just a plate of roti and paneer," Krish said. "It could be spicy … [and] I've had sweet roti before, which is very strange, because normally it isn't sweet. There's a lot of stuff that you can do with Indian food and it's just so rich in flavor."
Krish finds a sense of reunion and "comfortable joy" in roti and paneer. She believes that, even though these two dishes are not considered luxurious because most South Asians have eaten them at least once, they represent how simple dishes can also manifest strong memories of friends and good times to cherish during the holidays.
"I do remember one year [when] I was with my family friends, and I believe I was five at the time, so I had no idea what anyone was saying," Krish said. "But I just remember everyone around the table being super excited to talk about … the movies that we were gonna watch and all the things that we were gonna do. [Even] though I didn't understand half of it, I still felt their joy, so it sort of translated to me."
Our take:
Consisting of wheat flatbread in roti and fresh cheese in paneer, these two dishes are a great fit for anyone seeking a classic Indian course that mixes a striking cheese with complimentary bread. The combination of the texture, savor and taste of spices, spinach and cheese leave a warm and mouth watering feeling in the mouth, which roti's chewy texture compliments beautifully.
Rating: 4/5
What winter food would you try this year?
Sorry, there was an error loading this poll.