Boys Basketball loses to Independence High School 67-65
Matadors lead for nearly the entirety of their sportsmanship game
Despite being in the lead for nearly the entirety of the game, the Varsity Boys Basketball team lost to Independence High School 67-65 during its sportsmanship game on Thursday, Nov. 18. This game will not count towards their overall season record.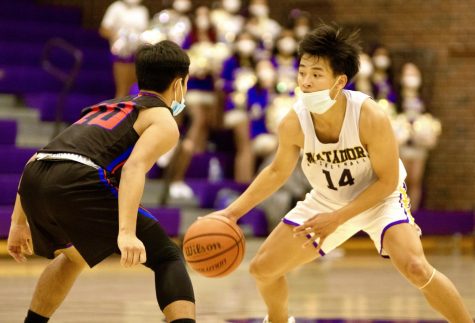 In the first quarter, the two schools ended in a tie, 16-16, yet the Matadors led 41-31 at the start of halftime. During the fourth quarter, with just 4.2 seconds to spare, IHS scored a lay-up, pulling ahead to 66-65, followed by a made free throw that resulted in the Matadors' loss.
Junior and captain Austin Hwang shares that the team worked well together on the court, to which he accredits strong leadership and high energy and effort. However, having lost to IHS twice before in the summer league, senior and captain Keshav Balaji recalls the team's initial nervousness — yet he believes that this drove the players' fearlessness and "team spirit."
"Whether it was [during the start of the game], whether it was [coming from] the bench, we had crazy support — everyone was getting a lot of high fives going in," Balaji said. "We played fearlessly, and we weren't worried about, 'Oh, they're an upper division team.' We're playing with no fear as if we could take them on, and we really did."
Another major contribution to the team's performance was practicing "selfless basketball" according to Balaji. With increased passing between the players, he describes that they were able to get a "good rotation" and score many baskets as a result.
"I was really proud of each and every person who performed and played yesterday," Balaji said. "It's tough because we were leading the entire game and we narrowly lost, but we put up a hell of a performance yesterday. And we should bring that to all of our next games."
Balaji also recognizes points of improvement for the team, including enhancing overall cohesion amongst the players. Through passing to one another on the court, Balaji believes that they can progress together to form a "tight-knit team." Senior and captain Ted Zhang emphasizes the importance of passing as well, though he mentions that the team needed particular improvement in scoring free throws when under pressure. 
Both Zhang and Hwang have high expectations for this season, as the addition of their new coach has brought a dramatic change to the "whole culture of the program," according to Hwang. 
"I'm really happy that we finally have a good coach," Zhang said. "I think that after I graduate, the MVHS basketball program is in good hands with Coach Nakamura. He wants us to learn. He wants to increase our basketball IQ. Sometimes he lets us practice on our own, such as warm-ups, so that we can develop basketball IQ and become better players."