Using words of affirmation
Students and staff explore how words of affirmation play a role in their lives
As students bustled about the classroom, anxious about their upcoming test, junior Stuvi Vasha recalls encouraging her peers through words of affirmation to boost their morale. Vasha, who believes words of affirmation to be "encourag[ing] words that are uplifting and reassuring."
"I think they can be a constructive tool for myself knowing [and] having a sense of reassurance, whether that be from myself or the people around me," Vasha said. "Having words of affirmation provides a certain level of self-confidence [and] allows me to go through my life with a little bit more conviction. If other people are telling me, 'You can do this!' or [if I] tell myself, 'Hey, someone else believes this about you; someone else has this trust in you,' it [has] helped to instill that [trust] in myself [and] receive it as my own." 
Senior Avi Das agrees, claiming that by boosting confidence and mood, words of affirmation allow him to "notice redeemable qualities" that he may not have previously realized. Das believes words of affirmation can play a huge role in strengthening relationships and the overall "kindness of other people's hearts." 
Vasha also sees words of affirmation as a "tool" she can often turn to if she or a friend is struggling for reasons such as the competitiveness of the MVHS environment. Senior Ritvi Ranka has also found herself using words of affirmation and finds they play an important role when it comes to "showing support to loved ones." 
"Personally, I feel like words of affirmation tend to make me happy or reassure me of my worth," Ranka said. "When my friends use words of affirmations, it makes me feel loved, wanted and special. It makes me feel like I'm doing something good and impacting someone's life in a positive way."
Das finds himself using encouraging statements with his family as they often share their achievements, and these encouragements are a way of "showing their pride in each other" However, Vasha sometimes questions the validity of words of affirmation from her family.
"[There's] also sometimes distrust because everyone hears from their parents that, 'You're so good at this. You're so talented,'" Vasha said. "But at least for me, there's always a level of doubt there. 'Is it really sincere, or are you just saying that because you're my parent?' I always find myself kind of second-guessing [their true feelings], but I take it with a grain of salt and [I know that] it's my family that wants what's best for me, and regardless of whether it's true or not, I'm just going to take it for what it is."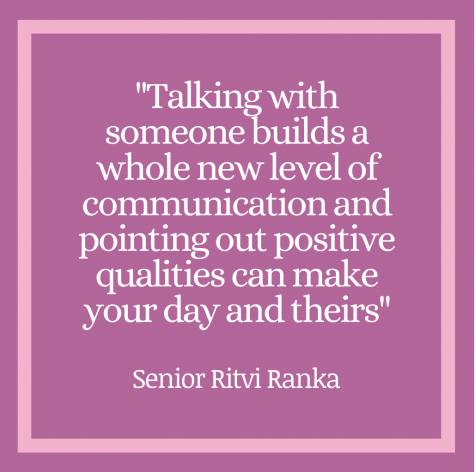 When Vasha affirms her friends, she tends to "involve more personal examples" about their skills to let them know they are "capable." Similarly, Ranka believes that when it comes to her friends, she tries to remember what works best for them and reassures them in her own personal way. 
"I think that it is important to keep in mind that everybody is different," Ranka said. "For some people, they just need to rant and need a listening ear, and for others, they need words of affirmation to let them know they are worth more than they think they are because you are trying to be there for them, and they know that as well, [so] just pointing out positive qualities about someone can just both make your day and theirs." 
Das has observed words of affirmation as commonly used in sports or group settings because they can "boost morale" while also teaching teammates to "expect the best from each other." Whether it be from a sports game or from school, Vasha recognizes that everyone deals with some sort of stress, which usually calls for some uplifting message. 
"[I] tell friends that, 'You're smart, you're capable, good things will come to you because you're a [good] person,' that sort of thing," Vasha said. "I find myself saying this because I have this belief I just subscribe to [that] good things happen to good people. You know you deserve all the best in the world, so that's what you're gonna get."