Team Dasari
Examining the impact that volleyball has had on the Dasari family
The stands erupt into cheers. A wave of people rise, feet stomping, hands clapping, each person shouting louder than the last. Small children swarm around afoot, animated by the excitement of their families. First, it was Cupertino resident Ajith Dasari's charity tournament. Then, it was his older son, MVHS alum '19 Gautham Dasari, winning a gold medal at Junior Nationals. And now, the cheers break out on the sidelines during the games of his younger son, senior Rishi Dasari, the youngest in a family of four who all play volleyball. 
Ajith's journey with volleyball began when he was a college student in India. He had never played the sport before — he entered college with an affinity for cricket — but played a couple of games with experienced players and found volleyball to be an excellent way to make connections with others.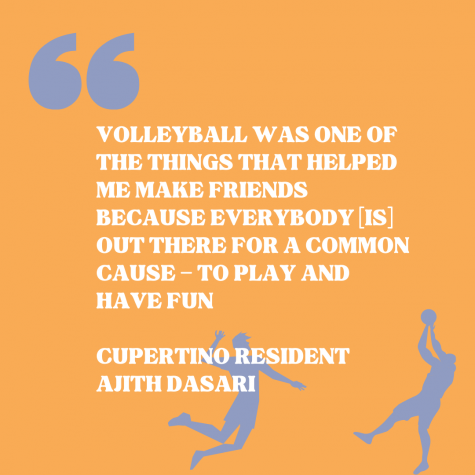 "Volleyball was one of the things that helped me make friends because everybody [is] out there for a common cause — to play and have fun," Ajith said. "[You] don't have to worry about anything [those] few hours you're on the court over there, you're just playing the game for fun and that creates a good camaraderie between the people."
The friends Ajith made through volleyball would prove to be lifelong. Every weekend, he and his wife play volleyball with his college friends and their wives, an ongoing tradition since 1997. It was through those games that his wife, Latha Dasari, was introduced to volleyball. She, too, had always been an athlete, playing badminton throughout high school and college in India. After meeting Ajith's friends, her love for sports resulted in her participation in the weekend games. 
"Even when I was pregnant and couldn't play, I was there at that park," Latha said. "And then I was there again when [the boys] were six to eight weeks old. I would take the boys to the park every Saturday, rain or shine."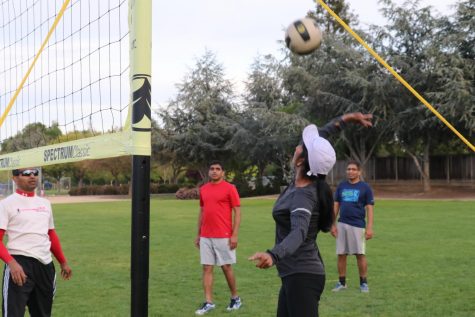 Rishi's earliest memory of playing volleyball is with his parents — after years of watching his parents and their friends play, he decided to join an occasional game. He attributes much of his love for the sport to those routine games. Now, he plays club volleyball at Mountain View Volleyball Club (MVVC), as well as for the MVHS Boys Varsity Volleyball team, and appreciates the full circle of seeing his parents on the sidelines of his games.
Along with his parents, Rishi was influenced to play volleyball by his older brother Gautham, who was a part of the team that won a CCS title in 2019. Gautham began playing club volleyball at MVVC when he was 14 years old, and Rishi started playing a year later at 12 years old, a decision that both boys describe making without any pressure from their parents. 
"After watching [Gautham] play, after him winning CCS and all these titles, I'm like, 'I want to do that,'" Rishi said. "I feel that my parents say, 'There's no pressure, just be you,' but I definitely feel the pressure. I want to be like him — I want to have all these accolades."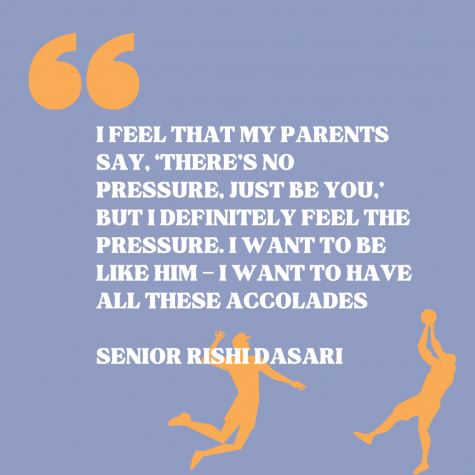 Some of Rishi's best memories are from volleyball tournaments he attended with his family, like when his brother won a gold medal at junior nationals. Volleyball has played an integral part in Rishi's life, influencing his "friends, whole lifestyle and work ethic." He says it has also made him more resilient, allowing him to overcome loss, a skill which he believes translates into how he approaches school and future career opportunities.
These positive impacts of volleyball, Ajith explains, are precisely why he wanted his sons to be involved in sports. Ajith loves volleyball because of the unique sense of teamwork that the sport encourages — "if you're not synced with your team or if you're not on the same page, you don't get to win," he explains. But to him, the sport that his sons played never mattered as much as the friends they gained from it.
"All the friends that I had made in the sport have been good friends for life, because we all had a common cause: we just wanted to have fun," Ajith said. "To this day, I have a big group of friends and family that I am really proud of, and that's one of the things I wanted the kids to have. No matter what your personality is, if you go play the sport, you get to make good friends because you're all rooting for the same result at the end of the day — it makes you friends for life."