Discord music bot Groovy shuts down
How MVHS students feel about the takedown due to YouTube's Cease and Desist order
Discord music bot Groovy has ended its service on August 30 due to copyright issues with YouTube. Discord, a text messaging and voice calling app used for gaming and community building, has provided add-on services called bots since its early stages of development. Bots are used for various purposes such as moderating servers, playing text games and listening to music. 
Sophomore Nathan Liu, who began using Discord in 2020 at the beginning of the COVID-19 pandemic, believes that bots enhanced his experience on Discord.  
"I used a variety of Discord bots before, mainly bots such as Dank Memer and Groovy," Liu said. "You can play mini-games or play music with the bots, and they help you relax and have fun. They're also a good way to communicate with friends."
Groovy was a Discord bot developed by Nik Ammerlaan for users who want to listen to music while using Discord. Users would join a Discord voice channel, type in a command along with the title or link of the song they want to listen to, and Groovy would join the voice chat and play the requested music. Used in more than 16 million servers, Groovy was the second most used music bot in Discord. 
For Liu, Groovy was his preferred music bot, as it provided a unique experience that other existing music bots could not.      
"Using Groovy was easier than using other music bots," Liu said. "For example, some music bots such as Rythm require certain moderator permissions to skip songs, while Groovy allows anybody to skip songs if they want. Groovy can also play the songs you want just by being given a link to the song, so I feel like Groovy was a very accessible music bot that everybody could use."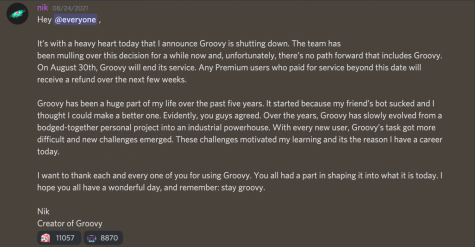 However, Ammerlaan announced on August 24 that Groovy would shut down due to a cease and desist letter from YouTube. YouTube has sent out cease and desist letters to many individuals and companies throughout its history — notable incidents include the letter to TechCrunch, a platform used to download YouTube videos, and to Clearview AI, a facial recognition app, in 2006 and 2020 respectively. 
Junior Aakash Kumar, a Discord bot developer, shares his concern for the future of music bots.  
"There were many convenient features that users could use thanks to bots like Groovy," Kumar said. "[Groovy's shutdown] will definitely make Discord less convenient. With YouTube sending out cease and desist letters, the process of making Discord music bots might become more complex or even impossible."   
According to the PCMag, Groovy utilized metadata to search songs from YouTube, extracted the audio from the video and played it in voice chats. While this procedure is legal, Groovy also earned profit by offering premium plans for users who wished to enhance their experience. YouTube classified this technique as violating their terms of service, which states that third-party sources should not be able to earn profit from content on YouTube. YouTube also condemned the use of music bots such as Groovy, as users could listen to YouTube videos without being exposed to ads —- a direct source of profit for YouTube. 
Liu states that he believes shutting down Groovy was a justified act by YouTube.  
"At first, I was slightly confused because I didn't know why [Groovy was shutting down]," Liu said. "But after doing some research, I was able to find out the reason behind the shutdown and how Groovy violated YouTube's terms of service. Although I was disappointed, I felt like it also made sense why Groovy had to shut down."
With Groovy being forcefully shut down, other major music bots face similar fates. Rythm, the most used music bot on Discord, has also received a cease and desist letter from YouTube and ended its service on September 15. Hydra, a music bot used by approximately 2 million servers, has already decided to eventually abandon music commands over the course of several months in fear of cease and desist orders. Junior Anishka Chauhan shares that the unease she is feeling due to Groovy ending its service extends to other Discord bots as well. 
"I was slightly shocked that YouTube would actually go to such [an] extent [to shut down Groovy]," Chauhan said. "It also left me concerned for other Discord music bots. Popular bots such as MEE6, Dyno and Octave all have music features, so I was worried that they will also start shutting down as well."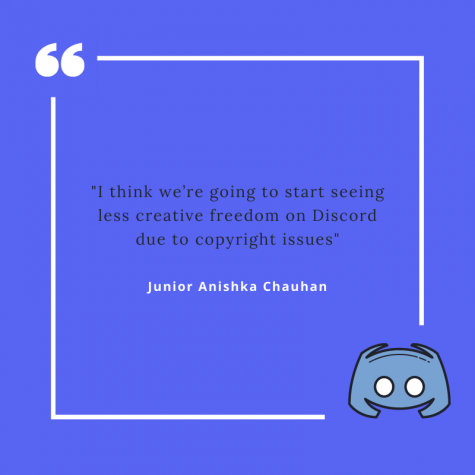 With music bots no longer becoming a guaranteed service by Discord, Kumar is looking for alternative ways to listen to music while still enjoying the experience on Discord. Discord music bots have used YouTube's application programming interface in the past to play music, but now the method has become unavailable due to YouTube reinforcing its terms of service. However, Kumar believes that there are ways without using Youtube's API.  
"There are many alternatives, such as downloading media files for bots or using other APIs like Apple Music's API," Kumar said. "But with YouTube being one of the largest media platforms, they naturally have the strongest API, so the reliability [of Discord music bots] will probably decrease."   
Chauhan believes that YouTube's regulations and Groovy's shutdown will affect how people use Discord and interact with other users. However, Chauhan also has an optimistic view towards the future of Discord bots, even with the potential unavailability of music bots.   
"I think we're going to start seeing less creative freedom on Discord due to copyright issues," Chauhan said. "But also, when you code a Discord bot, you have so many possibilities. If I want to code a moderation bot, I can code one. If I want to make my own game bot, I can do that myself. I think [recent regulations] might put a dent into what developers can do, but I don't think it will be a big deal, and I doubt it will bring major damage and inconvenience to Discord."