Graduation gratitude
Juniors reflect on their last seasons with the class of 2021
For seniors, graduation is often an emotional experience — saying goodbye to teachers, friends and for those who play on a sports team, teammates, is difficult. Athletes have to say goodbye to teammates they see at practice every day and enjoy team dinners with, and the juniors they leave behind carry on their legacy.
Friendships on and off the court
While COVID-19 restrictions made team bonding events more difficult to hold, junior and dancer Nikunj Shanker found that practicing frequently this year in addition to having memories from previous years was enough to continue friendships with seniors on the team — one aspect of the MVHS Dance team that he finds crucial to its performance.
"I think [friendship on the team] greatly impacts how we dance — it's not like a group project at school where it's people you don't know or don't associate with yourself," Shanker said. "You go there together to not only work in terms of working on the dance, but you also get to form memories. They're not really just your teammates, they're more friends. It's a bond you create with people where you get to know more about them, and each practice, it's like you're hanging out with them just for two hours, dancing together."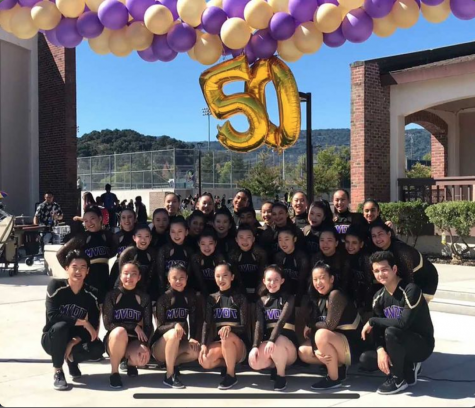 Like dance, the team aspect of volleyball makes friendships on the team equally important for success. Junior and Varsity Volleyball player Lia Vorthmann began on JV her freshman year and advanced to Varsity for her following years on the volleyball team — as a result, she's played with many of the same seniors for three years.
"The connection and communication is really, really important on the court, and it's a lot easier to trust each other and communicate with each other while playing if you're comfortable with the person and are friends with them," Vorthmann said. "So I think that contributed a lot to our success on the court."
Junior and Varsity Badminton player Renee Ou has found seniors had a great impact on the team. While most of Ou's strongest friendships began outside of the Badminton team, she's noticed that her favorite memories with them have all been during the school season.
"There are nine seniors graduating from our team this year, and four of them — Gayatri Raut, Jessica Lee, Henry Kam and Tiffany Chen — I'm especially close to," Ou said. "I'm really grateful for those four seniors because they have really built the vibe of the Badminton team for me, and they're [some] of my closest friends. I just feel so comfortable when I'm around them, and they've encouraged me during every game."
Four years in the making
Over the past three years, Shankar, Ou and Vorthmann have seen the seniors' growth firsthand, both as players and as people. Specifically, Vorthmann has witnessed improvements not only in the seniors' play, but also in their attitude on the court from sophomore to senior year. Additionally, Vorthmann notes how she has become more extroverted as a result of their influence.
"I think most of it is physical — obviously they grew a bunch, and they're much stronger so [they're] able to hit the ball a lot harder," Vorthmann said. "But also I think [they've] become more open and comfortable on the court and speaking to teammates."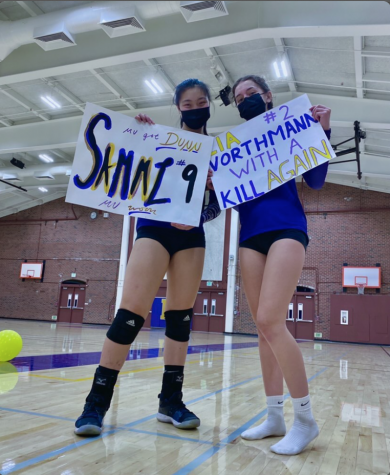 While Shanker has also noticed the seniors on the Dance team progress in their technical skills, he's also realized how much they have grown in other aspects of their lives.
"As the years went on and we got more comfortable knowing each other, it was easier to become more social with one another," Shanker said. "We've been able to learn off of each other, and help each other in terms of dance so I've seen them grow emotionally, socially and physically."
While Ou hasn't played with the seniors on her team, she still sees the improvements Vorthmann and Shanker have noticed in their teammates' skills. Ou also noticed that many players began on the school team before joining outside clubs and that it was "amazing to see players jump" from the highest JV team to the highest Varsity team over the span of a few months. For the seniors who've played solely on the MVHS team, Ou has seen them use their coach's tips to improve gradually over the years. However, she's appreciative of their character staying constant throughout the years.
"I'm actually really glad that their personalities or spirit has stayed the same over these years," Ou said. "Like for Tiffany and Gayatri, who have always played a level ahead of us, I've seen them go up a level every year, and seeing them be able to take on harder opponents every year is very inspiring to me. I really hope I can fill that spot next year."
Reflections on the class of 2021's resilience
Despite COVID-19 cutting down the last seasons of the class of 2021's athletes, all three of the juniors share appreciation for the effort the seniors put into their sports, often while facing burnout in an online environment and the added stress of college admissions. For example, with added barriers of COVID-19 testing and sudden lineup cancellations, Ou admires her team captain, Gayatri Raut, for stepping up and organizing the team.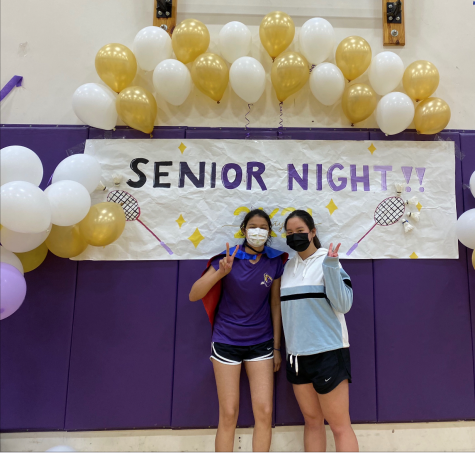 "I really appreciate the effort and the work they've done for our team because I know it'd be easy to give [up] in the short season — it's their senior year," Vorthmann said. "We haven't played with each other in a long time, but they still came and they still like coming to the practices, [putting] their effort in. And I really appreciate that. Also, I know it must be hard, especially having your senior year without in-person school, without all the events."
Shanker notes this same determination and resilience to "continue pushing themselves and working in the sport that they love" with the seniors on the Dance team, despite social distancing guidelines while dancing and limited Dance team social events.
Through a pandemic, Ou has found the seniors have continued to be reliable teammates, focused players and, most of all, good friends.
"I feel that [the seniors] definitely influenced me a lot, because I built friendships with the seniors, and a lot of them are inspirations to me, and they also encourage me during tough academic times," Ou said. "They give me a lot of advice, whether it be high school or mental health. I'm definitely very grateful that I was able to have them by my side for three years. And I hope I can be as good of a senior as them when I'm a senior."