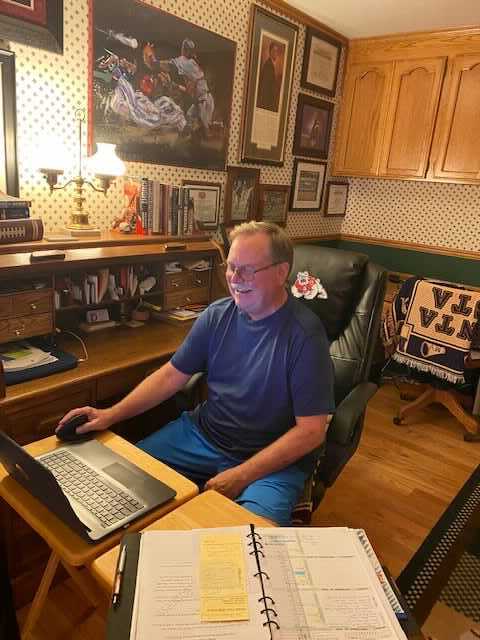 Jeff Mueller
Business teacher Jeff Mueller retires after 19 years at MVHS
Business teacher Jeff Mueller says he follows nearly all of his students on LinkedIn because he "enjoys seeing the kids succeed, and makes sure that they understand that [he is] very very happy with whatever they do." He recounts that one of his former students is completing a medical residency in London, while another is working in the House of Representatives. Some of his students were recruited by colleges to play football, while others have become lawyers. Mueller says he enjoys knowing the variety of things his students have gone on to do, and a rewarding part of his job is when his former students return and ask him for career advice about business-oriented fields. 
Mueller began his teaching career in 1978 at Tierra Linda Middle School, located in Southern California. After working there for three years, California's 1981 Proposition 13 led to the elimination of certain programs in public schools, including the one Mueller was a part of, which is when he decided to venture into the high tech industry. He worked in the industry for 24 years and moved his way up to executive management positions at IBM, but decided to retire after getting tired of the extensive travelling throughout Southeast Asia and Europe that his job entailed. 
After his retirement from IBM, Mueller began to do some substitute teaching because of his lifetime teaching credential, which he later updated with a teaching credential for Business. He had served as a long term Geometry substitute at MVHS for approximately five months when Betty Paul, the MVHS Principal at the time, asked if he was interested in teaching the business course and simultaneously serving as the head football coach — Mueller had formerly coached football at Cupertino High School and Baseball at De Anza College — starting in the 2002-03 school year. Mueller said yes to both, and in the 19 years since then, he has taught the Principles of Business, Law and International Business courses at MVHS.
"It's been so enjoyable," said junior Vaishnavi Suresh, who has had Mueller as a teacher for three consecutive years for Principles of Business, Law and International Business, respectively. "I think he's a really good teacher and he brings a lot of the stuff from his time in IBM into his business classes and it's really helpful for us, especially for people aspiring to be future business leaders and go into that field. It's really interesting to hear about all these anecdotes that he has during his time working in Japan, or talking about leadership from firsthand experience, and I think that that is one of the most valuable things that I get out of his class — just having him teach out of personal experience is really interesting and valuable."t
Mueller's colleague, Business teacher Carl Schmidt, also says that when Mueller was interviewing for a position on the MVHS staff, he was impressed by Mueller's extensive business background. He adds that after finding out that Mueller graduated from MVHS in 1973 and was a quarterback on the football team during high school — MVHS was highly ranked in the state in football at the time — Schmidt knew he would be a great fit for both a business teacher and a football coach.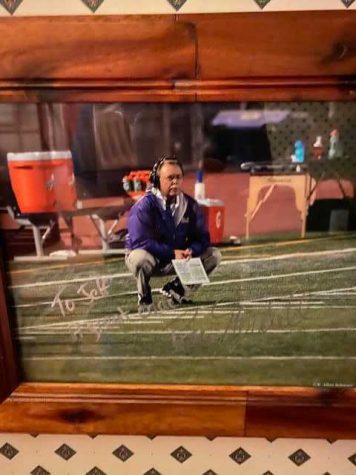 Since then, Schmidt and Mueller have been working closely for the past 19 years — their classrooms are right next door to each other, they see and talk to each other every day, exchange emails and texts over the weekend and have also always been part of the same Professional Learning Community (PLC).
"We developed respect and then trust," Schmidt said. "I think that I always knew he had my back. I hope he always knew that I had his, and I think that it worked out extremely well. We worked together here for 20 years … neither of us had worked with anybody else for that long. We had both worked for major corporations, we had moved from here to there, but 20 years [of] a close partnership in the best of circumstances can be trying, [but] in the worst of circumstances it's miserable. It's something that you have to kind of work at. It worked very well for us. I have no complaints. The only disappointment I have is his retirement, and I'll miss him, but other than that it was great to have him here."
Schmidt reflects on how he and Mueller collaborated to improve MVHS' outdated business department and the classes offered — such as keyboarding — soon after Mueller was hired. Schmidt began giving presentations throughout California about "a new vision for business education … talking about things which were more relevant like marketing, finance, entrepreneurship."
Schmidt invited Mueller to accompany him at one of these conferences in Monterey, sponsored by the California Business Education Association, where they gave a presentation about the new face of business education. Although Schmidt says many thought "they were the biggest village idiots in the world" for advocating to implement classes such as money and banking and teaching personal finance, he says it ultimately ended up improving their department and even serving as an example for other schools.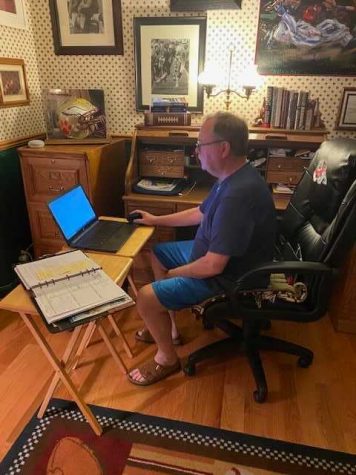 Schmidt and Mueller revamped the business department and created and began to teach five courses — Principles of Business, Law, International Business, Principles of Marketing and Money and Banking — and Mueller says that he is glad to have been a part of this evolution.
"We have a great business department — it's really one of the best in the state," Mueller said. "That's through our DECA and FBLA scores and presentations and competitions, but it literally is one of the best in the state. Mr. Schmidt turned it around and I just followed his coattails. We eliminated certain classes that weren't necessary … and we inserted these five classes. We basically created a pathway for kids to go through, and I think that's one of the biggest things that I'm most proud of to have been a part of."
Suresh finds that she has also benefited from the changes that Mueller and Schmidt implemented into the business program and has used the multidisciplinary skills she learned from the business courses to co-found a Limited Liability Company named "Recove." Moving forward, while Suresh is disappointed that Mueller will not be teaching next year, she was happy for him when he told his classes he had recently relocated near Palm Springs.
Mueller and his wife Lisa Mueller, who retired from MVHS last school year, now live in Rancho Mirage, a city approximately eight miles south of Palm Springs. Mueller says they have plans to utilize the location of their house, which sits atop a golf course, to its full potential.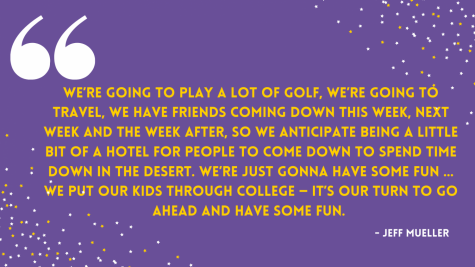 "We're going to play a lot of golf, we're going to travel, we have friends coming down this week, next week and the week after, so we anticipate being a little bit of a hotel for people to come down to spend time down in the desert," Mueller said. "We're just gonna have some fun … We put our kids through college — it's our turn to go ahead and have some fun."
Through teaching, Mueller says he enjoys seeing "the smile on [students'] faces when they know they've done a good job." Likewise, Schmidt says he has witnessed Mueller's support for his students, and adds that Mueller would want to know that he was key in launching several students into their careers and finding their places in the world. 
"If we talk about a society where we like to have no focus on race, ethnicity, age and gender, I mean [Mueller] personified that," Schmidt said. "All he cared about was that you were a student, had the right heart and you were ready to make the effort, and he was behind you, 1,000%. That's what really mattered [to him] and I think if there's any legacy that he walked out with, [it's] that it's all about the kids."