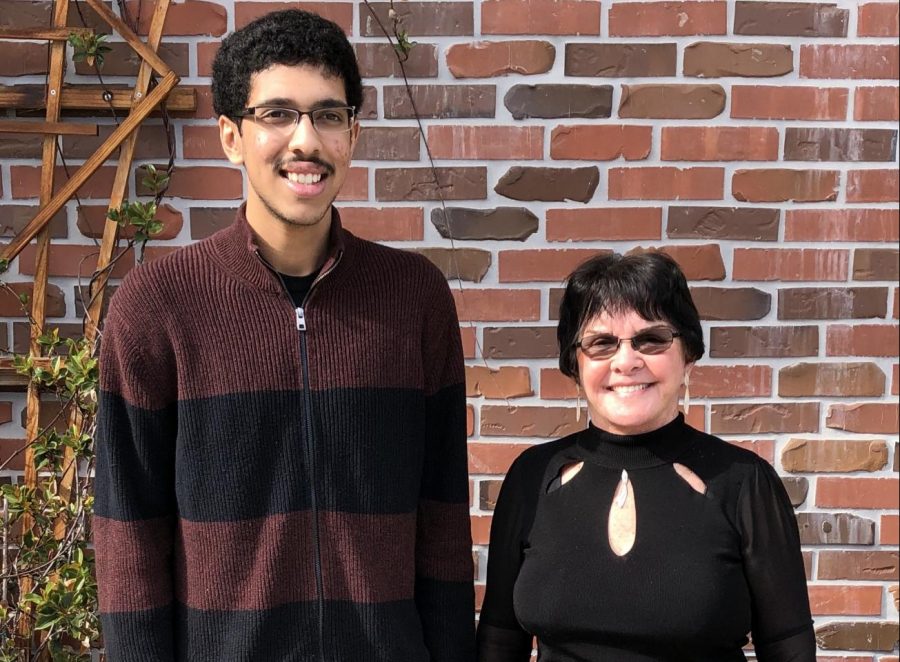 Photo by Rupali Shah | Used with permission
Elaine Hamilton
Guidance Senior Clerical Assistant Hamilton retires after 23 years at FUHSD
Every Halloween, Guidance Senior Clerical Assistant Elaine Hamilton sticks cut olives as "legs" into her spider deviled eggs, which she brings to the MVHS office. Hamilton's deviled eggs are AP Secretary Deb Mandac's favorite — according to her, "We all fight over them."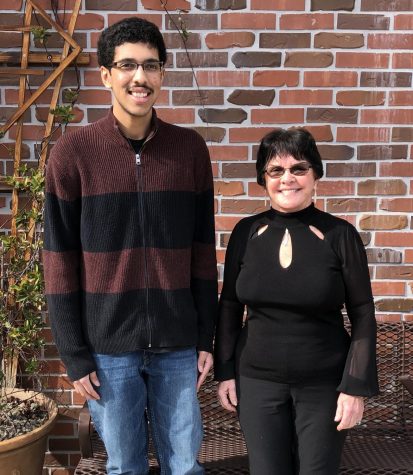 "She's very generous, especially when it comes to her baking," Mandac said. "And before the pandemic, she was probably doing it once a week. She would bring in cookies, brownies, muffins and then every year at Easter she would bring everybody little homemade easter bunnies. And she even got to know who liked icing on them and who didn't and who liked nuts and who didn't. She really learns what people like and don't like and tries really hard to make things for everybody."
Mandac met Hamilton 20 years ago when Mandac started working at Fremont High School, where Hamilton had worked as a part time attendance assistant and a special education secretary starting in 1998. When they met, Hamilton was a full time attendance assistant splitting her time between Fremont and Homestead. She then moved on to the district's HR department and started working at MVHS in 2006 as a senior clerical assistant providing guidance counselors with office support. 
After 23 years in the district, Hamilton said in an email that "working in these schools can be rewarding, enjoyable and challenging." Mandac said that when Hamilton started working at MVHS after working in the district office, she noticed that Hamilton had learned to work hands-on with different office computer applications. She also admires how Hamilton adapted her attendance assistant skills to work with students and the guidance counselors.
Mandac describes how she and Hamilton talk about food, travel and family and also trade recipes as avid bakers.
"She reminds me a lot of my grandmother — don't tell her that," Mandac said. "She reminds me of my grandmother because I learned a lot of my baking and cooking skills from her … and I get a lot of that from her, baking and cooking skills, and so it's fun talking to [Hamilton] about that."
According to Executive Assistant to the Principal Monique Franzino, Hamilton delivers her baked goods to the local fire departments, where she's made friends through her treats. Hamilton recalls meeting a memorable MVHS student, who is now a student at UC Berkeley, in the guidance office who was also connected to the fire department.
"There were several students that I met over the 23 years I worked at FUHSD, but the one I remember best was Aditya Shah a few years ago," Hamilton said in an email. "He was so kind and thoughtful, and I discovered that he spent a lot of time with the fire department trying to find a solution to stop forest fires."
Shah says he noticed Hamilton's genuine passion for helping students since his first visit to the guidance office, where she encouraged him to pursue his post graduation dreams. 
"I was fortunate to have Ms. Hamilton at the MV guidance office to help me," Shah said in an email. "She is a friendly, warm-hearted, gentle and generous person. She was prompt, punctual, knowledgeable and very well organized in her professional capacity. Her perseverance helped me to stay on top of all my tasks related to the college application process."
In Shah's senior year, Hamilton brought many baked pastries to school made especially for him. His favorite were her brownies, which he brought home and made his mom a fan as well. 
"Ms. Hamilton is now a part of our family," Shah said in an email. "One looks back with appreciation to many people in our lives, but with gratitude to those who touched our human feelings. Ms. Hamilton is one of them. I am forever grateful to her for everything she did for me and continues to bake amazing delicacies for my family and me. I wish her a long, healthy and happy retirement."
Once school ends, and Hamilton's retirement begins, she plans to spend two weeks in Hawaii with her family. In the future, she looks forward to traveling and visiting friends in other states that she hasn't seen in a long time.
"We're totally going to miss our desserts, but honestly she will be missed as a person because she is genuinely a very good person," Mandac said. "But I think it'll be good for her. She can now enjoy more time for travel because she has been so looking forward to wanting to travel more. So I know we'll miss her, but it'll be good for her."