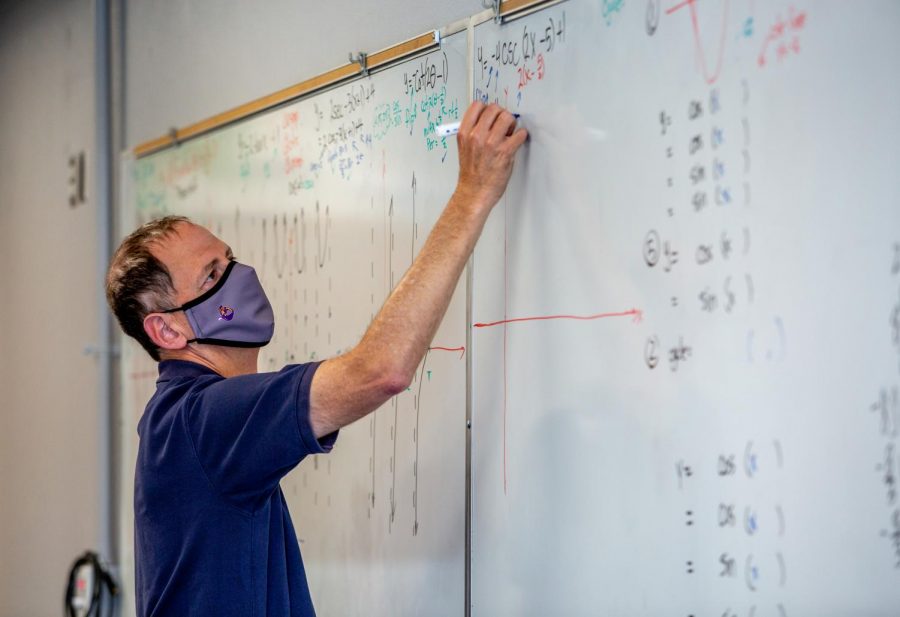 Martin Jennings
Math teacher Martin Jenning retires after 39 years of teaching, 23 of which were at MVHS
"Martin Jennings just loves being part of a community — wherever he is and whatever he's doing, he just has a passion for that," Kennedy Middle School Physical Education teacher Erin Jennings said. 
Erin has been married to math teacher Martin Jennings for 29 years, and she says that Martin's teaching career and life has been characterized by the relationships that he has established with the people around him, whether those are his math students, the basketball players he has coached or his church community. She says that when Martin teaches, it transcends just math. He's always sharing his life experiences — his students know the life anecdotes he shares as "Mr. Jennings' commercials" — and "trying to make an impression on the kids, what they have to look forward to and what not to miss out on in life."
Martin says that these relationships, especially because his students are teenagers, are some of the biggest reasons he has loved his time teaching. 
"Teenagers are at a point in their development where they're thinking about more than just themselves," Martin said. "They see more of what's going on around them, whether that's in the world or in the state or in the community or in just their family. They're looking at things with a wider eye and often they're willing to talk about those things, and I enjoy that."
Martin has been a teacher for the last 39 years — he spent his first 12 years teaching at Independence High School in San Jose, which is also where he completed his student teaching for 2 years, and the next 23 at MVHS. Martin also loves basketball and served as the basketball coach at Independence and coached briefly at MVHS as well.
Martin explains that because Independence is in the inner city, many people stereotype its community as being rough and disobedient; however, he found that he loved teaching there and left not because of the students, but rather because of the district administration and their treatment of teachers. 
At MVHS, Martin notices the students are "similarly endearing" but higher performing than at Independence.
"The students here are willing to do what's requested of them," Martin said. "Kind of the adage amongst the teachers and the staff is that … if you ask them to jump, they're going to ask how high, and then they're going to do it. Some teachers kind of take advantage of that and other teachers just are grateful for that and keep their expectations manageable. So the students here I felt like, their perception is that teachers are here to assist us, to reach the goal that we and our families have for us to reach … I think that there's a lot more expectations on the part of parents, for teachers here at MVHS, compared to Independence. And I think that those expectations are placed on their students as well, and sometimes that's counterproductive."
Martin's colleague and math teacher Colin Anderson — who both began teaching at MVHS in 1998 — notices this as well and adds that throughout the years, they have witnessed the school change and simultaneously had to adopt their "own styles and change and adjust [their] expectations." 
"[Martin] has changed some of his approaches, but I think for me, I'm more impressed with how so much has stayed the same for somebody for so long," Anderson said. "I think it's funny because some of his silly expressions and things that he does now are things that he would do then. And I still think he gets along really well with his students, I think he just has a good, pleasant, positive classroom environment and because of that, that helps keep him positive throughout the day." 
Anderson recalls that when he and Martin began teaching at MVHS, many people would mix them up, especially because they were both new, teaching math and also coaching the JV Girls Basketball team together — Anderson was the head coach and Martin was the assistant coach.
Anderson remembers that MVHS used to host a basketball tournament in the spring, where the winning team would compete against a team of teachers. He and Martin would always be on the same team, and says that this is one of his favorite memories with Martin: being active, interacting with teenage players and just having a good time. Anderson will miss this, along with the myriad of activities he and Martin have done together over the years — talking about the math class they're both teaching, chatting and eating lunch in one of their classrooms, sharing a passion for basketball and even attending a Warriors game together — when Martin retires. 
Erin explains that since she and Martin are both teachers, they often share their teaching experiences with one another. She observes that she tends to share the challenges she encounters while teaching, whether that be about the school administration or a difficult student, while Martin rarely mentions hardships. 
"He always talks about his successes, when he knows he's helping out with a student," Erin said. "He is always positive about all the things that he shares, so that's something that I look at and I go 'Hmm, I ought to start focusing a little bit more on the positive.' Even in the difficulties, he's a problem solver. He likes to figure out, 'Alright this is hard, how am I going to make it better?' And so that's his approach to everything." 
Anderson shares that he has witnessed this similar optimism within Martin, even "at times when so many teachers, including [Anderson], can feel a sort of burnout and exhaustion." Anderson says he has forever been impressed by Martin's consistency and dedication and hopes to emulate that, although he says he knows he never manages "anything near Martin's level." 
Because of distance learning, Martin says he has been able to forge meaningful relationships with students to a lesser extent. However, hybrid learning, which began on April 19, allowed him to once again feel the energy that he associates with students being in his classroom, eager to learn.
"I get a chance to make a difference in how they understand stuff," Martin said. "There's a lot of students that are going to understand stuff without my help, but to be able to make a connection between a topic that before, was really challenging for them, and then say 'Oh you kind of just think of it this way,' and it opens up doors for them. That's something that's really exciting for me."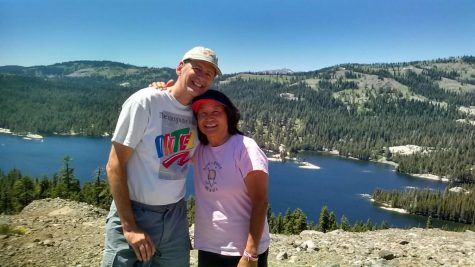 Erin says that Martin loves talking about teaching and frequently says "I could do this forever." Recently, however, she remembers him telling her that he was disappointed because he kept making mistakes on the board, which opened his eyes to considering retirement. 
Martin says he spent a lot of time praying about his decision to retire at the end of this school year and wondering if it was the right time to step away, but says that the circumstances of the pandemic helped him reevaluate his life and solidify his decision. Erin says she's excited for him, despite anticipating that it will initially be challenging for him to not be a part of the classroom every day, and adds that he had a great career — the most exciting thing about being a teacher is "that you enjoy it just as much the last day as you do the first day."
In order to retain his roots with teaching in some ways, Martin plans to start a math tutoring center at his church, Abundant Life, after retirement. He's also looking forward to spending more time with Erin — who plans to retire within the next year as well — and travel with her. 
"I love this place," Martin said. "I don't know what it's going to be like to not teach at Monta Vista, but I love the energy, I love the willingness of the students to try to make a difference in the world. And my hope in teaching was to try to help them to be more of a difference maker, so I'm sad to see that end. But I'm pretty sure that somebody else will come in and help the students make as much of a difference as they're making now, or more."