Girls Softball: MVHS loses to Saratoga HS 9-5
After six innings of neck and neck gameplay, MVHS falls to SHS due to their lack of focus in the final inning
On April 30, the MVHS Girls Softball team lost to Saratoga High School with a score of 9-5. Although the team didn't feel too confident entering the game — considering the fact that SHS has arguably one of the best pitchers in the league — the players were able to put up a good fight despite the many challenges they faced. 
In the first three innings, freshman Cara Constant successfully hit two triples, putting MVHS in the lead. However, SHS retaliated with three consecutive doubles shortly after. Freshman Sydney Bacheller notes that because the Matadors struggled offensively with avoiding the high pitches from the SHS pitcher, the team received many strikeouts within a short period of time, leaving them unable to score in the first few innings. However, this wasn't the only aspect the team fell short in and wants to improve on for future games. 
"As a catcher, I improved from past games and was able to block more pass balls," Bacheller said. "As for the team, I think that we can work on hitting further and cleaning up the fielding since there were some inaccurate throws during the game."
Another setback the team faced was losing junior and batter Niti Bajaria in the fourth inning due to a mid-game injury. This caused a shift in the original batting lineup as well as two athletes having to change their positions in order to accommodate the circumstance. 
Regardless, both teams were tied at the end of the sixth inning, forcing the game to go into overtime. Bacheller explains that the team did "a good job" defensively but struggled offensively in the ninth inning, ultimately causing them to lose the game. 
"We had a lot of obstacles in today's game," Constant said. "With that in mind, we made a lot of plays, hit our cuts and started out strong, so I really can't ask for more." 
About the Contributor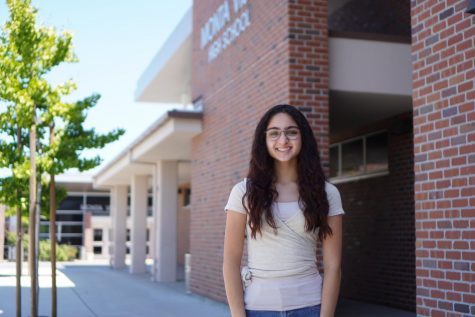 Nika Zamani, Staff Writer
Nika is a junior and staff writer for El Estoque. She is also a staff writer for Res Novae and the president of the Monta Vista Persian Club. In her free time, she likes to hike and play the piano.