MVHS students take off through Civil Air Patrol
Students part of the organization share memorable experiences and life lessons
Since he was young, senior Konosuke Kato had always been fascinated by rockets and airplanes — his dream was to be a fighter pilot. But as he grew up, Kato's dedication to this dream slowly faded away, until he visited an airshow in Sacramento his freshman year. There, Kato was introduced to a program known as Civil Air Patrol (CAP) — one that would allow him to revisit his childhood interest. 
CAP is a non-profit corporation that serves as the official civilian auxiliary of the United States Air Force. Primarily a volunteer-based organization, CAP dedicates itself to three core missions: cadet programs, emergency services and aerospace education. Students who are between the ages of 12 and 18 can join the cadet programs in a particular wing (region), where they progress through ranks and grades, undergoing intensive physical training and testing on leadership skills and aerospace knowledge in order to be promoted. 
Senior Adithya Patil, who joined the program as a freshman in September of 2017, recalls that there was not much that went into his decision to join the organization. He says he saw an ad that sparked his curiosity and led him to attend his first CAP meeting — an aerospace education night where an engineer for Lockheed Martin, an aerospace company, presented about her work. Three years of time commitment, prestigious awards and industry visits later, Patil emphasizes how important this decision was for his future.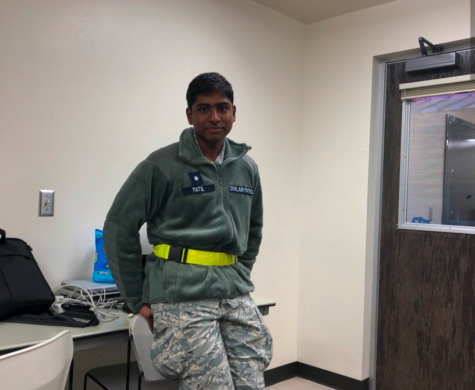 "When I joined CAP, I was sure I wanted to do something maybe STEM-focused [or] engineering related," Patil said. "But CAP gave me an opportunity to really look into what is aerospace engineering, talk to people who are doing aerospace engineering and get actual experience with what aerospace engineers do. That definitely pushed me towards the aerospace engineering field as a future career."
As cadets progress through the ranks, they are promoted after completing certain achievements, which usually consists of a combination of physical fitness and written tests. Starting off as a cadet, Patil attended regular meetings and activities, such as aerospace camps (on bases like Edwards Air Force) and conferences (like "Cadets Program Conference" in San Luis Obispo), which allowed cadets to interact with one another and industry members.
Additionally, one of the main activities CAP hosts for its cadets is the summer encampment, a seven to 10 day event where cadets are placed into an intensive, strict environment to develop leadership skills, gain understanding about aerospace and strengthen their physique and character. Encampments are necessary for cadets to complete if they want to be promoted to specific milestones within the CAP program.
Patil, who attended his encampment in the summer of 2018, explains that while it was a demanding, uncomfortable environment, this made his graduation all the more worthwhile because he felt like he "survived." Patil shares that an important aspect of the event is learning how to work with and support others.
As cadets are promoted, they are given responsibility to apply their leadership skills for tasks such as teaching and commanding other cadets. After completing his encampment, Patil began to take on these roles, initially serving as a flight commander for his squadron before moving on to helping staff encampments and organizing official events. Patil has been recognized for his efforts, receiving the Amelia Earhart Award, a promotion to cadet captain that the top 5% of CAP cadets in the nation are awarded, and, recently, the California Wing's Cadet of the Year.
Patil has also been involved in emergency services, a CAP mission that encourages members to make a difference in their communities. Kato, who has been primarily involved in emergency services for CAP, shares that he has been involved with food distribution; during the COVID-19 pandemic, Kato went to Hollister and San Jose to distribute food to affected communities. Kato explains that the distributions in particular remind him of an incident in his own life.
"I was in Japan when there was an earthquake, a pretty big one, in 2011," Kato said. "I remember that the U.S. military help[ed] people in Japan; they distributed food. I think the pandemic missions are [my way of] giving back to the American community, [representing] my country, in times of need. It was a really good opportunity to give back to the American community." 
Unlike Patil and Kato, who have had in-person experiences, sophomore Samhita Srivatsan joined the cadet program in the spring of 2020, when CAP was virtual due to the pandemic. However, Srivatsan shares that joining brought a sense of community — in addition to connecting with other CAP students like Patil, she has created friendships with people outside the Bay Area, noting a memorable event was the Aerospace and Science Academy, a week-long program that is usually held in-person at an airport, but was held online last year.
"This [was] my first virtual event outside of my squadron, so I got to meet people from across the state," Srivatsan said. "I felt like they were just so welcoming and despite this totally unfamiliar environment, they were like, 'OK, new kid. Let's see what you got.'… I'm seeing a lot of different perspectives — I feel like living in this Cupertino bubble, everyone does things similarly and we don't get as much diversity of perspective." 
In addition to a team environment, Kato explains that he has improved important skills like public speaking and time management through his commitment to the program. Patil shares how skills like these make CAP meaningful, a sentiment he echoes to families in the Bay Area when encouraging them to have their children join CAP.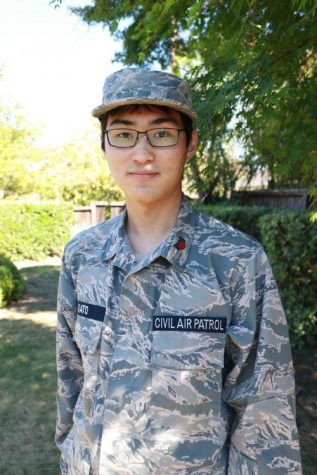 "One thing I say, especially when I'm talking to Bay Area people, is yes, it's the Air Force Auxiliary [and] yes, there's a military focus on it, but there's [nothing] that's forcing you to join the military when you grow up," Patil said. "I feel like that's definitely part of why Bay Area parents are hesitant about some of these [programs], because they think they're signing their kids up to the military when they turn 18. But that's not true. The best way I can describe [CAP] is a leadership program where we actually get applicable life skills … when you're out in college or the industry, you're gonna have to rely on a lot of the skills that you've learned in CAP." 
Kato also encourages students themselves to take a chance on CAP, sharing that it doesn't matter whether you're interested in aerospace engineering — there's something to gain from the program for everyone. 
"If you're remotely interested in [STEM] fields, CAP is a really great opportunity to gain experience or [view] a sneak peek into that industry and field in general," Kato said. "[However], if you're not going into the STEM fields, I think it's still good, because you [gain] leadership experience [with] the tasks you complete [and] along the way make friends [in] a really welcoming environment. There's fun involved [and] there's also the side of [taking on] responsibilities. It's a good mix that not a lot of organizations offer in the Bay Area and Cupertino."