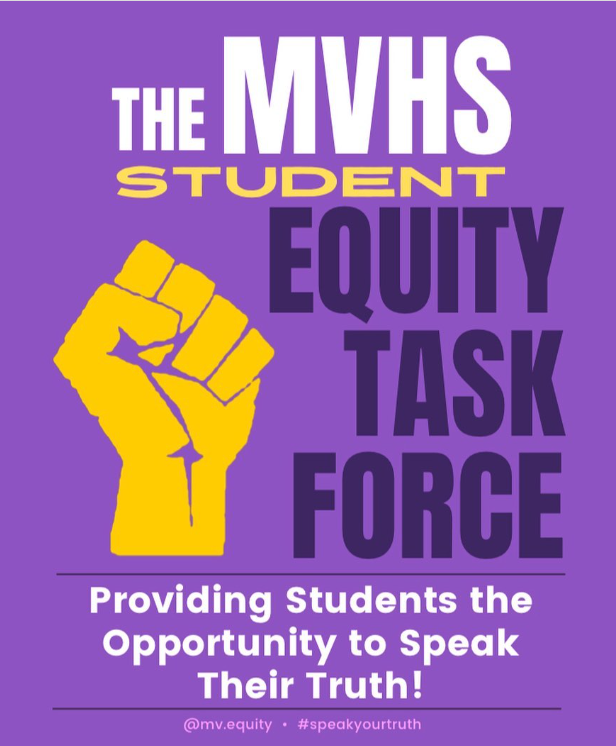 MVHS' Student Equity Task Force
Last month, the Student Equity Task Force — a student-run group dedicated to supporting anti-racism and equity initiatives at MVHS — held its second advisory lesson on Black History Month using Martin Luther King Jr. (MLK) as a case study. Within the task force, students are either facilitators or members; facilitators directly develop the Advisory lessons, while members provide feedback on the lessons before they are presented.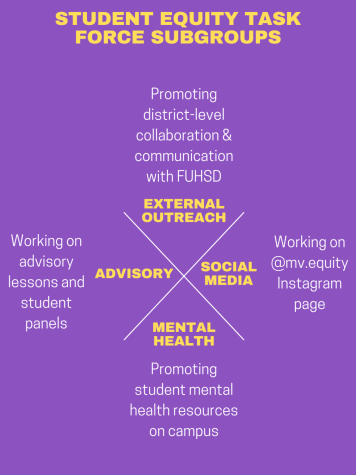 To plan the MLK lesson, student facilitators worked with AP US history teacher Bonnie Belshe, whose AP US History curriculum already includes much of the history and background in the advisory lesson. Belshe added that the lesson was planned to go "beyond the very whitewashed King mythology that's been created around his legacy."
Junior and task force facilitator Riya Ranjan said that the task force made sure to include specific details on misconceptions about Dr. King's struggles during the civil rights movement, including the glorification of Dr. King's identity as well as the backlash he faced from the U.S. government. Yet, Ranjan found the most helpful part of Belshe's contributions was her narration of said videos, so teachers of other subjects could understand the historical background better.
"[Belshe is] the head of the history department so she has a lot of expertise on the historical aspects of all these topics," Ranjan said. "So for other teachers presenting this lesson, who maybe don't have that knowledge, her videos were really useful, and we got feedback from a lot of teachers saying that that was something that really helped them teach the lesson effectively."
Belshe emphasizes that it's the students in the task force doing the majority of the work for the Advisory lessons, and that the lessons remain "student-centered and student-focused." 
View this post on Instagram
"[Students] remain as they should be on the forefront of that work," Belshe said. "I think it's really important to have that student voice in our equity work that we're doing both as a school and as a district for understanding systemic changes that need to be made."
One month after the Feb. 3 advisory lesson, senior and task force facilitator Janya Budaraju says that the task force plans to continue its momentum with more advisory lessons, and recruiting new student members, to add to the Task Force's current 58 members.
Belshe says that the task force has begun working on future lessons — their next lesson is on intersectionality and Women's History Month. While their lessons aren't necessarily restricted to a month-by-month basis, Belshe says lessons based around their months will be important for helping students and staff to understand the historical context of those months. 
View this post on Instagram
In addition to individual advisory lessons, Ranjan added that the task force hopes to expand its reach beyond exclusively students at MVHS. She explains they are currently working with other schools in FUHSD like Fremont High School and Homestead High School to "work towards making FUHSD the school sites more inclusive as a whole." In addition, the task force also wants to educate parents on anti-racism and equity issues. 
Ranjan also hopes to increase student diversity within MVHS's Task Force, particularly hoping that "the task force will soon include more male students."
"What we've been seeing so far is that [the task force is] really dominated by women," Ranjan said. "I guess you can make whatever assumptions you want about just those demographics, but I really hope that more male students will get involved because it's really necessary to have more diversity in perspectives, and just have all students involved in this type of change."
Budaraju says that the task force was designed to continue long-term with new students as seniors graduate, and ultimately make a continuous impact on anti-racism and equity issues at MVHS. 
"I think that creating a body of students who are constantly speaking about [antiracism and equity], collaborating with teachers and are vigilant about protecting the interests of the diverse student body in terms of equity and race is a really important step to making sure that, in the future, MVHS does better, has better curriculum [and] has better practices for reporting incidents of racism," Budaraju said. "Students will leave MVHS being better prepared for dealing with the diverse world, which I think is really cool."