Poetry
Junior Lavi Sundar's journey with Poetry Competitions
Junior Lavi Sundar started writing poetry at an early age. Supported by her close friends and family, Lavi describes using poetry as an art form to express herself and her ideas. According to Lavi, not only did her passion for poetry help her convey her thoughts, but it also allowed her to shine by placing in national poetry contests. She recalls writing her first poem in kindergarten.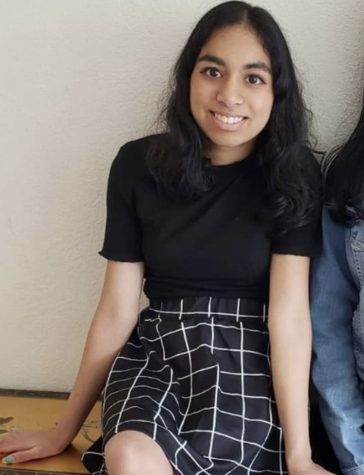 "It was a terrible poem," Lavi said. "I remember I wrote it at 7 a.m. right before the first day of school. And ever since then, [writing poems] really functioned as a way for me to express myself."
Lavi notes how, although she often uses poetry as a form of self-expression, most of her poetry is about foreign experiences. Rather than using her personal story, Lavi analyzes and tries to live vicariously through the actions and struggles of others, which she believes is necessary for creating emotional poems.
"[When writing], I try to assume the shoes of another person who's very different from me in order to achieve a little bit of diversity in my poems," Lavi said. "I also comprehend that it may not be the most authentic of perspectives, since I haven't always experienced what I'm writing about, but I think it helps me to not fall into the same pattern of writing, and it serves to make each poem that I write unique."
Lavi further explains that most of her inspiration comes from her community, including her family, neighborhood and school. She uses the kind actions of others as the main focus for many of her pieces.
"My community is a really big source of inspiration because there are so many amazing people who are doing crazy amazing things here," Lavi said. "If you just walk around Cupertino, you'll see people committing random acts of kindness, like picking up litter when they don't have to, or walking around campus cleaning things. It's things like that that make me really happy to live here. And they often give me ideas for what to write about in my poems."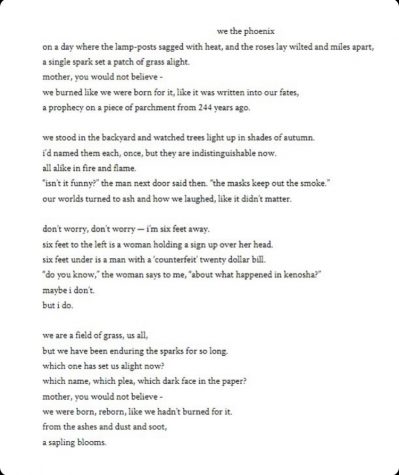 According to Anuradha Sundar, Lavi's mother, Lavi's interest in the rhythmic and expressive form of art is partially due to the artistic nature of her family members, who are passionate about classical Indian music. Although no one in her family pursues poetry to the extent that Lavi does, she says her family's background in music helped contribute to her interest in writing. For instance, Anuradha is a music teacher and grew up practicing classical Indian music with an instrument called Veena.
Anuradha owns a music studio and shares that when Lavi was two years old, she started reading and writing, and at age four, she wrote her first story. Both Lavi and her younger sister shared the same passion for books, so they would frequently ask to go to the library and have picnics. According to Anuradha, although this activity "may seem a little strange," Lavi and her sister really enjoyed going on these picnics, particularly on their birthdays.
Lavi recalls that although her parents did not particularly pressure her to pursue poetry, they did encourage her to participate in a poetry contest in fifth grade. Lavi, who had written poetry for several years, had never seen a contest as an appropriate stage to display many of her personal poems, but she ultimately chose to do so, crediting the help of her close supporters.
"Since then, every poetry contest that I've ever entered has kind of a different story behind it," Lavi said. "So I am fortunate to have a wealth of mentors and authority figures in my life that have pushed me into submitting my poetry to contests."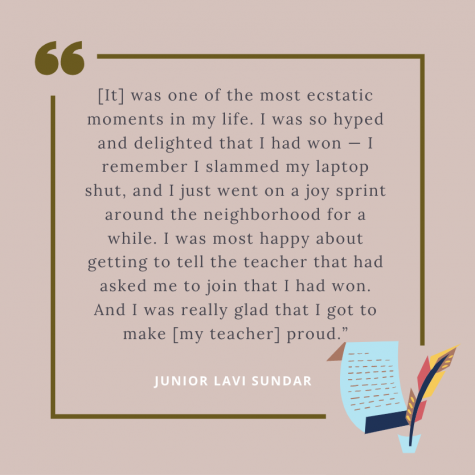 After participating in her first poetry contest, Lavi discovered a new passion for competing. She continued to sign up for more competitions and experienced success.
"I won a national poetry contest, and it was for a style of poem that I was very uncomfortable with writing," Lavi said. "I don't write a lot of humorous poems so this was one of the few ones that I actually submitted and published. [It] was one of the most ecstatic moments in my life. I was so hyped and delighted that I had won — I remember I slammed my laptop shut, and I just went on a joy sprint around the neighborhood for a while. I was most happy about getting to tell the teacher that had asked me to join that I had won. And I was really glad that I got to make [my teacher] proud."
Though Lavi has been successful with poetry competitions, she has still managed to balance it with school, family, friends and extracurricular activities, partly because she no longer needs to write new poems for every contest she participates in, as she often reuses previously written poems. She does occasionally become inspired to write more poems.
"[Writing a poem] isn't time-consuming because I already have the majority of the poems sitting in my [Google Drive]," Lavi said. "I just need to find a contest to submit [them] to. But sometimes I get this overwhelming urge to write poetry, but I'll be in the middle of class or one of my extracurriculars. I just have to make sure I don't forget whatever I was trying to write about because that does happen a lot, where I think of a good idea for a poem and then I instantly forget it."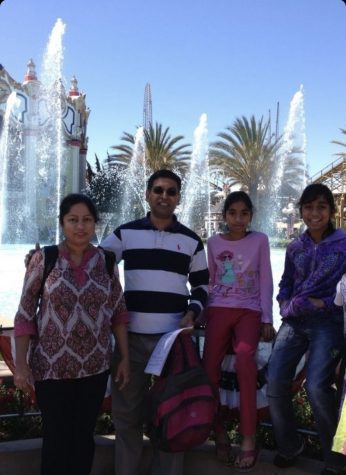 According to Lavi, she has a tremendous passion for poetry, and she describes receiving constant support from her family, which has allowed her to continue her journey with poetry.
Lavi's father, Nadathur Sundar, is a software architect and, like her mother, grew up practicing traditional Indian music. He explains that the family will always support Lavi in all her endeavors and whatever path she decides to take.
"I don't know what profession she will choose, but whatever that is, she is going to focus on developing her [poetry] skills further," Nadathur said. "She's going to have a love for languages, story writing and poetry in the background. It's going to be a hobby throughout."
Through the competition process, Lavi has become more comfortable with sharing her pieces.
"I have recently started to be more open about who I share my poetry with because I'm more proud of it," Lavi said. "My family and friends are very supportive and I'm very thankful for that."