Phase 3: The Aftermath
Examining professional and student views on the recently released Pfizer and Moderna COVID-19 vaccines
After the recent release and distribution of the Pfizer and Moderna COVID-19 vaccines in December of 2020, which aim to immunize individuals against COVID-19, people around the world have become excited and hopeful to return to "normal." 
According to Los Gatos family practitioner Kathryn Shade, for the majority of frontline workers, news of the vaccine releases has offered incoming relief in both their personal and work life from a pandemic that seems relentless and continues to fill up hospitals.
Shade has already received two doses of the Pfizer vaccine, being one of the first physicians to be vaccinated. She recalls her initial reaction of learning about the newly developed vaccines as "total excitement."
"Most physicians were absolutely thrilled because after 10 months of having almost nothing to offer our patients, it was super exciting to think there was a light at the end of the tunnel to get us out of this, basically, never ending quarantine," Shade said.
In general, Shade states that she has a lot of confidence in vaccines, including the Pfizer injections she received. According to her, after taking the first dose, the effectiveness against the virus is anywhere from 50% to 90%. Four weeks later, when the individual receives their second dose, it reaches its prime effectiveness at 95%. However, she points out that individuals may still be asymptomatic carriers even after receiving both doses.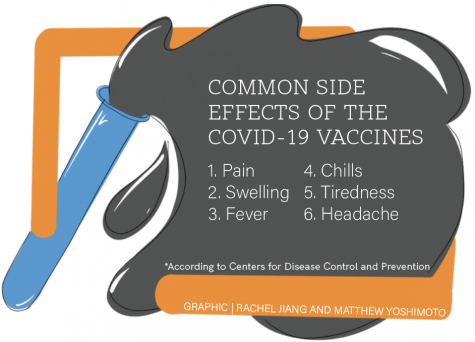 Similarly, junior Tanisha Pulla, whose mom is a doctor at Kaiser Permanente, mentions how her mom has also been vaccinated and has not experienced common side effects, including swelling, chills and headaches. She believes the vaccines could serve as a major solution to the current state of the pandemic. 
"I think [the vaccines] will be really effective," Pulla said. "I still think that we would have to social distance and all for a while, but I think it would get rid of a lot of the risk. [Some articles I read] were talking about herdimmunity, so if we vaccinated most of the population, that'd be super amazing."
Herd immunity refers to the possibility of a large portion of a community being immune to a virus, usually through the results of vaccinations that decrease the spread of the pathogen. Shade highlights that for herd immunity to work, at least 70% of a population needs to be immunized — she heard this process could take up to six months or longer. 
MVHS alumna Gianna John '19, who is a medical scribe, was originally hesitant about the consequences and side effects of the COVID-19 vaccines and not planning to receive it. This was largely due to many accounts of disinformation on a variety of media outlets. 
"[My parents] were just saying how we don't know the long term effects and we don't know what's in it and how it's gonna affect you, so maybe wait," John said. "I feel like that was everyone's general consensus –– wait to take the vaccine, let everyone else be the lab rat to take the vaccine and we'll just see how they do, and then in a month or two, we'll take it."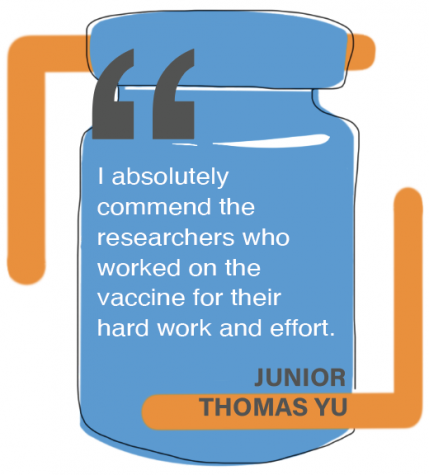 However, according to John, after doing research and seeing others around her receiving the vaccine, she changed her perception of the vaccinations, learning that the side effects are rare and will not affect her body long-term.
Echoing John's research, Shade states that the side effects of the COVID-19 vaccines are regular for any vaccine, and in her 25 years of being a doctor, Shade has only heard of one vaccine being recalled. 
"Every vaccine has known mild side effects, and then there's always the rare severe complications from a vaccine," Shade said. "[Yet ultimately,] I'm basing [my opinion] on the science I read, my faith in vaccines over the last 40 years and the fact that we had no other options. If you look at the numbers of what the [virus] can cause in disability and death, [those are] way higher numbers than the exceedingly rare bad reaction[s] to a vaccine."
Though Shade understands that there will always be questions surrounding the release of new vaccines, she advises skeptics to speak with a physician or someone in the medical field, because consulting a professional expert may clear up confusion and misinformation.
Junior Thomas Yu recognizes the insane accomplishment of creating a vaccine formula, testing its effectiveness, regulating itswidespread distribution and the numerous subsequent steps involved in producing the Pfizer and Moderna COVID-19 vaccines.
"It's great how researchers have been able to solve one of the most pressing issues in our world with the power of science, especially the time that they did it [in]," Yu said. "If you consider the work that has to go into creating a vaccine, it's absolutely not easy. And I absolutely commend the researchers who worked on the vaccine for their hard work and effort."